Tie Your Hair Up With These Fabulous Scrunchies
Never experience bad hair days with a scrunchy on hand. You can produce hundreds of hairstyles and look ready for any occasion. They can also serve as cute wrist bracelets!
Shop the amazing selection of snazzy hair scrunchies and hair ties across US stores with MyUS Shopping's easy one-cart checkout!
Small Slipsilk Scrunchies $39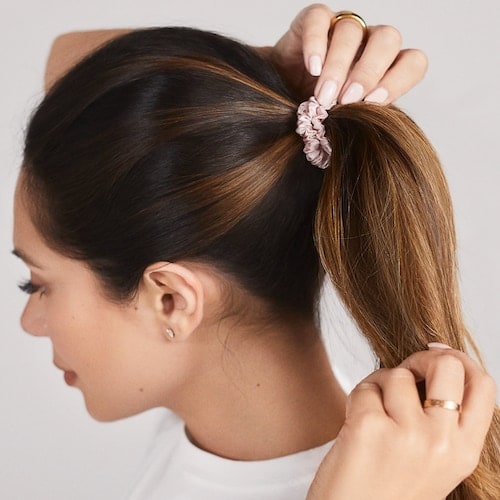 Upgrade your hair tie game with this set of Small Slipsilk Scrunchies. Featuring a specialty selected elastic and a slipsilk covering, these scrunchies provide a comfortable experience for delicate hair. You don't have to worry about hair creases and breakage anymore with these scrunchies.
"The BEST hair scrunchie ever. Perfect for finer hair. Holds without kinking and doesn't pull out hairs when removing. Great for a high-top knot." says iheart7.
Mulberry Silk Scrunchies $100
These Mulberry Silk Scrunchies keep your hairstyle in place and reduce breakage, splitting, and pulling. Their 100% silk eliminates dents and kinks made by other elastic hair ties. Whether you're running errands or sleeping, these scrunchies make you feel like there's nothing in your hair.
"I don't leave the house without one of these silk scrunchies. They are the perfect balance of gentle on my hair, but strong enough to hold my ponytail in place. I even wear them when playing tennis!"
Juicy Couture Print Scrunchie $3.99
This Juicy Couture Print Scrunchie adds color to your buns and ponytails. Both pink and rainbow options provide a vibrant and cheerful look for any occasion indoors and outdoors. Also, you'll notice the distinct Forever 21 and Juicy Couture print throughout the scrunchie.
"This Scrunchie is unlike any other. I've replaced all my Scrunchies by day 3. My skin is clearer, my mind is peaceful, and my split ends fixed themselves. 6/5!" Alejandro C. raves.
Uplifting Oversized Scrunchie $16
Do you need a cute hair tie that stays on throughout the day? This Oversized Scrunchie is perfect for workouts and busy days. The large ruffle and four color options add an extra layer of flair to your ponytail.
"LOVE this scrunchie! It's a great way to dress up a low ponytail." Jessica771 comments.
Icon Scrunchie Set $12
If you're looking for a fun and subtle hair accessory, put on these Icon Scrunchies from Urban Outfitters. This set includes two large scrunchies that feature all-over prints of smiley faces and Yin Yang symbols. They're super soft and stretchy for all types of hairstyles.
"I am in love with these! They are super soft and very stretchy, and the print is sooooo cute!" omgimnicole raves.
Gathered Hair Ties Pack $16
Keep your hair back during workouts with these Nike Gather Hair Ties. The durable elastic provides a secure hold, and the Dri-Fit technology helps you stay dry and comfortable. Keep them close or give one to your friend if their hair gets in the way.
"I would wear this all the time, and I would buy a lot. This is good for my money," brandeyb726464586 states in her five-star review.
Scunci Mini Hair Scrunchies $5.86
Pair these Scunci Mini Scrunchies with your favorite outfits. They provide a quick and casual style for last-minute looks and keep your hair away from your face while participating in sports. They're also small enough to accommodate all hair types.
"Perfect size for what I wanted and not giant or puffy. Love the neutral color selection! Not all girls want pink and purple... I have very thick hair and had no issues with these breaking or stretching out so far." says Charlotte.
Ouchless Painfree Hair Scrunchie $4.88
These GOODY Hair Scrunchies offer a classic and elegant look to any hairstyle. Their extra-gentle construction prevents pulls and snags without sacrificing style. Choose either a pack of black scrunchies or multi-colored scrunchies that add a funky twist to your wardrobe.
"If you have super fragile hair like me, then these are perfect for you from breaking your hair when you are pulling it up into a ponytail. The colors are nice and you can get quite a tight pony or bun with these. Great value." Uma Devidasi states.
Oversized Bow Ponytail Holders $18
Add these adorable Oversized Bow Ponytail Holders to your collection. These soft, chic, and textured scrunchies are a must-have for fashion lovers. Pair them with your favorite shirts, dresses, and more!
"The colors of these scrunchies are gorgeous and perfect spring pink shades! Would love to see these come out in more colors!" Han568 comments.
CORGI Hair Scrunchies $9.99
Wear this CORGI Hair Scrunchie on your wrist or put it in your hair. Switch between four colors for a cute and colorful appearance, and put them on at work, school, or the gym. It's the ideal gift for dog lovers and scrunchie enthusiasts.
"These are adorable and the quality is great. The elastic is strong and definitely seems like it will last! A great gift for a corgi lover!" says Nicole.
Shop cute and comfortable hair scrunchies from popular US websites and ship worldwide with MyUS!

We always aim to bring our members the best shopping options available, but some of the products featured in this post may have purchase restrictions. To find more information, please visit the merchant's terms of sale, shipping guidelines and/or terms and conditions.
More from the MyUS Shopping blog