The Best Projectors for Your Home Theater
If you've been skipping movie theaters but missing the "big screen" experience, a projector is a must-have.
Whether you set it up in your family room, home theater, or outdoor space, a projector is a great way to bring the theater experience home. And with so many choices, there's an option for every need and budget.
Shop top-rated projectors from US websites below, and ship your choice worldwide and hassle-free with MyUS Shopping's easy one-site checkout platform.
HAPPRUN Bluetooth Projector with 100' Screen, $99.99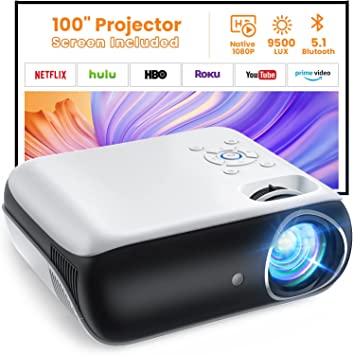 The HAPPRUN portable outdoor movie projector is a mini projector that delivers full HD (1080p) video quality with 500 ANSI lumens brightness for razor-sharp, high-definition images. And with WiFi/Bluetooth capability, Dolby, and DTS, it's easy to turn the projector into a Bluetooth speaker for an immersive sound experience.
"So easy to setup, worked great from the start. Was really great for maintaining a minimal design to our living room. No need for a TV in view all the time. Only a blank wall is needed. The unit itself is small and easily located," says samm in their online review.
TMY Portable Projector with Screen, $79.99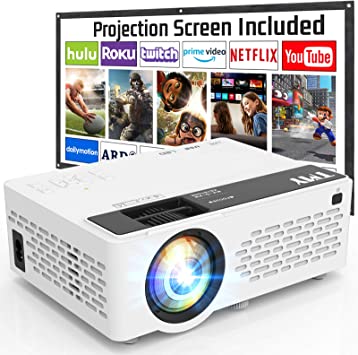 Whether you want to watch movies in your backyard or take your entertainment to the campground, TMY's Portable Projector Entertainment System is a great choice. It has built-in speakers, and Bluetooth capability, and delivers true-to-life color projections on virtually any flat surface—perfect for use on a projector screen, wall, ceiling, or side of the house...the possibilities are endless!
WEWATCH Native Projector, $124.99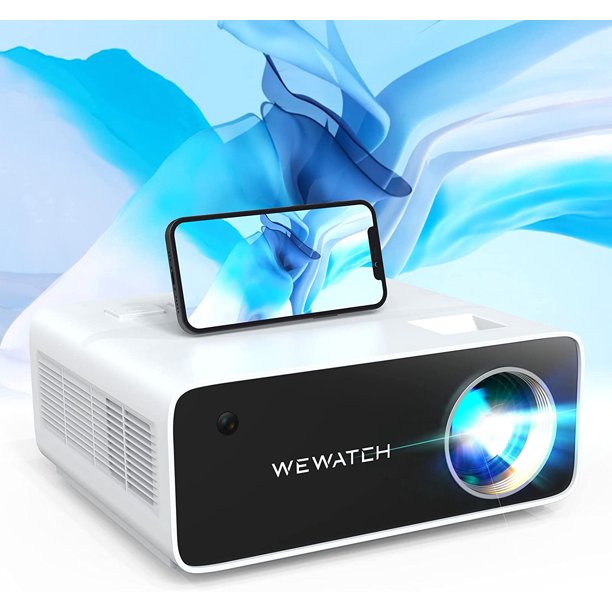 Another great option for both indoors and outdoors is the WEWATCH projector. Small, lightweight, and easy to carry, it can directly connect to your smartphone or laptop via Bluetooth or wireless WiFi connection. This makes it super fast and easy to set up and start watching virtually anywhere.
"We love the look of the projector. It looks very elegant. The setup process is very easy. Our 12-year-old set it up with us together within 5 minutes. We paired the projector to our iPhone and watched a video on it. It's very clear just like watching the video on TV. The sound quality is wonderful," says Sherman in their five-star review.
Yaber Y21 Native 1920 x 1080P Full HD Projector, $169.98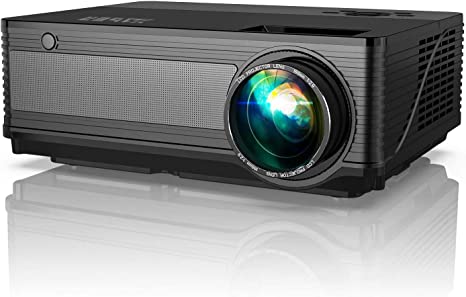 With an ultrabright, crystal clear picture, and state-of-the-art lenses, Yaber's Y21 Native 1920 x 1080P Full HD Projector delivers fantastic visual and audio at a and reasonable price. With two 5W speakers, you'll enjoy an immersive theater experience and it's fully compatible with all streaming sticks, video game consoles, and media players so you can play your favorite feature on the big screen.
"We bought this to have decent movie nights in our apartment and this nice little thing works so well that I'm glad I got one. It comes with a remote and HDMI to HDMI cable. It has a speaker built inside itself. The sounds are nice and the colors are clear with high-resolution quality. You can choose sound mode directly played from your laptop or from a built-in speaker. All settings are straightforward and would only take you less than 5 minutes. All you've got to do is grab some snacks and wine to enjoy your lovely weekend nights.." says Jeffrey in his five-star review.
JVC DLA-X590R 4K e-shift5 D-ILA Projector, $4,999.99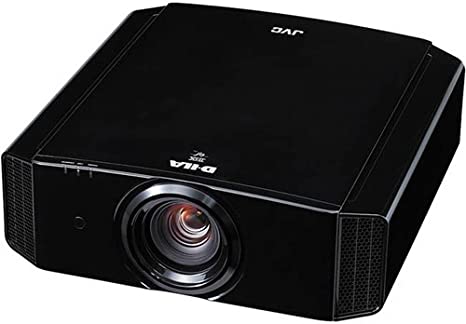 Ready to splurge on your home theater? The DLA-X590R 4K e-shift5 D-ILA Projector from JVC is a consumer favorite thanks to its stability features, amazing picture detail, and the relatively affordable price tag for a custom install D-ILA projector. If you have the budget, you won't be disappointed.
"This projector is expensive, and it's worth every penny of the hefty price. I upgraded from a Panasonic projector that I used for 8 years, and that served me well. After building a new home theater, I wanted to treat the family to a truly exceptional video experience, and I hit the jackpot with this purchase. The picture on this thing is deep, rich, vivid, and brilliant. What also really pops on this is the black levels. It's as black as I've ever personally seen in a home theater projector, and the black level makes for a picture contrast that takes your viewing experience to an incredible level." says L. Brightful in their glowing product review.
Shop top-rated projectors from US websites and ship internationally with MyUS Shopping!

We always aim to bring our members the best shopping options available, but some of the products featured in this post may have purchase restrictions. To find more information, please visit the merchant's terms of sale, shipping guidelines and/or terms and conditions.
More from the MyUS Shopping blog