Cool Wireless Chargers
Looking for a wireless charger that delivers great performance along with cool features and designs?
MyUS Shopping has you covered! We've rounded up the wireless chargers that are both eye-catching and high-performing, and they can all be shipped worldwide from US websites with MyUS Shopping's easy one-cart checkout.
Native Union Dock Wireless Charger $69.99
Native Union's Dock Wireless Charger is a gorgeous blend of good looks and functionality. The stand has a small pedestal for your phone to rest on, delivers 10W of power, and comes with a 6.5 foot charging cable. Available in six colors and designs.
"Handsome details, works great. Allows me to easily view incoming business calls while charging and then answer them without having to disconnect a cord. Very sturdy and fast charger. Grey flannel cover reminds me of a man's suit. Looks sharp on my desk." says kcm in their five-star review.
Magic Array Wireless Charger Pad $34.99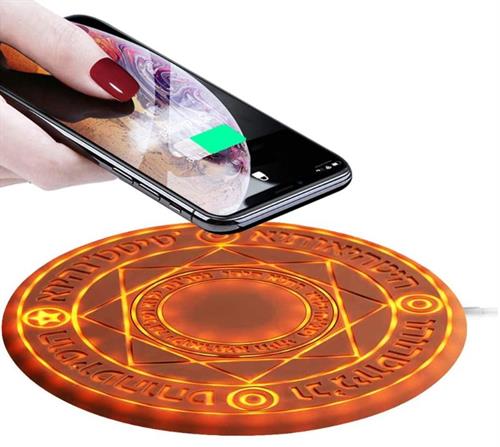 The Magic Array Wireless Charger Pad has an intricate design that gets even better when in use. Put your phone in the middle and its map will start up instantly, summoning power to your device with an internal light that you'll enjoy every time as your phone charges.
"Just ridiculously cool. The script that appears as Hebrew is meaningless so need to worry you will conjure Cthulhu every time you charge your phone." says Dr. Sherwin Kahn in his five-star review.
Vebach Phecda1 15W Fast Wireless Charger Pad $16.99
Tired of bland chargers in basic black? Break out of the rut with a Vebach Phecda1 15W Fast Wireless Charger. This Qi-certified 15W wireless charging pad is compatible with all the major cell phone brands and models, has advanced safety features, and comes in five exciting color choices: red, white, pink, blue, and black.
"Fast charger, easy to use and pretty. I keep it on my nightstand at night and on my work desk during the day and it works great and it's very pretty. I got the white one for my Iphone 8 but it also works on my husband's Iphone X. Works great for me." says Liaza Hill in her five star Amazon review.
Personalized Wireless Charger Charging Pad $12.95
For a wireless charging pad that's truly one-of-a-kind, we love these Personalized Wireless Charger Charging Pads from Etsy store SnapandprintUS. Choose from a rose gold or silver side color and upload your favorite image for a customized charging pad you'll love showing off.
"I absolutely love it!!! Thanks! I would highly recommend you to my family and friends." says emmanuel Gomez in their online review.
Concrete Wireless Phone Charging Pad $39.58
This Concrete Wireless Phone Charger from Etsy store CoMOHandmade is a modern and elegant twist on wireless charging, and is sure to be a conversation piece. Each one is custom formed, molded and poured, and finished off by installing an Anker wireless charger, soft felt cover, and cork bottom to protect furniture. .
"Beautifully made and packaged. Very durable and pretty!" says Olivis in her online product review.
Mandala Wood Wireless Charging Station $35
The Mandala Wireless Charging Station is so pretty, you'll love displaying it as much as you love using it,. Made of wood with an intricate mandala design in gun metal black, it's a beautiful way to keep your devices charged up and ready to go. Comes with a wall cable.
"Beautiful wireless charger, works perfectly too!" says forsythbrittiny in their glowing online review.
Nightstand Valet Walnut Wood Wireless Charging Station $88.98
Charge all your devices at once, and do it in style with this Nightstand Valet Wireless Charging Station. It has space for your cell phone and smart watch as well as a wallet, keys, and other small pocket items. It's made from American black walnut with copper rods, is compatible with iPhone X, XS, XR, and has a built-in dual-coil QI transmitter for a wider charging range.
"William was very responsive and the product is beautiful. Great customer service!" says Anissa Park in her online review.
Shop cool wireless chargers from popular US websites and ship internationally with MyUS Shopping!

We always aim to bring our members the best shopping options available, but some of the products featured in this post may have purchase restrictions. To find more information, please visit the merchant's terms of sale, shipping guidelines and/or terms and conditions.
More from the MyUS Shopping blog