Ideal Home Office Space Decorations
It's difficult to feel productive and attentive to your job responsibilities at home versus at the office. All it takes is a little reorganization and a few additional items to motivate WFH workers to achieve their daily assignments and tasks. You'd be surprised how a change in scenery can influence an individual's workflow for the better.
Bring any of the following items into your home office and watch it become an effective workspace. After you find the perfect home office decor, ship your favorites straight to your doorstep with MyUS Shopping's easy one-cart checkout!
Wildon Home Wall Organizer, $62.99 (Was $75)
This Wildon Home Wall Organizer is perfect for small home offices and limited spaces. Place work documents, folders, and journals in the galvanized metal baskets and use the key hooks to hang work shirts and blazers for last-minute Zoom calls. It also adds a contemporary and rustic look to your workspace and clears your desk free of clutter.
Susan says, "I looked around in stores and online for months until I came across this organizer. It's well made, attractive, and the perfect size, and I am finding the individual compartments very useful. It was also very easy to hang."
LED Desk Lamp, $67.99
When you're working in front of the computer for hours, this LED Desk Lamp does more than a simple desk decoration. It adjusts the color temperature for sensitive eyes, properly lights the room at night, and has a USB port for charging smartphones and tablets. You can also move the desk light arm to any angle that provides the best lighting.
"The lamp is very versatile and has a lot of options for specific needs. It's attractive and catches the eye." Janice states.
Electric Home Office Adjustable Standing Desk, $388.99
This Adjustable Standing Desk accommodates long hours of sitting and standing during task management. It provides ample space for laptops, desktops, planters, books, tablets, and much more! It's easy to assemble, program, and integrate to fit within your new home office.
"Best investment for work from a home office! Love the electronic control - can easily adjust the height with no effort. Sturdy and strong. Very deep, giving you lots of room for monitors, a keyboard, and a workspace. Highly recommend," Pam raves in her five-star review.
Relaxation Tabletop Fountain, $29.99 (Was $34.99)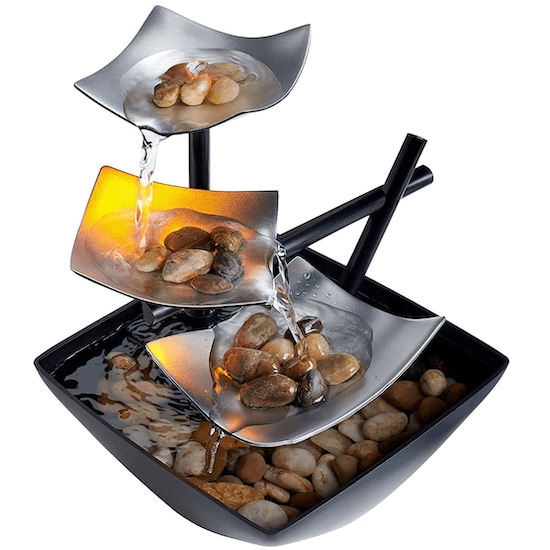 If you're having a tense, hectic, and stressful workday, this 3-Tier HoMedics Tabletop Fountain brings calming zen and relaxation to your home office. The mixture of natural rocks and water flows with the artistic design of the tiers and base. It's a unique workspace decoration that is pleasing to the eye and does not take up much space.
Jose Hernandez writes in his review, "Purchased this item for my office. It makes the perfect piece for a therapeutic setting. It takes up little to no space, is easy to assemble, and I have had it for over six months now with no issues."
Inspirational Wall Art Office Decor, $13.99
Add these Inspirational Wall Art Prints to your home office when you feel overwhelmed or need extra motivation to start the work week. They help fill up negative space on your walls, and they help inspire with positive affirmations. Place them into frames, poster hangers, and clips and prepare to decorate your office space.
"These are very sleek and pretty. They are matte paper with gloss writing, which looks very elegant." Sammi writes in her five-star review.
Work from Home Candle, $14.95+
Bring in good vibes and pleasant fragrances to your home office with this Work from Home Candle! The braided wick offers a lovely flickering flame ambiance to your workspace. Choose from twenty-four scents that match your style, and add these elegant candles to your desk.
Kristen Althizer comments, "I love my candle. It smells so good! It was packaged really nicely - if you're gifting a candle, it's beautifully wrapped."
Geode Planter Pot, $45+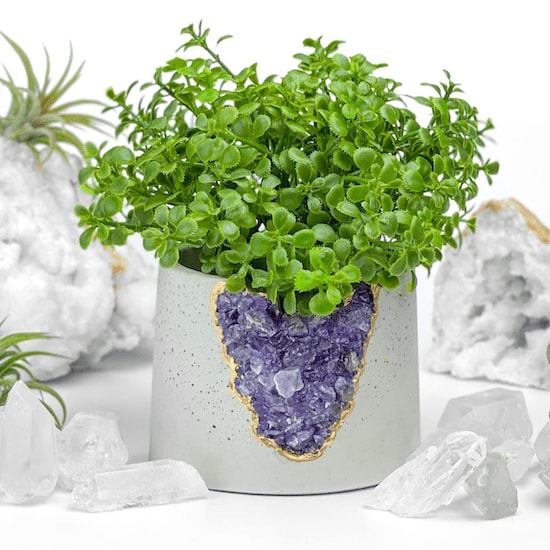 Gemstone lovers and houseplant enthusiasts will appreciate adding this Handmade Geode Planter Pot to their workspace at home. The exposed amethyst stones and concrete mixture make it unique and distinct from other ceramic and clay planter pots. It is an exquisite and stylish decoration that tidies up any home office setting.
"These are simply adorable pots ~ the crystals shimmer, and the gold is striking and beautiful. I love the mix of sparkly and concrete. The colors shown are spot on - exactly what you purchase. Very very cool!!!" Cathy raves.
Kadyn Pleated Square Throw Pillow, $30.07 (Was $35)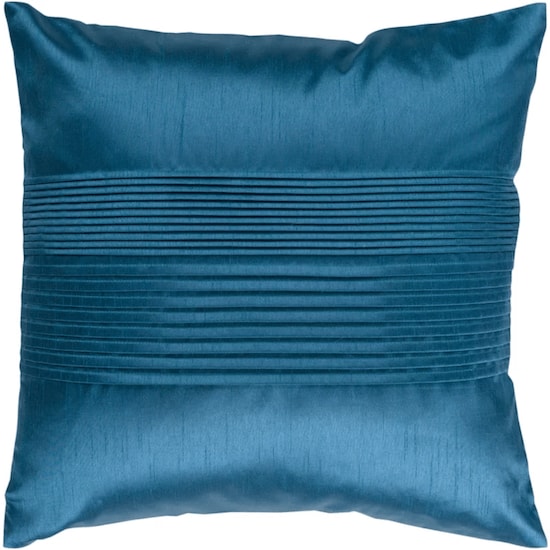 Add the finishing touches to your ideal home office with these Kayden Pleated Throw Pillows. Not only do they come in thirteen shimmering colors, but they also provide maximum comfort for your back after sitting for hours during the workday. These throw pillows are an excellent addition to making any home office resemble the boho, modern, and traditional style.
Irene writes in her five-star review on WayFair, "This pillow is a perfect size and is made from a quality fabric in a beautiful color that matches my decor perfectly."
Printed Watercolor Leather Desk Mat, $7.41+ (Was $14.82+)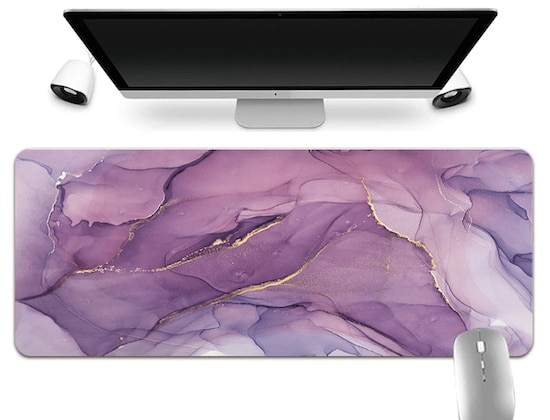 Are you missing something that completes your home office look? This Watercolor Leather Desk Mat offers an artistic aesthetic. It features PU leather and suede material with a top layer of watercolor that's eye-catching and durable. The anti-slip material keeps the mat in place and prevents scuffs and scratches.
"I love this pad! The colors are exactly as pictured and look beautiful with my office decor. I've already gotten a ton of compliments on it. It's great quality and very durable." says Michele Maresh-Fuehrer.
How would you like to arrange your new workspace at home? There are plenty of options to choose from that match your personality and enhance your work style. After you find the essential home office decorations, ship your favorites from top US stores to your doorstep with MyUS Shopping!
Shop festive and chic decor items for your home office from US websites and ship internationally with MyUS Shopping!

We always aim to bring our members the best shopping options available, but some of the products featured in this post may have purchase restrictions. To find more information, please visit the merchant's terms of sale, shipping guidelines and/or terms and conditions.
More from the MyUS Shopping blog