Stylish and Dependable Umbrellas for Rainy Days
Did you know that various types of umbrellas exist for different situations? One works as a personal fashion statement, another prevents view obstructions, and there's one that covers multiple people during golf matches. There is always an umbrella that suits any user.
If you hate getting caught during rainy, sunny, or snowy days, then it's time to invest in a new umbrella. There are many umbrellas to choose from, so look for the perfect one that supports a comfy grip, fits nicely in a bag, and doesn't fly away during heavy winds. After you find your favorite umbrellas, ship them to your doorstep with MyUS's international shipping!
Weatherman Travel Umbrella, $69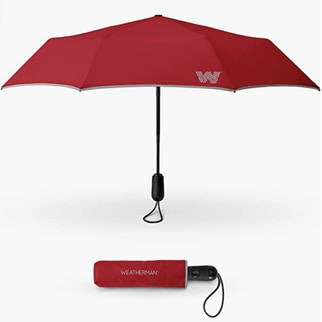 Never leave your home without a compact Weatherman Travel Umbrella for those rainy days. It features an industrial-strength fiberglass frame that keeps the handle steady during intense winds and a water-repellent fabric that instantly dries. In addition, you can choose one of eight colors that match your style for extra fashion points!
"Like that it is compact and the quality of it I feel good about the purchase. It is not a cheap purchase, but if you want quality, it's definitely worth it." Trudy Hernandez says.
Davek Elite Quality Cane Umbrella, $159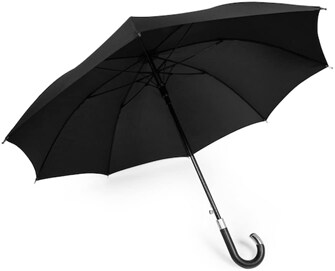 If you're looking for an elegant umbrella that provides more coverage and strength, this Davek Elite Umbrella does the trick! The flexible wind-tension frame system and genuine top-grain leather handle improve modern commuters' classic cane umbrella design. Who wouldn't want a rigid, luxurious, and long-lasting umbrella?
Ben. F states in his five-star review, "The materials used in the umbrella are good quality. Umbrella is sturdy and nice to hold. It will be a great gift though the price is high because of the quality. I am happy with the umbrella."
Blunt Windproof Sport Umbrella, $149

When it starts pouring at large outdoor gatherings and events, it's time to open up the Blunt Large Sport Umbrella! Once the fully-tensioned canopy stretches out, it's wide enough to cover multiple people. In addition, the unique patented blunt shape and materials make it lightweight, durable, and reliable.
Casey raves, "LOVE. IT. Super strong, great size, easy to use. We go to many outdoor games for our kids' sports and face wet weather. This makes it a lot more enjoyable. Recommended!"
Totes Clear Bubble Umbrella, $29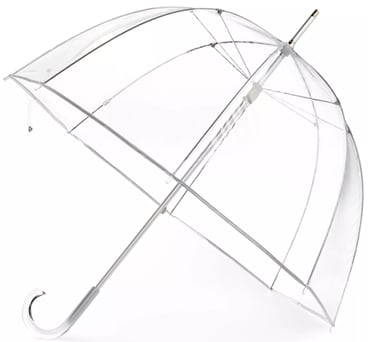 Do you feel that umbrellas obstruct your view on rainy and snowy days? This Clear Bubble Umbrella from Totes offers superior see-through coverage than standard umbrella models. It's the ideal personal umbrella that's fun, flashy, and easy to handle for all ages.
"Great umbrella that gives you great coverage. It keeps you protected in heavy rain and clear so you can see your surroundings." Clerva writes in their five-star review.
Little Boys Shark Umbrella, $22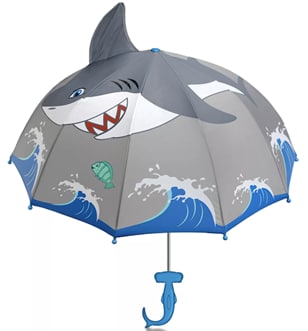 A grey and blue Kidorable Little Boys Shark Umbrella with a Hammerhead Shark handle and art of tidal waves, and a green fish
Make rainy days fun for your little ones with this Shark-themed Umbrella. The molded Hammerhead handle is easy to hold in your hand and shoulder. Everyone will notice the cute cartoon shark, fish, and 3D fin on the top. Sea creature enthusiasts will love toting this umbrella with them wherever they go.
"Adorable and sturdy umbrella. My 6-year-old can easily open and close it on his own. It appears well constructed and the perfect size." Jenny says.
Reversible Dual-Print Umbrella, $30
This Unbelieveabrella Dual-Print Umbrella provides vibrant colors and a comfy rubber handle that make it stand out during drizzles, winds, and storms. In addition, its reverse closure creates a new spin on folding umbrellas and prevents water from creating puddles on the floor.
Athea comments, "Such a beautiful umbrella. Wanted something eye-catching. This fits the bill. Have not had too many opportunities to use it since my purchase. Rain has been minimal. But I know the rain will come. Not huge, but a generous size. And it does the job and keeps me dry. Good quality. Would buy this brand again."
Totes NeverWet Mini Folding Umbrella, $27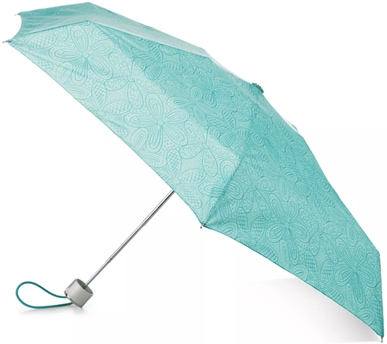 Are you searching for the perfect portable umbrella that fits inside your purse, backpack, and crossbody bag? This Totes Mini Umbrella should do the trick! The NeverWet invisible coating, easy-carry wrist strap, and rubber-coated handle make it the go-to umbrella for any weather emergency.
"It is small enough for a large pocket or purse. It is a great umbrella - very sturdy." Cathy18 states in her five-star review.
Weather Station Deluxe Two-Person Umbrella, $15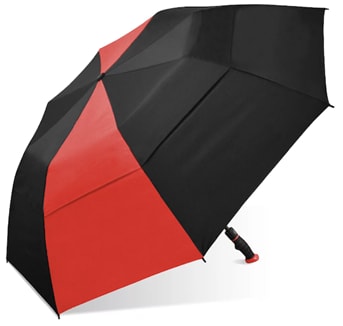 When you're on a date, hanging with a friend, or walking the dog around the neighborhood, this Weather Station Deluxe Umbrella will keep you both dry during surprise rain showers. The ergonomic rubber handle forms around their hands for a comfortable grip, and the 60-inch canopy arc handles wind gusts easily!
Carol says in her review, "This umbrella has a nice handle, opens and closes easily, and is large enough for two people. Also, great on a windy day. I like that it is easy to carry when closed and that it doesn't have a point on end like some umbrellas. I would recommend."
Sports-Brella Versa-Brella Adjustable Umbrella, $24.99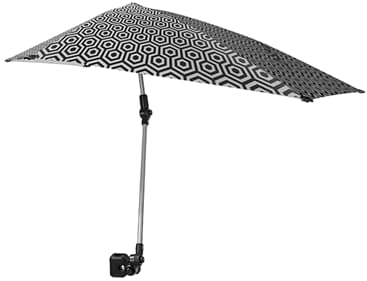 Are you tired of holding umbrellas at the beach, park, or backyard? This Sport-Brella Adjustable Umbrella clamps onto any cooler, railing, and folding chair for hand-free rain coverage. It attaches to tubular and squared surfaces, includes a matching carry bag for safe storage, and adjusts to any angle for the best shade canopy!
Lesypet Dog Umbrella, $25.98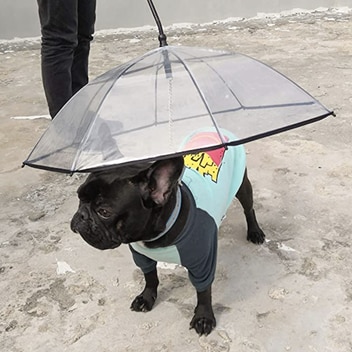 Keep energetic and enthusiastic pets dry during walks in the rain with this Lesypet Adjustable Umbrella. The leash prevents pets from stepping away from the umbrella's canopy, ensuring no rain, wind, or snow exposure. Modify the adjustable handle to any angle and use the C-shape grip for free-hand walks with your furry friends.
"Highly recommended if your pet baby doesn't like the rain. My chihuahua hates rain and refuses to go out in it. He's been all in the rain since!" raves Christopher Williams.
Will you be in a place that constantly rains or snows daily? There are plenty of suitable umbrellas for any situation in the city, beach, or backyard patio. When you find the perfect one that suits you, your friends, and your family, you can ship your top favorite umbrellas through MyUS's international shipping. Check out how much you can save on fast delivery rates and get your umbrellas in time with MyUS!
More from the MyUS Shopping blog