Best AirPod Cases for Protection and Fun
Whether you are lounging at home or commuting to work, AirPods have become an essential item for your journey. While they are more convenient than wired headphones, AirPods are more susceptible to loss and damage. If you're looking for a new case for your wireless earbuds, make sure it's reliable, sturdy, and stylish!
Shop cool Airpod cases from our favorite US stores and find the one perfect for your commuting and musical needs with MyUS Shopping's one-cart checkout!
PodSkinz AirPod Case $4.95
Protect your AirPods from bumps and scratches with this case from PodSkinz. Choose from eleven distinct colors that match your style. Also, the material allows the LED light to shine through, notifying you of when their AirPods need charging. It's the perfect case you can get for under $5!
"I was looking for a cover for my kids' Air Pods charging case and happened upon the PodSkinz version. I have now purchased two as I was so happy with the first one. The product is well made, durable, and absolutely comes in the best colors. No problems at all." Marc S. Reisberg says.
AirPod Case 2 Pack $7.99
With this Dolobi AirPod Case Pack, you can keep a spare case at home or share it with your favorite person. The cases' elastic silicone prevents damage to the wireless earbuds and adds more color to your accessories. You can also secure them on bikes, backpacks, keychains, and luggage with the included carabiners. Switch between two colors to match your outfit for the day. They're the perfect set of AirPods cases for low-budget shoppers!
"These are exactly what I was looking for! They're pretty protective and I love the colors. I like how the keychain is optional. Unlike the hard shell cases, these are user-friendly and come off a lot easier than the hard shell ones. But at the same time, they stay on and don't just slip off." Casey comments.
Batman Case $10.88
If you love superheroes and comic books, this Batman AirPods Case is the perfect item for you! The cover features the distinct Bat symbol and comes with a lobster clasp. Friends and Batman fans will love this fun and functional AirPods case.
"Just as pictured and it looks great!" Teonna states in her five-star review.
Baseball AirPods Case $8.98
Made with premium leather, sports fans will get a kick out of this AirPods Case from Njjex. Choose between a baseball, football, or basketball design that matches your favorite sport. Take these eye-catching cases to the office, class, gym, stadium, and hangout spots.
"We are huge baseball fans, so when I saw this, I had to buy one. I got it for my daughter who takes pictures for our baseball town team. It is so cute!!! It looks better in person than in the picture!" mallard63 raves.
Game Player Design Case $17.99
Add this Classic Game Player Case to your collection! Its game console design adds a stylish and retro look without sacrificing comfort and security. You can't help but mistake your AirPods case for a handheld game device.
"Exactly what I wanted! It came on time. Great product, soft, and even comes with adhesive to make sure the top stays on." Luis says.
Full-body Rugged Protective Case Cover $12.98
This Valkit Protective Case Cover adds dual-layer protection for your AirPods case. The precise cutouts allow you to see the front LED and provide easy access to wireless charging. It offers a snug fit for your AirPods charging case without taking up space.
"This product works great! It is the best AirPods case I ever purchased. Very durable, sturdy, firm around my AirPods. I love it!!" Darrell Williams comments.
Dunkin Donuts AirPods Case $12.75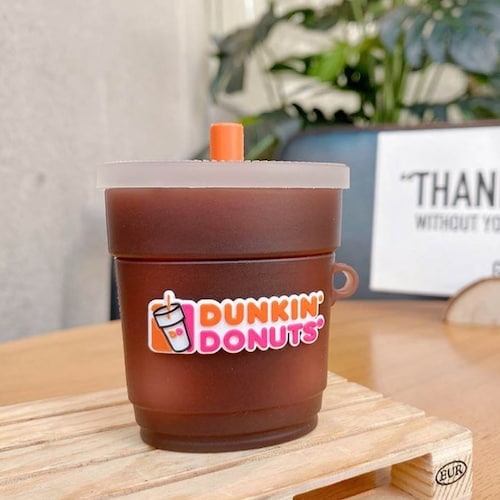 If you're looking for an adorable cover for your AirPods, get one of these Funny Cases from FunPodz seller. It makes for a fashionable accessory or a fun gift for friends and family. You can find many covers—even in the form of a bag of Goldfish, a bottle of Tropicana Orange Juice, and much more! These fun designs would make perfect fun little gifts, especially if you were shopping for a fellow coffee addict!
"Such a cute product! The detail is immaculate, and the texture is so nice. I would totally get another without thinking twice." says Marisa Rudich.
Shop fun and long-lasting AirPods cases and enjoy stress-free shipping with MyUS Shopping!

We always aim to bring our members the best shopping options available, but some of the products featured in this post may have purchase restrictions. To find more information, please visit the merchant's terms of sale, shipping guidelines and/or terms and conditions.
More from the MyUS Shopping blog