Popular US Snacks You Can Buy Online
Don't you love it when you get home, curl in bed with a blanket, and binge-watch your new favorite show with a handful of snacks around? So do we! That's why we decided to make this delicious and crunchy post for snack lovers worldwide.
And if you're living abroad, shipping to family, or just a non-American looking to try some delicious American savory snacks, don't just scroll. Order immediately and enjoy the rich taste of America's favorite snacks.
With MyUS Shopping, you can have the most popular US snacks delivered to almost any corner of the world.
Takis, $6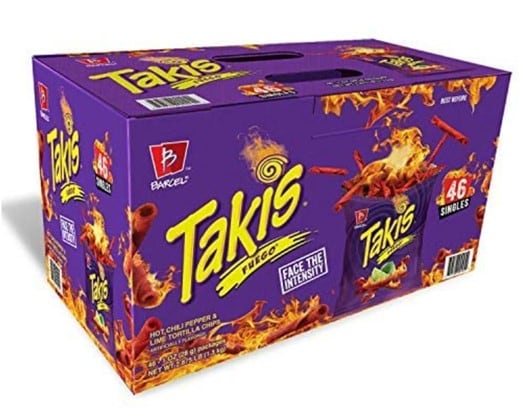 Takis are rolled corn tortilla chips that come in rich flavors like Fuego (hot chili pepper and lime), Crunchy Fajitas (self-explanatory), and Nitro (habanero and lime). They are the perfect snack for those who wish to spice up (pun intended) their home movie night and are loved by many because of their intense and satisfying flavor.
What customers have to say: "Okay, Takis are Takis and these are the same as any other. But, they got delivered directly to my school, so I didn't have to lug them from Sam's to school and they are basically the same price, so it is Amazon all the way!" " - Bmallen
Cheetos, $24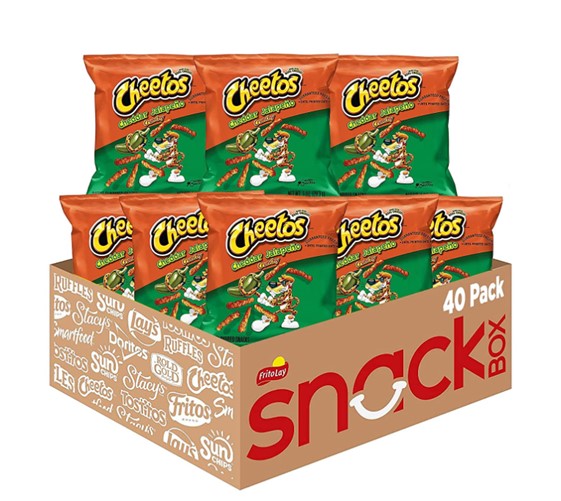 Moving on to something cheesier (and it is not a mid-2000s dramedy) and a snack that's one of the best-selling in the world. Naturally, we're talking about Cheetos - the crunchy cheese snacks that are a classic favorite, with flavors like Flamin' Hot, Cheddar Jalapeno, and White Cheddar Puffs name a few. Cheetos are the definition of cheesy goodness, and they're our favorite when you need a quick and fulfilling snack at work or school.
What customers have to say: "The best part is being able to just keep this box in my trunk and randomly give out bags to friends and family. I feel like Santa Claus." " - Bihn Kim
Snyder's of Hanover Mini Pretzels, $24
Next, we have a brand that might not be that known to everyone in the world (but should be), and that's Snyder's of Hanover, or their pretzel pieces, to be more precise.
You can find these bite-sized pretzels in flavors like Hot Buffalo Wing, Honey Mustard & Onion, and Jalapeno. We recommend them to lovers of bold taste and extra crunch, and they also make great snacks for parties or when you're on the road and need a quick bite from behind the wheel.
What customers have to say: "My child's classroom requests this snack regularly for children who forgot to bring one from home. This is a great deal and it makes it easy to donate to the classroom when they are needed"- Paige S
RITZ Toasted Crackers, $4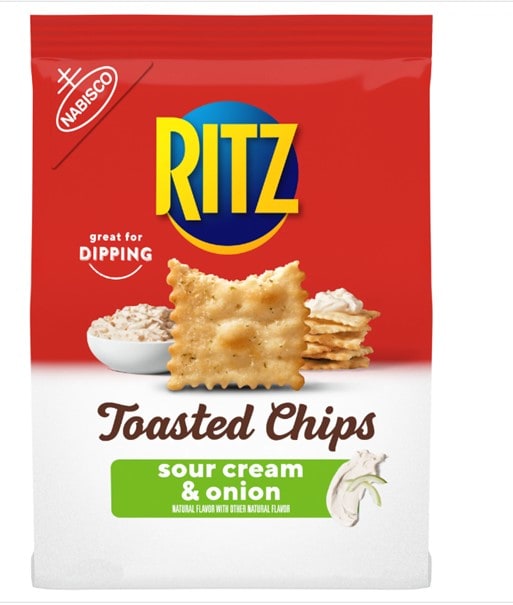 Just the thought of these crispy and flavorful crackers makes our mouths water.
The RITZ toasted crackers have such rich flavors; we can't help but love them. You can choose between the Original taste, Sour Cream & Onion, and Hot & Spicy. They're amazing for when you need a snack to satisfy your cravings or for when you have guests over - just grab a tasty dipping sauce and you'll be good to go!
What customers have to say: "What's not to like about a good Ritz cracker with filling. They work esp. well for snacks. My husband sometimes takes them with him when he tunes pianos for a quick pick-me-up." - Donna.
Smartfood White Cheddar, $42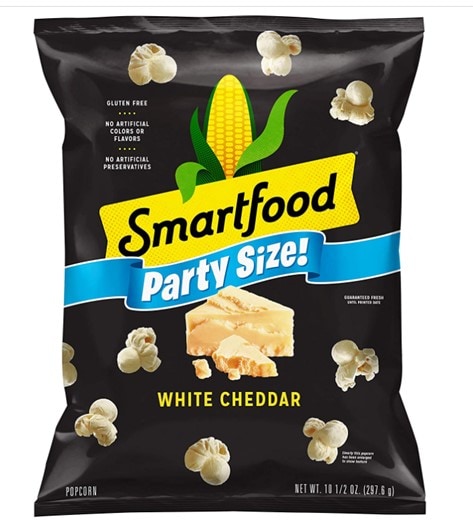 Smartfood popcorn is where the party is! This is one of America's favorite snacks for all the right reasons! The Smartfood White Cheddar popcorn is coated in delicious white cheddar cheese (among other flavors), making it a favorite among all popcorn lovers. It's light, almost airy, and melts in the mouth, all while keeping the crunchiness of a true all-American snack.
They're amazing light snacks for when you're on a diet (you might wanna grab the regular ones, though), movie nights, or for snacking on the go.
What customers have to say: "Our family really loves this flavor of popcorn and brand and really appreciate having the individual sizes that keep us from eating the whole bag and keep it fresh." - MrsB
Goldfish Crackers, $13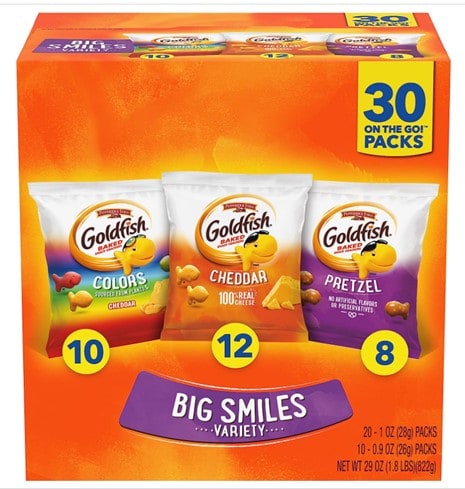 Don't you love a fun-shaped snack? They just taste different. Our favorite fish-shaped crackers include Cheddar, Pretzel, and Flavor Blasted Xplosive Pizza. Of course, we're talking about the famous Goldfish crackers! Children love them, and no birthday party can go without a bowl of Goldfish crackers. That's why we recommend grabbing this pack of 30 for only $13!
What customers have to say: "Perfect little bags to take to school and have at snack time. I used to buy the big bags and portion myself, but sometimes the convenience just wins over, plus this offers a variety as well. We love them." - Dessi.
Blue Diamond Almonds, $11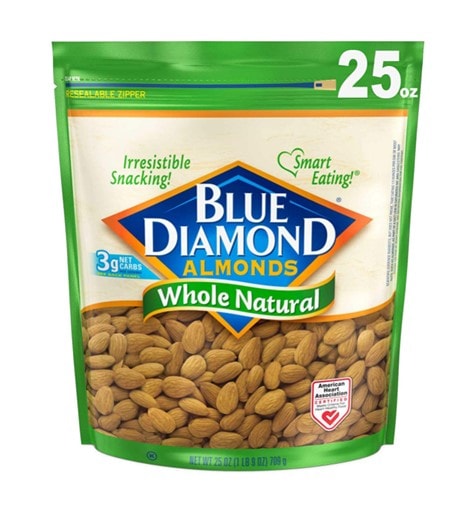 If you're into something nutritious and with a rich taste, we recommend the Blue Diamond Almonds. They come in unique flavors, including Smokehouse, Wasabi & Soy Sauce, and Habanero BBQ. They're ideal if you want to add a tasty snack to your diet or serve them on a charcuterie board as a pre-dinner snack for your guests.
What customers have to say: "I'm trying to get more protein in my diet and nuts are super healthy. The flavoring of the wasabi and soy sauce is so yummy! They are a fantastic snack, just put them in a Ziploc baggie and put them in your purse. Just in case, you miss a meal." - Didi.
Choose MyUS Shopping to Find Your Favorite Snacks
No matter the occasion or your snacking preference, MyUS has got you covered in delivering the most popular American snacks to almost any corner of the world.
So make that care package and surprise a loved one in Mexico or Latvia. Order your favorite American snacks today with MyUS Shopping and indulge in some delicious treats you'll enjoy in your favorite armchair!

We always aim to bring our members the best shopping options available, but some of the products featured in this post may have purchase restrictions. To find more information, please visit the merchant's terms of sale, shipping guidelines and/or terms and conditions.
More from the MyUS Shopping blog