Men's Clothing for Ramadan
Are you ready to celebrate Ramadan? If you need to prepare a last minute outfit or two for the upcoming holiday, we have plenty of options to keep you covered!
Shop your favorite looks and pieces and ship them straight to your international doorstep with MyUS Shopping's one-cart checkout!
Elegant Clothing Men's Thobe $20.75
This Thobe from BElegantWear is the ideal traditional covering for Ramadan. Made from soft quality fabrics, this thobe provides a comfortable and fashionable outfit for under $30! Slip it on when you're ready to celebrate.
"Very good thobe for the price!! Fits just right and also good material!! Thanks" says Aamir Sayeed.
Alwee Muslim Kufi Prayer Headware $13.99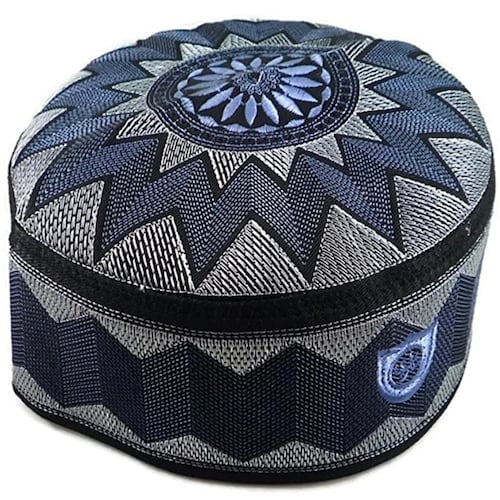 Put on this Muslim Kufi before reciting the five daily prayers and during any celebrations. Choose from five colors such as green, blue, brown, and silver that best match your personality, tradition, and—most importantly—your outfit.
"The kufis are very nice looking and feel quite sturdy. Several people at the local masjid made favorable comments on appearance. Highly recommended." Hasan al-Basir states.
Puloru Islamic Jubba Thobe Kaftan $34.48
Enhance your Ramadan style with this two-toned Jubba Kaftan from Puloru. There are plenty of color combinations that stand out from other thobes and the loose cotton makes it easier to breathe. Also, the zipper saves time when dressing up for the occasion.
"My hubby looked amazing in this thobe, i got it for eid and it came just in time. the fit was absolutely perfect." Shafiun Safiz states.
Massimo Matteo Venetian Driver $65
Whether you are visiting the local mosque for prayer or visiting family, sport these humble Venetian Drivers with your go-to Ramadan outfits. The sleek silhouette on this slip-on loafer makes it the perfect lounge and walking shoe without being too flashy. They're the ideal indoor and outdoor footwear.
"These shoes are wonderfully made. The leather is supple and insoles are very cushioned.." Ashley A comments.
Lee Total Freedom Pants $34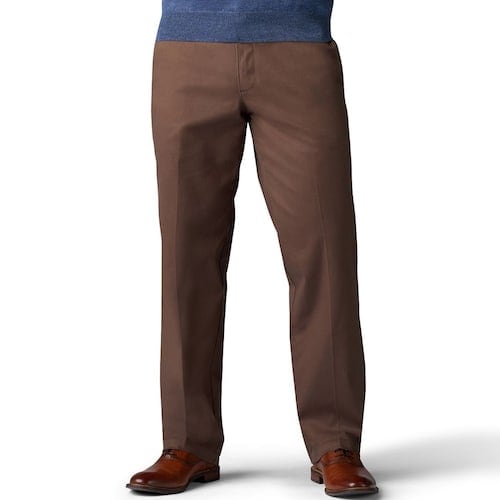 According to Ramadan Dress Code, men should only wear loose trousers and not tight pants. These Total Freedom Relaxed-Fit Pants provide a relaxed fit and offer a lot of flexibility without compromising style. And with stain-resistant material, it's easy to wear without worrying about a messy appearance. Match it with your traditional thobes and kaftans.
"Nice pants and nice discounts for them. Not too baggy and not too slim. A perfect blend of relaxed, straight, and slim. Pants fit just right." C931 says.
Ethnix Cotton Kurta Tunic Pajama Set $72.99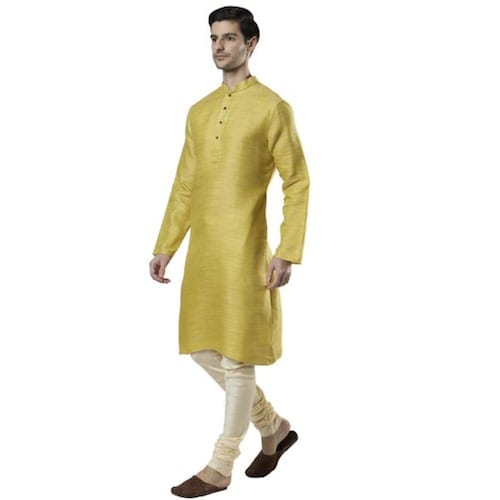 Wear this Gold Kurta Tunic Set to pay respects to the light of the stars and the light needed for traditions. While it sports a vibrant design, it is an elegant choice for the momentous occasion without drawing attention to yourself.
"The fit is absolutely perfect. The material is thin enough to allow plenty of airflow. It's a proper kurta/pyjama set and I'm very happy to have one that fits so perfectly. It's not tight anywhere, and is just loose enough to be breezy without it looking like I'm wearing a tent." says Roger Luedecke in his five-star review.
HOMELEX Keffiyeh Head Scarf with Aqel Rope $26.99
Show off your Ramadan pride with this Keffieh from HOMELEX. If you're looking for a proper head covering that's lightweight and versatile, this set will do the trick. Simply secure it with the aquel rope and watch it protect your head from harsh elements. Match either Black & White, Red & White, or White Keffiyeh with your go-to Ramadan outfit.
"Very well put together and authentic looking" states Enrique J. Perez.
Shop proper and appropriate clothing items for Ramadan and enjoy lightning-quick shipping to your international address with MyUS Shopping!

We always aim to bring our members the best shopping options available, but some of the products featured in this post may have purchase restrictions. To find more information, please visit the merchant's terms of sale, shipping guidelines and/or terms and conditions.
More from the MyUS Shopping blog