Hijab Pins and Jewelry Just in Time for Ramadan
Are you tired of your hijab not staying in place? Secure and decorate your scarves and head coverings with these elegant and fun accessories!
Shop through our lineup of popular hijab pins and jewelry that are sure to make the best impressions! Shop from all of these stores and more with MyUS Shopping's easy one-cart checkout!
Ababalaya Black Hijab Pins Set $8.99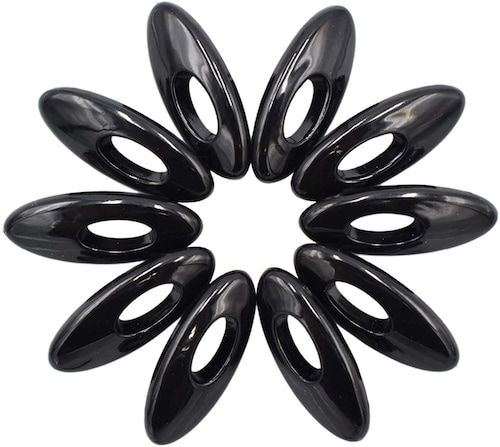 Secure and accessorize your hijabs with this Set of 12 Black Oval Pins from Ababalaya Store. They're lightweight and reliable for any occasion. Whether you're out with your friends or celebrating with family, make sure to keep an extra hijab pin on you.
"I have been using these hijab pins my whole hijabi life, so this is my go-to hijab pin. I love it!" Yasmeen comments.
Magnetic Hijab Pins $25.99
If you're tired of punching holes in your scarves and hijabs or catching snags, attach these Magnetic Hijab Pins to your favorite head covering. Switch between four shiny metal finishes to match your current hijab fabric. They're ideal for thinner fabrics such as chiffon and silk.
"Amazing product! Huge life changer for me. No more sharp pins laying around to step on, the ease and strength of the magnets is unmatched. Love it!" Moe Meri raves.
Scarf Safety Clips $5
If magnets and pins don't fit your style, we recommend using one of these metallic pearl ball pinless Scarf Safety Clips. This set comes with a dozen colorful and decorative pieces that keep your hijab fixed and secure. These clips offer a stress-free alternative to holes and missing magnets.
"These clips are wonderful! Good quality and they hold my hijab very snuggly without damaging my scarves. I recommend them!" states rainsfetch.
Minimalist Charms Hijab Pin $3.99
Add an elegant touch to your attire with these Charm Pins from Azyann. These cute charms come in silver or gold leaf, with heart and rose designs that offer a sophisticated and stylish look. Wear them to your next event to dress everything up.
"These hijab pins are gorgeous, mash'Allah! Honestly, the pictures don't do them justice. The light makes them sparkle and they just look stunning! I got them in silver and gold and they are worth every penny!" says dollyhijabi.
Rhinestone Magnet Buttons $15.75
Made with premium quality rhinestones and strong magnets, these Pastel Flower Pins add some extra sparkle to your hijab. Snap them on your head covering or arrange them on your scarf to secure and accessorize. They'll keep your scarf stable during windy days without causing any damaging pinholes or snagging any threads.
"Very strong magnets. Colors are beautiful. I received 6 different mixed colors. The 6 are actually pairs. Happy with my purchase." Alena states in her five-star review.
Shell Pearl Flower Brooch $23.69
Make a bold statement with this Shell Pearl Flower Brooch from SHAN LI HUA. This attractive piece is delicately crafted with high-quality shell pearls and zircon in a floral arrangement. Bring it out for special occasions, workdays, and casual days.
"This brooch is just beautiful! The pale/pastel colors are a nice complement for the cream colors. I have gotten many compliments when I wear it." Gloria comments.
Homemade Hijab Headpiece $65
Whether you are getting married or celebrating with friends and family, don this Gold Hijab Headpiece for special occasions. It features champagne crystals, white pearls, and a gold finish that is sure to make heads turn. This accessory can be placed directly onto your hair or hijab.
"Omg love love love love! MashaAllah absolutely stunning! I can't wait to wear it. Highly recommend!" Rabah Sharifi says.
Shop for beautiful pins and jewelry for any occasion throughout Ramadan and enjoy stress-free shipping to your international address with MyUS Shopping!

We always aim to bring our members the best shopping options available, but some of the products featured in this post may have purchase restrictions. To find more information, please visit the merchant's terms of sale, shipping guidelines and/or terms and conditions.
More from the MyUS Shopping blog