Fashionable Pleated Skirts
Pleated skirts are a must-have in every woman's wardrobe. They are not only versatile but also comfortable and stylish. You can wear them with almost anything that you have in your closet and they will look great.
This type of skirt dates back to the 1600s when they were worn by men as part of their military uniform. Women began wearing them in the 1800s as part of their school uniforms and then later as fashionable items for everyday wear.
In this article, we will list some of the cutest pleated skirts that you can find on the market.
Gothic Pleated & Check Plaid Skirt, $37.86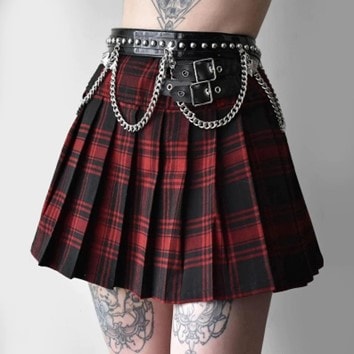 Made from cotton, polyester, and broadcloth, this gothic pleated and check plaid skirt is perfect for the e-girls out there, as well as everyone who's feeling a little edgy and brave. The classic red-and-black, the high-waist skirt can be worn with a classic black or white tee, but also with your favorite leather belts – experiment with your look and see what looks best on you. Available in sizes S through L.
"I've been looking for a red plaid skirt like this for a long time. I was surprised how nice it was, something you'd expect to find a hot topic. It's shorter than I thought it would be, but it's not too bad. Overall I love it." – Meghan
Versatile Stretchy Flared Casual Mini Skater Skirt, $16.86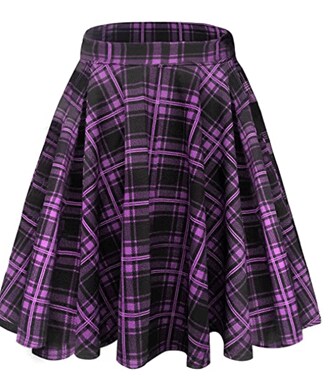 If you were a 00s teenager and young adult, you probably loved these as some of our idols, including Avril Lavigne, wore them all the time. Well, some things never go out of style or keep circling back, so now you can re-live your teenage dream moments in this soft and machine-washable pleated skirt. Pick your favorite color and one of the sizes going from XS through XXL and you'll be ready to conquer the world.
"I got this for my Tina Belcher from Bobs Burgers Halloween costume. Came so quickly, fit perfectly, and was such a great price! Would recommend it!" – Kayla Chan
American Apparel Women's Plaid Tennis Skirt, $50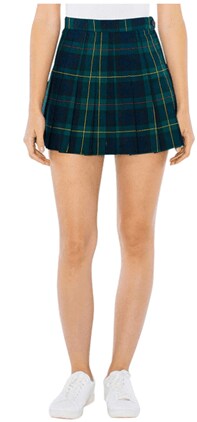 Tennis skirts have a shorter hem and smaller pleats than school skirts. Made from a tightly woven polyester fabric that is comfortable and lightweight, this skirt is dry-cleaned only. American Apparel is a legendary company with a distinct history and culture that has garnered a fiercely-devoted consumer base and significant global brand awareness, and pleated, tennis skirts are some of their signature pieces of clothing.
Available in 3 colors and sizes ranging from XS through XXL.
"I'm so glad I sized up so even tho the skirt is big on my waist it fits my hips as they are larger my waist is small. This beautiful skirt goes very well with my English country style." – Sonia Korsak
Plus-Size Knee Length Full Skater Skirt, $27.13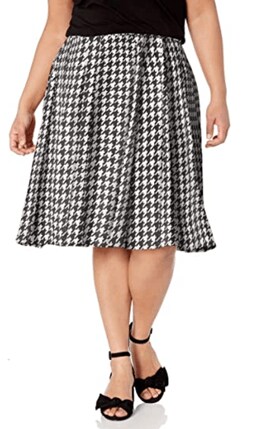 There's no piece of clothing that plus-size ladies can't pull off, and a knee-length skater skirt isn't an exception. Made from 89% polyester, 7% rayon, and 4% spandex, it will provide you with all-day comfort with its pull-on closure. However, keep in mind to wash it only by hand as washing machines can stretch the material.
This model is available in 7 different color combinations and sizes XL through 3XL.
"I was so worried the size was going to be a letdown like it usually is on amazon with plus sizes, but this was actually perfect! It's soft, fits perfectly and I felt flattered when I wore it. It looks overall good! If you need a nice skirt for work or just causal wear that's plus size, come here!" – Liberty E P Wirick
A-Line Harajuku Pleated Skirt, $26.09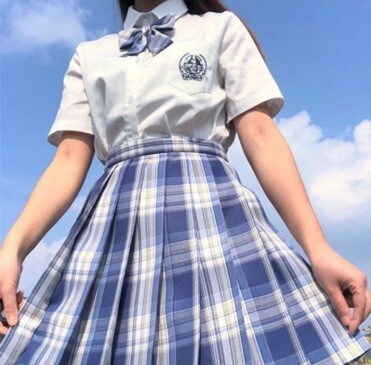 Harajuku-style pleated skirt with pockets? Sign us up!
These pretty handmade skirts come in 7 different colors and size S through XXL, and they're comfy, knee-length, and ideal for your day date in the park or a cosplay party. If you're a fan of the preppy style, definitely go for it. Oh, and did we mention that it comes with a matching ribbon for your shirt?
Shop your favorite pairs of shirts today and ship them internationally with MyUS Shopping!

We always aim to bring our members the best shopping options available, but some of the products featured in this post may have purchase restrictions. To find more information, please visit the merchant's terms of sale, shipping guidelines and/or terms and conditions.
More from the MyUS Shopping blog