Your Essential Autumn Style Guide to Denim Jackets
As the vibrant hues of summer begin to fade, and the scent of pumpkin spice lattes fills the air, you know it's that magical time of year again—autumn. This is the season where cozy fashion, warm beverages, and the perfect denim jacket unite to create a harmonious symphony of style.
In this blog, we're about to embark on a journey through the fall wonderland, exploring the allure of autumn sales, the pumpkin spice craze, and the charm of denim jackets.
To make your autumn wardrobe shine, we've handpicked six irresistible denim jackets for women, men, and kids. Let's dive in!
For Women
The Elegant Oversized Drape Jacket
Picture this: you, wrapped in the embrace of an elegantly oversized (but cropped) women's denim jacket. Its flowing lines and light tones make it a perfect match for your autumn dresses and boots. What sets it apart? The way it effortlessly blends comfort and modernity, and the fact that it will become your favorite autumn piece.
Customer review: "Cute jacket to dress down or up." – Tasha
Retro Revival in Corduroy
This women's denim jacket takes a bold step with a corduroy twist. The ribbed texture gives it a unique vintage charm that's perfect for the autumn days that aren't cold enough for a full-on jacket, but you still can't go out in a shirt. The model is available in eight different colors, and you can pair it with high-waisted jeans and chunky scarves for a trendy '70s-inspired look.
Customer review: "Size down even if you want an oversized fit. I got my normal size and it's REALLY big. I love it and wear it all the time, though!" – Kelsi
For Men
Urban Explorer Utility Jacket
Men, get ready for adventure with this utility-inspired denim jacket. Packed with pockets and crafted for durability, it's your go-to for outdoor escapades. The versatility of this piece lies in its adaptability – layer it over a hoodie for warmth or wear it solo for a casual edge. In the spirit of pumpkin-spice-everything, we've chosen this Carharrt brown color that will go perfectly with the first autumn leaves.
Customer review: "I'm blown away by the quality of this jacket, very well made and heavy . This my first Carhartt purchase and I can tell you, that I will be buying more Carhartt clothing from here on in! Great price for the quality." – Davie
The Timeless Trucker Jacket
Sometimes, sticking to the classics is the key, and the men's denim trucker jacket epitomizes timeless style. Its sturdy construction and tailored fit make it a wardrobe staple. Dress it up or down; it's a reliable companion for autumn's changing moods. You can buy it in black or blue.
Customer review: "This a great quality jacket. Nice big size for my dad. Has 2 large inside pockets. Great present. Nice weight. Nice colour. Will look great after it's worn in." – Kemily B
For Kids
Whimsical Unicorn Print
Little ones can express their unique personalities with this kids' denim jacket featuring an adorable unicorn print. We promise you, it's not just a jacket; it's a canvas for their imagination. Watch as they turn heads, make friends, and create smiles wherever they go.
Customer review: "My 5 year old refuses to wear anything else. Be careful with the washing though and don't wash with hot water. You might damage the print". – Sillybean4
Adventure-Ready Camo Coolness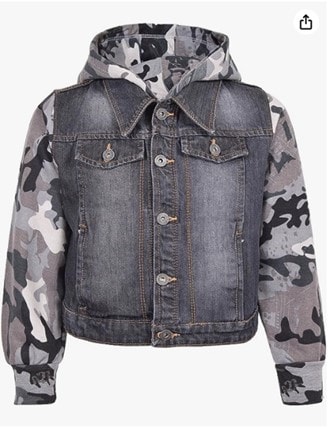 This kids' denim jacket brings the spirit of adventure to the forefront. With a cool camo print and cozy lining, it's perfect for autumn outings. Let your little soldier's inner explorer shine as they navigate the wonders of the season.
Customer review: "Bought this denim jacket for my son, he absolutely loves it! It is comfortable and appears to be of good quality. He's almost 8yrs old but I bought size 11-12yrs cos he's quite tall for his age." – Lola
Autumn is a season of transformation, and your wardrobe should be no exception. Fortunately for everyone, the world of denim jackets offers something for all tastes, shapes, and sizes. These handpicked jean jackets for women, men, and kids are your ticket to autumn style perfection, so don't miss out – visit MyUS Shopping today to start your autumn shopping journey and embrace the beauty of the season with the perfect denim jacket!
We always aim to bring our members the best shopping options available, but some of the products featured in this post may have purchase restrictions. Please visit the merchant's terms of sale, shipping guidelines, and terms and conditions to find more information.
More from the MyUS Shopping blog