Decorative and Functional Oven Mitts for Your Kitchen
Are you ready to refresh your kitchen? Oven mitts are the best accessories to add a little touch to your colorful cozy zone. Along with that, protect your hands at all costs to deliver delicious foodies fresh out of the oven. Whether it's a casual family dinner or a special gathering with friends and extended family, show off your cooking skills with these customer-favorite oven mitts.
MyUS makes shopping a piece of delicious pie. Download our Chrome extension and use it to add items to your MyUS cart with one click. Browse products on the MyUS Shopping and add items directly to your MyUS cart - no download needed. Your items arrive at your doorstep in two weeks or less! Shop your favorite US stores, even if they do not ship to your country. MyUS handles international shipping to over 200 countries!
KAF Home Striped Oven Mitt, $10.99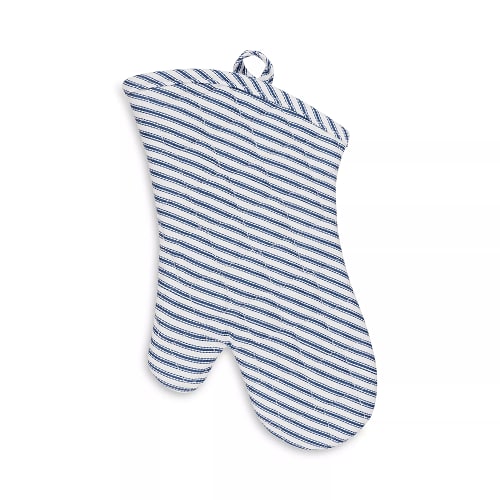 We start with a classic. KAF Home Striped Oven Mitt fashions a comfortable and safe design with a hanging hook detail to be at hand. Thanks to its cotton material it's machine wash safe.
"I love the quality of these made in the USA oven mitts. They are thick but not too thick. My hand is small and I have found other mitts to be much too bulky for me to bend the fabric when grasping a hot handle. These KAF mitts are just right for me. I ordered one in blue stripe and one in red stripe, The colors are bright and cheerful. Bloomingdale's did a great job of delivering them very quickly. They were nicely packaged and came in perfect condition," comments Whiterabbit.
All-Clad Silicone Oven Mitt in Cornflower, $18.99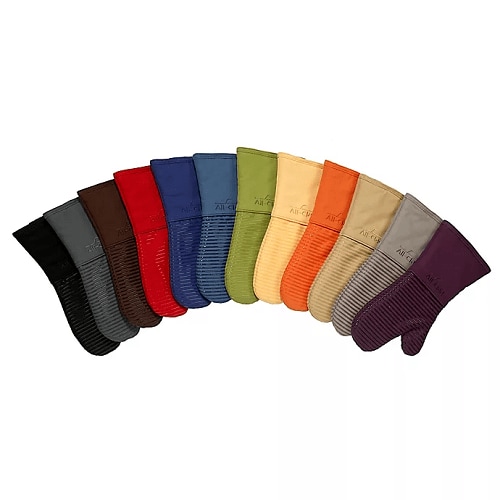 The All-Clad Silicone Oven Mitt has a non-slip, easy grip that makes it safer to handle hot pots and pans. The design includes a soft cotton lining and a strong cotton twill which is stain resistant. You can use this oven mitt with both hands.
"This glove is fabulous! It fits just right and protects all the way up to your elbow so you don't get burned entering the hot stove. I would recommend this glove to everyone who is an avid baker," states JoAnn.
The 'Ove' Glove Superior Hand Protection, $19.89 (was $29.44)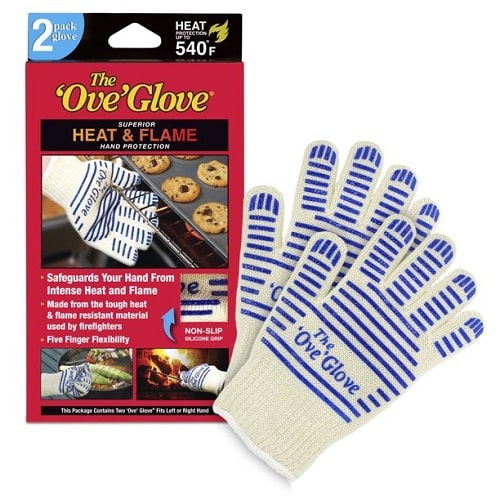 If you need something stronger, the 'Ove' Glove is the perfect set for you. These five-finger flexible grip gloves can be worn on either the left or right hand and can endure temperatures of up to 540 degrees Fahrenheit. It is ideal for use in the kitchen, on the grill, and other hot surfaces around the house. The outer layer is comprised of heat and flame-resistant material similar to that worn by firefighters. The strong outside of this glove acts as a thermal barrier, reducing the rate at which the internal layer heats up.
"Really love these Ove Gloves !!! They work so much better than regular oven mitts and they are so versatile, you can use them in the kitchen, grill anywhere where there is heat, they paid for themselves when I went to take a pizza out of our oven and I put them on and felt no heat through them, they are well worth the money and you will not be let down," remarks Brenda in her five-star review.
KitchenAid Asteroid Solid Textured Oven Mitt, $16.38 (was $27.99)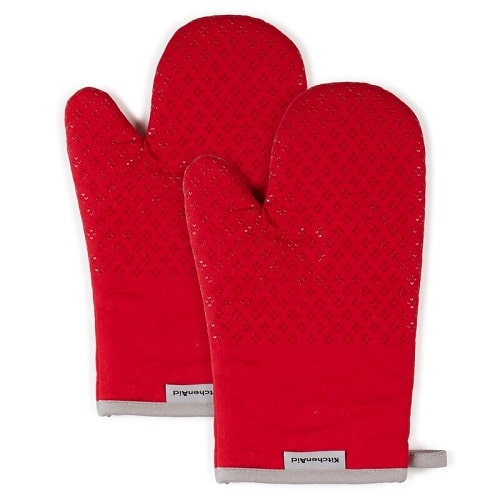 KitchenAid's heavy-duty cotton oven mitts will shield your hands from the heat while handling hot pots, pans, and dishes. The mitts' textured, silicone print grips are heat resistant and provide a firmer, more stable grasp while handling dishes and equipment. They're simple to clean and machine washable, making them a breeze to maintain. Hurry up if you're looking for a useful housewarming gift.
"These are just what I was looking for! They have a good grip and work perfectly. I would recommend these to everyone," comments Rebecca.
Oven Mitts Cute Dog Design, $16.98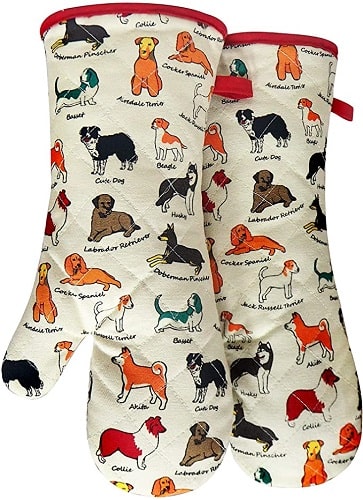 If you can't get enough of the cuteness of dogs or know someone who loves dog-themed gifts, this pair of oven mitts will surely make your or their day. With extra-long size, cotton fabric, and machine washability makes this set not only adorable but useful too.
Alysa Wheeler says, "the oven mitts I got are super cute! They are strong, well-made, and thick. I keep them hanging in my kitchen for when I need them just because they are so cute they deserve to be on display. I hope they never get burned (that's what happened to my last pair). A+++ Oven Mitts.... highly recommended for a gift or for yourself !!"
Have you found your next oven mitt? Shop US stores for unique options and ship them worldwide with MyUS Shopping. Tell us all about your decorative oven mitts on our
Facebook
,
Instagram
, or
Twitter
.
We always aim to bring our members the best shopping options available, but some of the products featured in this post may have purchase restrictions. Please visit the merchant's terms of sale, shipping guidelines, and terms and conditions to find more information.
More from the MyUS Shopping blog