90's Inspired Fashion to Fuel Your Nostalgia
With the introduction of That's 90's Show, many, both young and old, feel tied to the fashion of the mid and late '90s. Time to call back to the times of tape decks, Fresh Prince of Bel-Air, and beepers to channel your 90's fashion icon. If you, or your children, feel the need to bring back the style, we're more than happy to help you find all the 90's themed items to create your perfect throwback outfit.
Vintage Eddie Bauer Green Nylon Jacket for Men, $29.99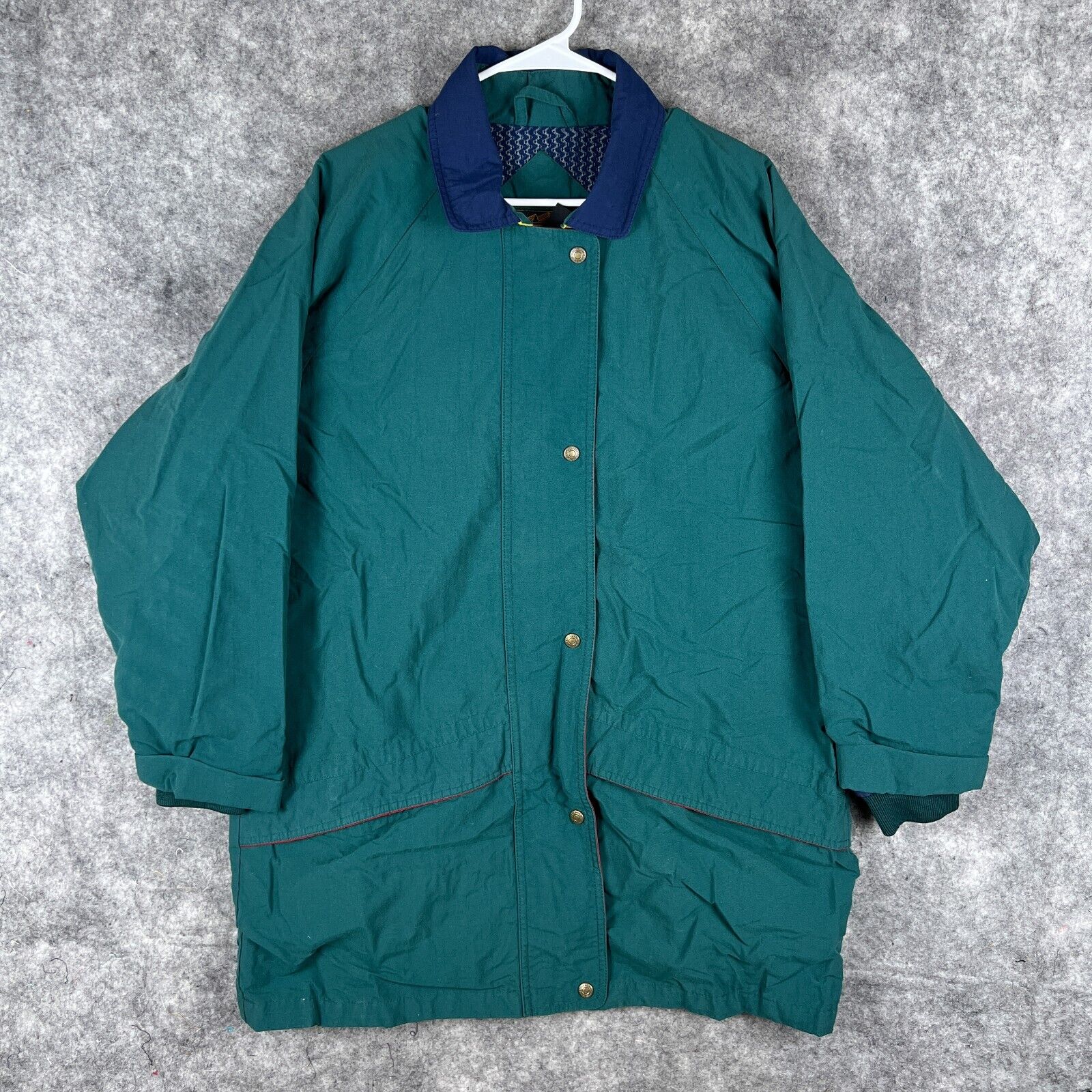 It's time to bring back the brightly colored windbreaker! Add a taste of the 90's nostalgia with this Vintage Eddie Bauer Nylon Jacket for men. This bright green color will bring you back to the times of Saved By The Bell, Fresh Prince of Bel-Air, and Home Improvement with 90s heart-throb Jonathan Taylor Thomas. If you're a size Large, this Nylon Jacket is perfect for bringing out on a cool day outside or at a 1990s-themed party.
Verdusa Women's Zip-Up Windbreaker Jacket, $32.99
Ladies, match alongside your man with this brightly colored Zip-Up Windbreaker Jacket from Verdusa. Channel your inner Kelly Kapowski from Saved By The Bell and flaunt this stylish, long-sleeve, casual jacket. The soft and breathable fabric works well with a great pair of acid-washed jeans to pull off the best 90s look for everyday use or a themed party.
Anusha Ravi's 5-star review raves over this jacket: "I bought this jacket when I went for a trip to Oregon in summer. The weather was pretty nice but there is always a chance of rain in Oregon. So this jacket was perfect, it's very light but the material is waterproof. I wore to explore some waterfalls and cannot be more happy with my purchase. The material looks like Satin so it gives a great shiny look and colors are so vibrant, I got a lot of compliments from strangers. Go for it. Totally worth it!"
Blockbuster Be Kind, Rewind T-Shirt, $21.99
Remember going to the video stores on a Friday night to rent a movie? Bring back the 90s American nostalgia with a Blockbuster Be Kind Rewind T-Shirt. And don't forget to grab some delicious sweet and savory snacks if you wear this shirt for a movie night. This lightweight, classic-fit shirt is perfect for lounging around the house and for everyday use.

"Love this shirt! I especially love that it's not one of those Bella/Canvas shirts that fit so tightly. This one is soft and light, but it's also not skin tight. The sleeves are pretty long, but I think that's because it's a male shirt. Either way, big fan. Soft and lovely," said Hannah H.
Nickelodeon Rewind All That T-Shirt, $22.99
If you were one of those kids who spent evenings watching Nickelodeon Classics like Rugrats, All That, Clarissa Explains It All, and Ren and Stimpy, this shirt was made for you to share with your child. This Nickelodeon Rewind T-Shirt is the perfect callback to classic cartoons and an opportunity to inform your children of the best cartoons on television.

"This shirt stayed the same size through several washes, which is exactly what I was hoping for. The logo on the front has started to become a little worn, but there's no tears or scratches in it yet, and the integrity has held for the most part. The shirt was very smooth when I first got it, and it's become a little less after the aforementioned washes, but nothing that bad. Overall, a great shirt that runs true to size that will also get you some pretty funny comments from former devotees of one of the greatest Nickelodeon shows of all time." states Andy Kristensen in their review.
Original Tamagotchi Pet, $19.99
Tie your outfit with the perfect accessory to hook onto your belt loop. Tamagotchi Pets were handheld digital pets that entertained teens and children for hours. Half accessory, half toy, Tamagotchi Pets are the perfect way to bring back a 1990s vibe and spark conversations with the younger generation. Just don't get caught at work or school feeding your pet!

"Tamagotchi, Ahh, all the fond memories of my youth. Back before the internet in the 90s; you kept me entertained. I bought you for my 9 year old and I was pleasantly surprised that she likes you so much. It's funny how old school you are and you're still loved by this new generation of kids. I didn't think you'd stand a chance with all the fancy internet games but alas I was wrong. Thank you for improving your bad qualities. I remember begging my mom to keep you alive while I was at school. I'm happy to learn you're no longer as needy as you once were. Which is good for this momma because the last thing I want to do is keep you alive during my music, cleaning, and wine time. Love, The lazy mom who kills plants," said Brandi Long in her 5-star review.
VANLINKER Polarized Retro Oval Sunglasses, $13.99 (Was $19.99)
Channel your inner Chandler, Monica, Rachel, or Pheobe with these stylish Retro Oval Sunglasses. These anti-glare sunglasses offer USA and UVB protection that blocks 99% of ultraviolet protection to shield your eyes against long-term UV damage when you go outside. These old-school styled lenses are simple yet, so eye-catching that it guarantees you'll look cool while shopping, at parties, at the beach, and during everyday use.
"Love the retro style of these. Lenses aren't too dark so don't go staring at anyone," said Bailey in her 5-star review.
NELife Men's Jogger Sweatpants, $34.99 (Was $39.98)
These Men's Jogger Sweatpants are the perfect pair of joggers to pull together a perfect outfit for any 80s or 90s-themed party. The adjustable waistband helps you keep your pants sitting perfectly at your waist as you exercise and maneuver through everyday errands. In addition, it features practical large, deep pockets to hold your phone, keys, wallet, and earbuds without anxiety.
"I bought them for a 90s party for my husband and he now wears them regularly. Apparently very comfortable and pleased with the fit." Married to a weirdo said in her 5-star review.
Original Memphis Retro Vintage 80s/90s Flat Bill Baseball Cap, $16.99
Keep the pattern going with an Original Memphis Baseball Cap to match the above jacket and pants. The all-over print makes anyone stand out from the crowd, and it brings back all those 80s and 90s color-scheme everyone knows and loves. Wear this comfortable hat outdoors to protect your skin, hair, and eyes from the powerful ultraviolet rays.
Zesica Women's Greenplaid Knitted Cardigan, $21.66 (Was $53.99)
Channel your inner punk rock energy with a Greenplaid Flannel Cardigan you can pair with a pair of cut-up black jeans. The long-sleeve cardigan lends a fashionable twist to your look, and the soft fabric ensures you stay comfy no matter what you're doing. The beauty of this cardigan is that it works for every occasion possible.
"This is great for work, church, or going anywhere. I love the way it fits and looks. You can dress it up with dress pants and make it more casual with jeans. It is warm too!" an Amazon customer raved in their 5-star review.
Are you looking to recreate classic 90's looks? With MyUS Shopping, you can find all the nostalgic attire needed to party like it's 1999. Share your favorite 90's themed outfit on our social media pages.
We always aim to bring our members the best shopping options available, but some of the products featured in this post may have purchase restrictions. Please visit the merchant's terms of sale, shipping guidelines, and terms and conditions to find more information.
More from the MyUS Shopping blog