Holiday Gift Guide for Stocking Stuffers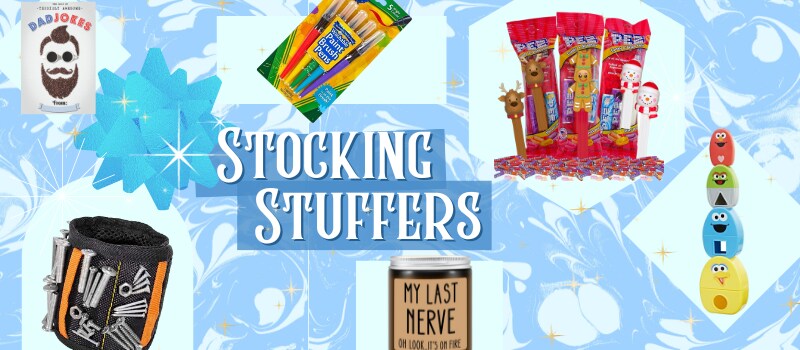 Placing gifts, money, and treats in stocking have come a long way from its original tradition. Have you ever wondered why we hang up stockings? Well, it's so Father Christmas, Saint Nicholas can fill it with presents if you've been good. According to tradition, three poor sisters left their stocking drying over their fireplace one night. Saint Nicholas knew the family was poor, so he put three bags of gold coins down their chimney, which landed in the girls' stockings. Since this story, children (and adults) have hung up their Christmas stockings with hopes of finding them filled with gifts on Christmas morning.
Keep the tradition alive in your family by finding the best gift and treats to place in your family's stockings!
For Those With a Sweet Tooth
Do you have a child or loved one who loves everything sweet and tasty? Do you often splurge on sweet desserts or candy, especially around the holiday season? Make the holiday season delicious by filling their stocking with all sorts of sweet treats they'll love to eat through the end of the year. Here are some recommendations of items you can include in their sweet-themed stocking.
Christmas Candy Dispensers
Christmas Poop Mints
Shop various holiday candies you can add to your stockings.
For Laughs
Are you the notorious prankster or the family member that knows how to make everyone laugh? Don't stop being the comedian of the family just because it's the holiday season. Here are some great suggestions you can gift your loved ones that will remind them of your sense of humor for years to come!
The Book of Terribly Awesome Dad Jokes
My Last Nerve Candle
Shop various funny Christmas gifts you can add to your stocking with MyUS Shopping!
For Crafters
There's always that one creative person in the family who can spend hours on end coloring, cutting, gluing, building, and creating a masterpiece that looks great hung on the wall or your refrigerator. So here are some small crafting items that work perfectly as stocking stuffers for the creative loved ones in your life.
Magnetic Tool Belt Wristband
Crayola Washable Paint Brush Pens
Toys for Tots
Little kids light up with joy when they find new toys in their stockings. So on top of the fantastic presents they already have, give your young kids a little more fun with smaller toys they can play with. Maybe they may even like it more than those sitting under the tree. Here are some of our suggestions for stocking stuffer toys your kids may love this holiday season:
Christmas Teething Toys
Elmo and Friends Stack & Nest Friends
Disney Baby Minnie Hair Brush and Comb Set
Find the Perfect Stocking Stuffer with MyUS Shopping
There are hundreds of stores in the US that may have the perfect stocking stuffer for your loved ones. You can buy any gifts from almost any retailer in the US and send them directly to your doorstep anywhere around the world. It's an easy process and will have you shopping within minutes!
How Does MyUS Shopping Work?
Shop your favorite US stores, even if they don't ship to your country. MyUS Shopping handles all international shipping to over 200 countries. So all you have to do is start shopping.
Step 1: Start Shopping (There are three ways to do it!)
Search Bar - Type a keyword to search top US Stores like Amazon, Walmart, and more!
Shop Now - Click the "Shop Now" menu to browse your favorite US stores by category.
Copy & Paste - Paste a product URL from any US store and let our Buying Assistant purchase it for you!
Step 2: Add to Cart
Add items from different stores to your MyUS Shopping cart and pay for international shipping at checkout.
Step 3: Bundle Your Goods
We bundle your items into one shipment and you save BIG on shipping costs.
Step 4: Wait for Your Items to Arrive
Your purchases are delivered to your doorstep, just about anywhere in the world!
We always aim to bring our members the best shopping options available, but some of the products featured in this post may have purchase restrictions. Please visit the merchant's terms of sale, shipping guidelines, and terms and conditions to find more information.