Holiday Gift Guide for Hanukkah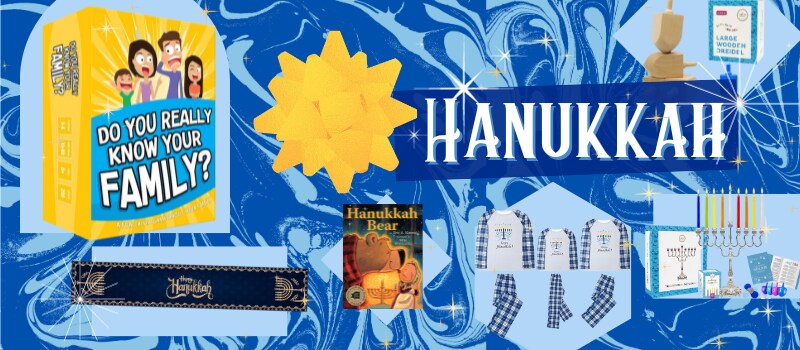 The Festival of Lights, Hanukkah, is celebrated worldwide by many believers of the Jewish faith. According to the Hebrew calendar, it is celebrated on the 25th day of Kislev, which may occur from late November to late December. This year, it is celebrated from December 18th through December 26th. There are several ways one can celebrate this holiday, commemorating a miracle that lasted eight days.
One can share the story and history of Hanukkah with friends, children, and family. You can create delicious meals, play music, play dreidels, pass out coins (gelt), and more. As we approach the holiday season, we wanted to provide a share of gift suggestions you can gift to loved ones who celebrate this wonderful holiday.
For the Children
Education children on their cultural traditions are vital in keeping them alive for years to come. Hanukkah is a rich history and can be tough to explain to some younger children. One of the easier ways to get children to learn more is to find fun and creative ways to tell stories and get them involved through hands-on learning. Here are some gift suggestions we think would best spread the joy and love of Hanukkah and Jewish traditions with young children.
Hanukkah Bear by Eric Kimmel
Celebrate Hanukkah with warmth and charm with the Hanukkah Bear by Eric Kimmel. This delightful storybook beautifully captures the holiday spirit as it follows the adventures of a lovable bear who stumbles upon a family celebrating Hanukkah. A heartwarming tale perfect for sharing with loved ones during the Festival of Lights.
21-Piece Wooden Shabbat Set
Celebrate the joy of Hanukkah with the KidKraft 21-Piece Wooden Shabbat Set, a delightful addition to your holiday festivities. This set, designed for ages 3 and up, includes sliceable challah bread. It is the perfect educational and interactive gift for kids while honoring Jewish traditions during this special holiday season.
Hanukkah Decor
Christmas isn't the only winter holiday that calls for home decor to be set up around the house. Deck the halls for the Jewish observance with these lovely decor items you can reuse for years to come. Take traditional concepts and give them a modern, stylish upgrade with these holiday decor suggestions we feel will give your home a festive facelift during this holiday season.
Complete Chanukah Menorah Set
Illuminate your Hanukkah celebration with this comprehensive Chanukah Menorah Set, featuring a timeless silver-plated classic menorah, 45 vibrant multicolored candles, 4 wood multicolored dreidels, Hanukkah play coins, and an informative Hanukkah booklet. Get ready for endless festivities with the included Hanukkah instruction game card, making it a delightful gift for the holiday season.
Matashi Hand-Painted Spinning Dreidel Holiday Ornament & Blue-Ivory Regal Lion Menorah
Add a touch of elegance to your Hanukkah celebrations with the Matashi Hand-Painted Spinning Dreidel Holiday Ornament and the exquisite Blue-Ivory Regal Lion Menorah Candelabra. Crafted with intricate details, these beautifully designed Jewish decor pieces, adorned with gold accents and crystals, make for a thoughtful and sophisticated Hanukkah gift to light up the Festival of Lights.
For the Traditional Hanukkah Dinner
There are over a dozen traditional Hanukkah recipes to make during the eight-day celebration. From latkes, sufganiyot, brisket, kugel to treats like gelt and cookies. Overall, traditional Hanukkah foods comprise fried foods, savory meats, and sweet desserts rooted in tradition, making them a meaningful part of the celebration. If you're struggling to find the perfect gift for Hanukkah, here are some items that would make for great gifts that can be used for years to come.
Vohado Hanukkah Table Runner
Enhance your Hanukkah celebrations with the Vohado Hanukkah Table Runner, a beautiful addition to your festive decor. Featuring a tasteful design that embodies the spirit of Chanukah, this table runner adds a touch of tradition and elegance to your kitchen or dining room. Elevate your holiday gatherings with this essential Jewish Chanukah festival day decoration.
Dreidel Shaped Latke Tray Platter for Hanukkah
Enhance your Hanukkah celebrations with the Chanukah Serving Tray for Parties from the Sapphire Collection. Crafted from durable melamine and featuring an elegant round design, this serving plate is perfect for presenting your favorite holiday dishes and snacks in style. It makes for a thoughtful and practical Hanukkah gift that adds a touch of sophistication to your festivities.
For the Memories
Is this the first Hanukkah season for your little one or convert? Make the most of the eight-day Festival of Lights by creating memories they can look back on and appreciate for years to come. Here are some items you can add to your holiday shopping list that can be used for many more Hanukkah celebrations to come.
Design Your Own Dreidel
Celebrate Hanukkah with a personal touch using the 3" Inch Wooden Chanukah Dreidel set. Crafted from unfinished natural wood, these 4 dreidels allow you to design your own unique, festive spinners, adding a delightful and creative element to your holiday celebrations.
Baby's First Hanukkah Outfit
Celebrate your little one's first Hanukkah in style with this adorable Unisex Baby Outfit! Designed for babies aged 1 to 9 months, this charming blue ensemble features a delightful "My First Hanukkah" print, making it the perfect attire for the festive season. Dress your baby in this special outfit to create heartwarming memories that will last a lifetime.
For the whole family
Celebrate together as a family unit this Hanukkah. Individual gifts can be fun, but when you gift something that brings the family together, there's a chance you can make great memories to come. Create new family traditions or educate your children on the ones passed down generations before so they can appreciate this holiday. Take family traditions one step further than just lighting the menorah this Hanukkah. Here are some gift suggestions to bring your family closer together for the season and future months.
Supmatchy Family Hanukkah Matching Clothes Set
Get ready to light up the Festival of Lights in style with the Supmatchy Family Hanukkah Matching Clothes Sets, available in sizes suitable for the tiniest members of your family, starting from 0-6 months. These adorable sets ensure that even the youngest can join the Hanukkah festivities with a coordinated and festive look perfect for family gatherings and celebrations.
Do You Really Know Your Family?
Uncover the hidden depths of your family bonds with "Do You Really Know Your Family?" This engaging game has thought-provoking conversation starters and exciting challenges, making it the perfect addition to your Hanukkah festivities. Ideal for kids, teens, and adults, it's a fantastic way to strengthen connections and create lasting memories this holiday season.
Find the Perfect Hanukkah Gifts with MyUS Shopping
There are hundreds of stores in the US that may have the perfect gift for Hanukkah. You can buy a gift from almost any US retailer and send it directly to your doorstep worldwide. It's an easy process and will have you shopping within minutes!
How Does MyUS Shopping Work?
Shop your favorite US stores, even if they don't ship to your country. MyUS Shopping handles all international shipping to over 200 countries. So all you have to do is start shopping.
Step 1: Start Shopping (There are three ways to do it!)
Search Bar - Type a keyword to search top US Stores like Amazon, Walmart, and more!
Shop Now - Click the "Shop Now" menu to browse your favorite US stores by category.
Copy & Paste - Paste a product URL from any US store and let our Buying Assistant purchase it for you!
Step 2: Add to Cart
Add items from different stores to your MyUS Shopping cart and pay for international shipping at checkout.
Step 3: Bundle Your Goods
We bundle your items into one shipment and you save BIG on shipping costs.
Step 4: Wait for Your Items to Arrive
Your purchases are delivered to your doorstep, just about anywhere in the world!
We always aim to bring our members the best shopping options available, but some of the products featured in this post may have purchase restrictions. Please visit the merchant's terms of sale, shipping guidelines, and terms and conditions to find more information.