Gift Guide for Grandparents
Most grandparents would say you're the most fantastic present they've ever received, but giving them something special would make the holiday season great. Whether your grandparents are avid travelers, nature enthusiasts, tech junkies, or the family chef - MyUS has the perfect catalog of products from popular US stores and brands to help you choose the best gift for Grandma and Grandpa this holiday season.
For Grandpa & Grandma's Delicious Home Cooking
Everyone knows Grandmas are professionals in creating delicious meals for any occasion. If your grandparents consider themselves "Foodies," get them a gift that will help them spread joy (and increase pants sizes) through their culinary expertise. Be sure to write down their recipes too.
Ninja OL701 Foodi 14-in-1 Pressure Cooker Steam Fryer
Help Grandma Prepare the family's favorite slow-cooked recipes 70% faster and make one-pot meals with a touch of a button!
14-1 Versatile Functionality Pressure Cooker has 14 programmable cooking functions - Pressure Cook, Steam & Crisp, Steam & Bake, Air Fry, Broil, Bake/Roast, Dehydrate, Sear/Saute, Steam, Sous Vide, Slow Cook, Yogurt, Keep Warm & Proof.
Unlock the juiciest way to air fry, for crispy results with up to 75% less fat than traditional frying
14 Piece Legend 5 Ply Stainless Steel Cookware Set
Upgrade your Grandparent cookware with the high-performance and versatile Legend Cookware Set that ensures reliable results when preparing meals for the whole family.
Includes an 8 qt stockpot; 8", 10", and 12" frying pan; 1 qt, 2 qt saucepan; 3 qt casserole pan; 3 qt saute pan.
Dishwasher-safe and oven-safe up to 230°C/450°F
Royal Gourmet 2 Burner Portable Griddle
Now Grandpa can grill whenever and whenever he wants thanks to this portable 18-inch tabletop gas grill.
From scrambled eggs to succulent steaks, this tabletop grill is perfect for any cookout.
No Mess Cleanup: The oil leak hole channels excess oil, drips, and residues to the removable grease cup on the right side to facilitate a hassle-free cleanup.
Check out other products perfect for Grandparents who spend their time whipping up delicious family meals
To Help Grandparents Relax in Retirement
Your grandparent devoted their time to the workforce and now deserve to enjoy every moment of rest and relaxation. Help your grandparents stay off their feet and feel comfortable as they enjoy being retired and experiencing new adventures.
Comhoma Leather Recliner Chair
Help Grandpa and Grandma feel relaxed in a new rocker recliner that makes for the perfect spot to sit through long sporting events, movie nights, and to read to the grandkids comfortably.
Features 4 massage parts, 5 massage modes, heat function for lumbar relief, adjustable vibration strength, and zero gravity regulation - with built-in cupholders.
With built-in drink holders, the chair features reclining, rocking, massage, heat, and swiveling.
H&B Luxuries Shiatsu Kneading Rolling Foot Massager
Perfect for aching feet and legs - Grandparents will love ending their day with a relaxing foot massager!
Helps with feet circulation: Pressure nodes located under the soles of your feet stimulate the vital reflexology pressure points, improve blood circulation, stimulate muscle recovery, and provide pain relief.
Features 7 optional modes, manual mode with three adjustable speeds, and two different massaging options.
Sharper Image Powerboost Deep Tissue Percussion Massager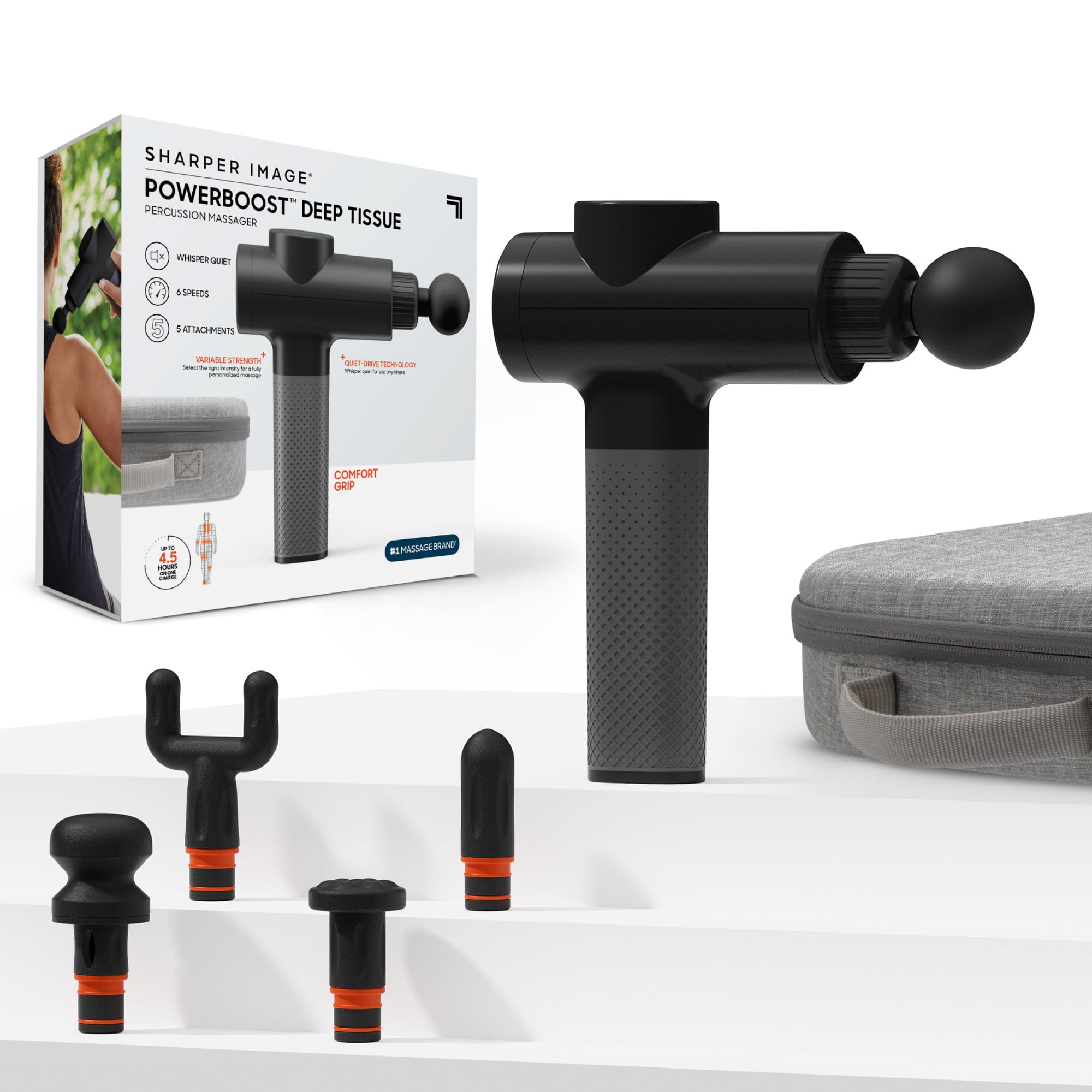 Let your grandparents alleviate stiff muscles with the use of this deep tissue massager tool.
Wireless and rechargeable for on-the-go convenience - your grandparents can take this massager with them almost anywhere.
Change the strength of the percussions to one of the 6 built-in speed setting to suit needs and help break up lactic acid and reduce soreness.
For The Grandparents who Collect Precious Moments
Memories last forever and Grandparents are the source of treasured memories thanks to their trunks of photos, knick-knacks, and gifts you and your children have given them over the years. Celebrate the precious memories you've shared with them by giving them gifts that remind that of you, your family, and the love you all share for one another.
Engraved Natural Wood Photoframe, 5X7
Celebrate the love shared between grandchildren and grandparents with this picture frame made from top-quality wood fit to capture moments to remember.
Perfect for a 5X7 photo, this white wood block with a gray base and attached white letters makes for a cherished gift that can be placed bedside, on top of a mantle, on a bookshelf, or even on a desk.
Willow Tree Grandfather Figurine

Nothing says "We love grandpa," like a figurine that reflects the love your grandparents have for you.
This figurine is perfect for reflecting grandparents' caring and loving nature as seen through the eyes of their grandchildren.
With the variety of other Family grouping figurines available, you can group them with several grandparent pieces to depict the larger family relationship.
ADVcer Photo Album or DIY Scrapbook

Gift your grandparent a scrapbook that chronicles the birth of their grandchild and the milestones as they grow up.
Record every moment - from the first bath to the first holiday!
Beautifully illustrated, it offers space for new grandparents to add notes, photographs, cards, and other memorabilia.
Grandparents with Fur Babies
Grandparents are known for spoiling their families, especially their grandchildren. They also love to spoil their fur babies, or in some cases, "grand fur babies." If your grandparent is also a "paw parent", these gifts are perfect for spoiling their pets alongside themselves.
K9 Sports Sack Air 2 Forward Facing Dog Carrier Backpack
Now your grandparents can take their dog or cat anywhere where there's an adventure with this forward-facing backpack dog carrier.
It features ventilated sides for a full al-fresco effect, easy-pull zippers, adjustable side pockets for all your essentials, and a collar hookup D-ring for safety.
Perfect for hiking, running errands, long walks, rucking, and everything in between, with light-reflecting chest strips for added safety.
Embark Vet Breed & Health Dog DNA Test
This DNA kit enables a dog owner to learn about their pup's breed, ancestry, health, relatives, and more with a simple cheek swap.
With research-grade DNA genotyping platform, Embark reviews over 350 breeds and more than 215 genetic health risks and traits.
Your grandparents can discover and connect with dogs that share DNA with theirs with the world's only canine relative finder, free with purchase.
Pet's First NFL Mesh Pet Jersey
Your sports-fanatic grandparents can pass down their love for their favorite NFL team to their furry pet.
This official NFL 100% satin and poly mesh jersey with woven trim on the neck and sleeves is the perfect way to make your dog (and large cats) a part of your favorite team.
Check out other products perfect for Grandparents who spoil their pets as much as their grandkids on MyUS Shopping.
Grandparents Traveling The World
Retirement can be amazing for some and inspire others to travel and see the world's wonders. If your grandparents are always on the go and visiting places by boats, planes, trains, or automobiles, then these gifts are a perfect way to show your love and support on their next big adventure.
Grandma's Getaway Bag
Show your favorite grandma, nana, or grandmothers some love with this cute, fun, unique custom tote bag designed for grandma.
The premium tote bag is made to last with sturdy canvas material and is fully lined inside with black nylon material and a stylish 24" handle.
iPack Impact 3-Piece Hardside Spinner Luggage Set
Gift the Grandparents a gift that they can use while traveling abroad!
This 3-piece luggage set features a 28" hard side spinner, 24" Carry-on Spinner, and 20" Travel tote.
Durable, hard side construction to withstand all types of travel
Madison Slip-On Sneaker
Grandmas on the go tend to do a lot of walking - with these slip-on sneakers made by Dr. Scholls, each step will feel comfortable and supportive while she treks on her adventure.
The breezy perforations lighten the look of a comfort-minded platform sneaker with an anatomical footbed and BE FREE Energy insole to cushion each step.
Find the Perfect Gift for Your Grandparents with MyUS Shopping
There are hundreds of stores in the US that may have the perfect gift for your grandparents ready to be purchased. You can buy a gift from almost any retailer in the US and send them directly to your doorstep or your grandparents' home anywhere around the world. It's an easy process and will have you shopping within minutes!
How Does MyUS Shopping Work?
Shop your favorite US stores, even if they don't ship to your country. MyUS Shopping handles all international shipping to over 200 countries. So all you have to do is start shopping.
Step 1: Start Shopping (There are three ways to do it!)
Search Bar - Type a keyword to search top US Stores like Amazon, Walmart, and more!
Shop Now - Click the "Shop Now" menu to browse your favorite US stores by category.
Copy & Paste - Paste a product URL from any US store and let our Buying Assistant purchase it for you!
Step 2: Add to Cart
Add items from different stores to your MyUS Shopping cart and pay for international shipping at checkout.
Step 3: Bundle Your Goods
We bundle your items into one shipment and you save BIG on shipping costs.
Step 4: Wait for Your Items to Arrive
Your purchases are delivered to your doorstep, just about anywhere in the world!
Get your goods fast and worry-free, thanks to our premier service and long-term partnerships with DHL, FedEx, UPS, and USPS.
We always aim to bring our members the best shopping options available, but some of the products featured in this post may have purchase restrictions. Please visit the merchant's terms of sale, shipping guidelines, and terms and conditions to find more information.