Holiday Gift Guide for Grandparents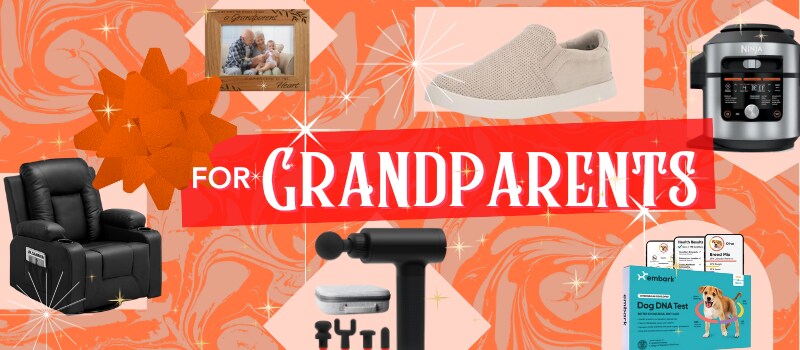 Most grandparents would say you're the most fantastic present they've ever received, but giving them something special would make the holiday season great. Whether your grandparents are avid travelers, nature enthusiasts, tech junkies, or the family chef - MyUS has the perfect catalog of products from popular US stores and brands to help you choose the best gift for Grandma and Grandpa this holiday season.
For Grandpa & Grandma's Delicious Home Cooking
Everyone knows Grandmas are professionals in creating delicious meals for any occasion. If your grandparents consider themselves "Foodies," get them a gift that will help them spread joy (and increase pants sizes) through their culinary expertise. Be sure to write down their recipes too.
Ninja OL701 Foodi 14-in-1 Pressure Cooker Steam Fryer
Gift the ultimate kitchen companion to your grandparents, who love to cook easily and precisely. The Ninja OL701 Foodi 14-in-1 SMART XL 8 Qt. Pressure Cooker Steam Fryer is a versatile appliance that combines 14 cooking functions, a spacious 8-quart 3-layer capacity, and a Smart Thermometer, making it the perfect tool for creating delicious meals and treats, from air frying to proofing dough, all in a sleek silver and black design. Simplify meal preparation and elevate your culinary skills with this innovative Ninja Foodi, an ideal gift for your beloved grandparents.
14 Piece Legend 5 Ply Stainless Steel Cookware Set
Upgrade your grandparents' kitchen with the Legend 14-piece Stainless Steel Heavy Pots & Pans Set. This professional-grade cookware is a durable and versatile addition for their home cooking or even commercial kitchen needs. It offers a non-Teflon, PFOA, PTFE, and PFOS-free stainless steel 5-ply construction that's induction and oven-safe. It's the perfect gift for seasoned chefs or those who love spending time in the kitchen.
Royal Gourmet 2 Burner Portable Griddle
Treat your grandparents to a sizzling outdoor culinary experience with the Royal Gourmet PD1203A 2-Burner Portable Tabletop Griddle. With a powerful 16,000 BTU propane gas grill, this versatile tabletop griddle is perfect for patio, deck, backyard, tailgating, camping, and picnic gatherings, making it a fantastic addition to their outdoor cooking arsenal. Crafted in stylish black, it ensures delicious meals and cherished moments with family and friends.
Check out other products perfect for Grandparents who spend their time whipping up delicious family meals
To Help Grandparents Relax in Retirement
Your grandparent devoted their time to the workforce and now deserve to enjoy every moment of rest and relaxation. Help your grandparents stay off their feet and feel comfortable as they enjoy being retired and experiencing new adventures.
COMHOMA Leather Recliner Chair
The COMHOMA Leather Recliner Chair is the perfect blend of comfort and style for your grandparents' living space. This modern rocker offers heated massage, a 360-degree swivel, and convenient drink holders, ensuring they can relax in luxury and unwind in total comfort. Whether reading a book, watching TV, or simply enjoying a peaceful moment, this black leather recliner is designed to make their downtime truly enjoyable.
H&B Luxuries Shiatsu Kneading Rolling Foot Massager
Pamper your grandparents with the ultimate relaxation experience using the H&B Luxuries Shiatsu Kneading Rolling Foot Massager. This personal health studio offers soothing foot massages that improve circulation, relieve pain, and are perfect for combatting conditions like plantar fasciitis and neuropathy. Let them kick back, unwind, and enjoy the gift of rejuvenating foot massages, making every day a comfortable and pain-free one.
Sharper Image Powerboost Deep Tissue Percussion Massager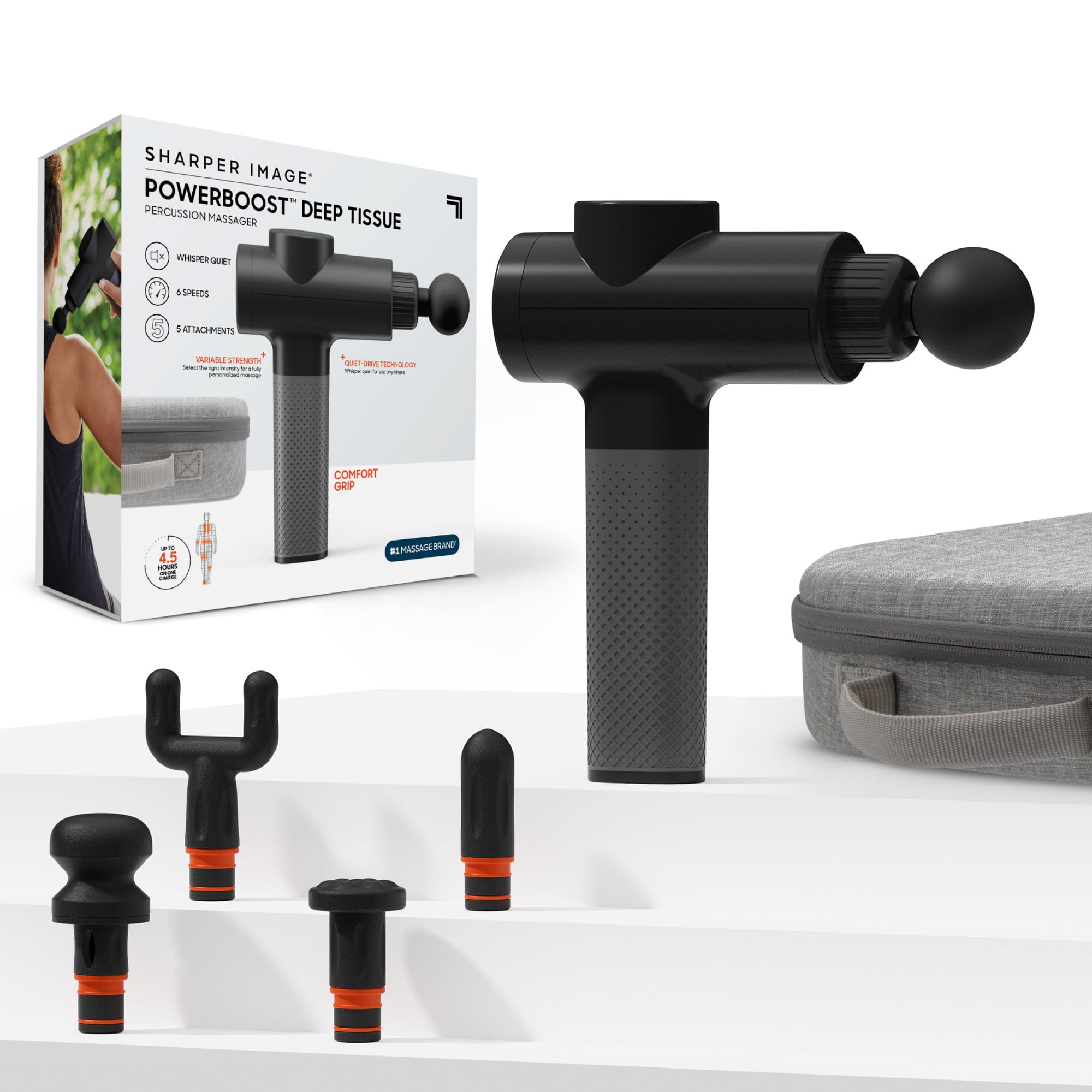 Experience the ultimate relaxation with the Sharper Image Powerboost Deep Tissue Percussion Massage Gun in sleek black. With five interchangeable attachments, this powerful massager helps soothe those aches and pains, making it the perfect gift for your grandparents to unwind and rejuvenate.
For The Grandparents Who Collect Precious Moments
Memories last forever, and Grandparents are the source of treasured memories thanks to their trunks of photos, knick-knacks, and gifts you and your children have given them over the years. Celebrate the precious memories you've shared by giving them gifts that remind you, your family, and the love you all share for one another.
Engraved Natural Wood Photo Frame, 5X7
Celebrate the enduring bond between grandparents and their cherished grandchildren with an Engraved Natural Wood Photo Frame. Featuring a heartwarming "Side by Side or Miles Apart, A Grandparent is Always Close to the Heart" message, this 5x7 horizontal portrait frame is a thoughtful gift for Grandparent's Day, a heartfelt surprise for Grandma, or a special gesture for Grandpa, keeping treasured memories close to their hearts.
Willow Tree Grandfather Figurine

Celebrate the timeless bond between grandparents and grandchildren with the Willow Tree Grandfather figurine. This beautifully sculpted and hand-painted figure captures the essence of caring relationships across generations, making it a heartfelt and meaningful gift for grandparents who cherish the ageless love they share with their little ones. Whether displayed on a shelf or tabletop, this figurine is a touching reminder of the enduring connection between grandparents and their precious grandchild.
ADVcer Photo Album or DIY Scrapbook

Preserve cherished memories and share a lifetime of stories with the ADVcer Photo Album. This vintage leather-bound three-ring binder features 50 double-sided 10x10 inch pages, perfect for filling with up to 408 self-adhesive photos using the 9 color options for photo corners, making it a heartwarming gift for grandparents to treasure their family history. This DIY scrapbook is a thoughtful way to celebrate their journey and create a lasting legacy.
Grandparents with Fur Babies
Grandparents are known for spoiling their families, especially their grandchildren. They also love to spoil their fur babies, or in some cases, "grand fur babies." If your grandparent is also a "paw parent," these gifts are perfect for spoiling their pets alongside themselves.
K9 Sports Sack Air 2 Forward Facing Dog Carrier Backpack
The K9 Sport Sack in Charcoal Grey is the perfect solution for active grandparents who love to spend time with their furry companions. This medium-sized dog carrier backpack, measuring 12.0"L x 10.0" W x 22.0"H, provides a comfortable and stylish way to take their pet on adventures, whether a leisurely walk or a hike in the great outdoors. With its adjustable design and sleek Air 2 Light Grey accents, it's the ideal gift to keep grandparents and their beloved dogs happily on the move.
Embark Vet Breed & Health Dog DNA Test
Uncover the fascinating secrets of your beloved canine companion's heritage and health with the Embark Breed & Health Kit. This comprehensive dog DNA test not only reveals your dog's breed and ancestry but also provides valuable insights into their genetic health and unique traits and even connects you with potential doggy relatives. Give your grandparents the gift of a deeper bond with their four-legged friend this holiday season.
Pet's First NFL Mesh Pet Jersey
Give your furry friend a touchdown-worthy look with the NFL Miami Dolphins Dog Jersey in size medium. This licensed jersey shirt is the perfect outfit for your four-legged sports fan, whether a dog or cat, and it's an ideal gift for grandparents who adore their pets and the Miami Dolphins. Let your pet show team spirit during game days or any special occasion.
Check out other products perfect for Grandparents who spoil their pets as much as their grandkids on MyUS Shopping.
Grandparents Traveling The World
Retirement can be amazing for some and inspire others to travel and see the world's wonders. If your grandparents are always on the go and visiting places by boats, planes, trains, or automobiles, then these gifts are a perfect way to show your love and support on their next big adventure.
Grandma's Getaway Bag
The Brooke & Jess Designs Grandma Gifts Tote Bag in a tranquil Teal Lexie hue is a thoughtful and practical gift choice for grandmothers. With ample space for work essentials and a delightful design, it's the perfect accessory for grandmas on the go, and a sweet reminder of love from their grandkids for Mother's Day or any special occasion.
iPack Impact 3-Piece Hardside Spinner Luggage Set
Travel in style and convenience with the Rockland Melbourne Hardside Expandable Spinner Wheel Luggage 3-Piece Set in elegant Champagne. This set includes three sizes (20/24/28), ensuring your grandparents have the perfect travel companion for any adventure. With durable hard-side construction and smooth spinner wheels, this luggage set combines durability and maneuverability for hassle-free globetrotting.
Madison Slip-On Sneaker
Treat your grandparents' feet to the ultimate comfort and style with these Dr. Scholl's Women's Madison Slip-On Fashion Sneakers in a chic Grey Cloud Microfiber. These size 7.5 sneakers provide a perfect blend of fashion and functionality, ensuring your grandparents can effortlessly step out in style and enjoy the comfort they deserve.
Find the Perfect Gift for Your Grandparents with MyUS Shopping
There are hundreds of stores in the US that may have the perfect gift for your grandparents ready to be purchased. You can buy a gift from almost any retailer in the US and send them directly to your doorstep or your grandparents' home anywhere around the world. It's an easy process and will have you shopping within minutes!
How Does MyUS Shopping Work?
Shop your favorite US stores, even if they don't ship to your country. MyUS Shopping handles all international shipping to over 200 countries. So all you have to do is start shopping.
Step 1: Start Shopping (There are three ways to do it!)
Search Bar - Type a keyword to search top US Stores like Amazon, Walmart, and more!
Shop Now - Click the "Shop Now" menu to browse your favorite US stores by category.
Copy & Paste - Paste a product URL from any US store and let our Buying Assistant purchase it for you!
Step 2: Add to Cart
Add items from different stores to your MyUS Shopping cart and pay for international shipping at checkout.
Step 3: Bundle Your Goods
We bundle your items into one shipment and you save BIG on shipping costs.
Step 4: Wait for Your Items to Arrive
Your purchases are delivered to your doorstep, just about anywhere in the world!
Get your goods fast and worry-free, thanks to our premier service and long-term partnerships with DHL, FedEx, UPS, and USPS.
We always aim to bring our members the best shopping options available, but some of the products featured in this post may have purchase restrictions. Please visit the merchant's terms of sale, shipping guidelines, and terms and conditions to find more information.