Holiday Gift Guide for Coworkers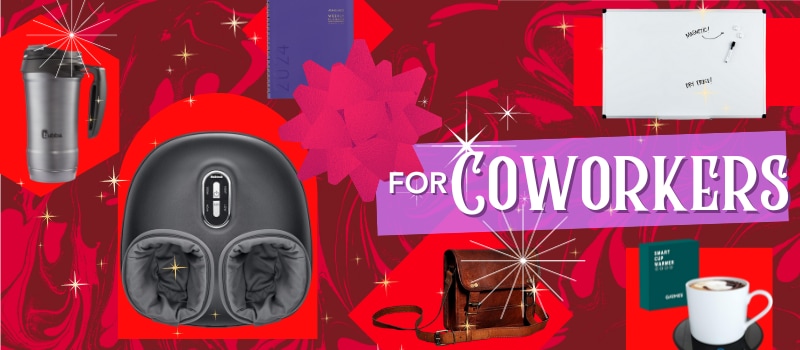 If you consider the people at your job your second family, you can't leave them out this Christmas season. Your coworkers and boss also need a little Christmas cheer during the holiday season. Everyone deserves something they can utilize daily to make work more relaxing as they put in their billable hours. We understand it can be a little tough trying to find the perfect gift for someone you only see from 9 to 5 - Here's our gift guide for your coworkers.
The Planners
Do you have a friend or coworker who needs to pencil in time to relax on their schedule? These structured and organized professional loves planning and list-making. So why not get them more tools and items they can use to fuel their love of planning their day, week, or month?
2023-2024 Weekly, Monthly Planner, Lilac Medium
Stay organized in style with the AT-A-GLANCE 2024 Weekly & Monthly Planner. This sleek, contemporary purple planner not only boasts a modern design but also offers half-hourly appointment slots for efficient scheduling, monthly tabs for easy navigation, and a convenient pocket for storing notes and documents. It's the perfect gift for coworkers who appreciate fashion and function in their daily planning.
Amazon Basics Dry Erase Board
Stay organized and efficient at the office with the Amazon Basics Magnetic Dry Erase Whiteboard in a sleek 36 x 24-inch design. Its aluminum frame and classic silver/white color scheme add a touch of professionalism to any workspace, making it a perfect gift for your coworkers who value productivity and collaboration. With this versatile tool, they can jot down notes, create to-do lists, and keep important documents within easy reach, all while adding a touch of modern style to their work environment.
Scary Reality of Adulting 16-Month Holiday Calendar
Enjoy humorous phrases about the realities of adult life as you set goals from September 2022 through December 2023 with this fun calendar.
It includes 180 reminder sticks with 23 different colorful designs so your coworker can remember birthdays, doctor appointments, parties, shopping trips, field trips, call reminders, schedule changes, deadlines, vacations, bills, and more!
Each month will greet your coworker with an adulting comic that reminds them that they aren't alone when feeling the pressures of adulthood. You might as well laugh at it!
Always at Their Desk
Most people who work the usual 9 to 5 are often found at their desks, typing away, making calls, and so on. That can take quite a toll on the body, meaning they deserve a little rest and relaxation between meetings, presentations, and projects. So here are some gift recommendations we believe would be perfect for helping your coworkers while they're hard at work.
Nekteck Shiatsu Foot Massager
Pamper your tired feet with the Nekteck Shiatsu Foot Massager Machine in sleek gray. Its deep kneading therapy and soothing heat function provide a luxurious spa-like experience. At the same time, air compression and the promise of improved blood circulation offer the perfect solution to relax at home or in the office. A thoughtful gift for coworkers who deserve some well-deserved relaxation.
Kneading Massage Pillow
Treat your coworkers to relaxation with this versatile Shiatsu Neck Massager. Its soothing heat and kneading massage functionality provide targeted relief for neck, back, and shoulder tension, making it the perfect choice for a thoughtful "Get Well Soon" or Christmas gift in elegant gray. Give the gift of comfort and rejuvenation, ensuring your colleagues can unwind after a long day with this electric massager.
3D Moving Sand Art Picture
Transform your workspace into a captivating underwater oasis with the 3D Moving Sand Art Picture Decor. This mesmerizing deep-sea sandscape, encased in a round glass frame, delivers soothing liquid motion and is a delightful desktop decoration or toy for adults and children. Embrace the tranquility of this 7-inch yellow masterpiece and bring the ocean's serenity to your coworkers' desks.
Traveling for Work
There are plenty of careers today that involve traveling for projects and other critical work-related events. Do you have a friend who is often on the road for tradeshows? Get them something this holiday season that they can use on their travel, whether by plane or car. Here are some great gifts you can give that person who is always on the go for the name of their job or business.
Bagsmart Toiletry Bag
Stay organized on the go with the BAGSMART Toiletry Bag. This versatile travel companion not only keeps your full-sized toiletries neatly stowed but also features a TSA-approved transparent cosmetic bag, making airport security a breeze. Its sleek medium-black design adds a touch of sophistication to your coworker's travel essentials.
Genuine Leather Passport Holder
Stay organized and stylish on your travels with this Genuine Leather Passport Holder, designed for both men and women. Crafted in a timeless beige hue, it not only protects your passport and immunization record card with RFID blocking but also offers a secure snap closure for peace of mind throughout your journeys. A practical and chic gift for your coworkers.
Bubba Hero Stainless Steel 18 oz Travel Mug
Stay refreshed throughout the workday with the Bubba Hero XL Vacuum-Insulated Stainless Steel Travel Mug. This 18oz gunmetal beauty boasts a leak-proof lid, a sturdy handle for convenience, and exceptional temperature retention, keeping your beverages icy cold for up to 21 hours or piping hot for a cozy 7 hours. It's the perfect coworker gift to keep their favorite drinks at the perfect temperature while they conquer the daily grind.
Always in Business Attire
Do you have that friend or loved one who always shows up in business attire? They are ready for an emergency meeting to be held at any moment! They must love the professional look; therefore, their gifts should adhere to their stylish fashion sense. Here are some gifts you can give that they can use daily with their attire.
Women's Cardigan Sweater
Wrap yourself in cozy comfort with the QUALFORT Women's Cardigan Sweater. Crafted from 100% cotton, this button-down, long-sleeve cardigan in a refreshing light green shade offers the perfect blend of style and warmth for your workday, making it an ideal gift for your coworkers. Its oversized knit design adds a touch of elegance to any office outfit while keeping you snug throughout the day.
Indian HandoArt Leather Messenger Bag
Add a touch of timeless style to your coworker's daily commute with a 10" Leather Messenger Bag. This vintage satchel combines fashion and function, making it a unisex office essential. With its compact 10" (W) x 8" (H) x 3" (D) dimensions, it's the perfect accessory for professionals on the go.
Men & Women's Novelty Holiday Crew Socks
Spread some holiday cheer at the office with our Men's & Women's Fun Novelty Holiday Crew Socks 4-Pack. These colorful and festive socks come in one size that fits most, and each pair features whimsical designs like #Elfie, Tree Rex, Ballin, and Snow. Your coworkers will appreciate the playful touch of these socks, making them the perfect gift for the holiday season.
Water Cooler Loungers
There's always that one person whose escape from the hectic environment is to slip into the break area to gather their composure. It's a great place to get to know your coworkers, eat lunch, and relax. So if you have a coworker who enjoys their time by the water cooler, give them gifts that can brighten their day even before they can brew their favorite cup of coffee.
Paladone XL Prescription Unique Coffee Mug
Embrace a dose of humor in your daily coffee routine with the Paladone XL Prescription Coffee Mug. This 17.5floz novelty mug is the perfect gift for coffee lovers among your coworkers, adding a quirky touch to their morning caffeine fix while delivering laughter and caffeine in equal measure. It's a prescription for a fun-filled day at the office!
Garmee Electric Coffee Warmer
The GARMEE Electric Coffee Warmer is the ideal desk companion for your coworkers, keeping their favorite beverages at the perfect temperature throughout the workday. With two temperature settings, it's suitable for coffee, tea, cocoa, and more, ensuring they can savor their drinks without worrying about getting cold. This sleek and smart coffee warmer is a thoughtful gift that adds a touch of comfort and convenience to any office space.
Dwight Schrute Coffee Mug
Add some humor to your coworker's coffee break with this ceramic coffee mug featuring iconic phrases and designs from The Office, including "World's Best Boss" and Dwight Schrute's memorable quotes. Whether they're a dad, papa, or just a coffee-loving office enthusiast, this 11-ounce mug makes a perfect, lighthearted gift to brighten their workday.
Find the Perfect Gift for Your Coworkers with MyUS Shopping
There are hundreds of stores in the US that may have the perfect gift for your teenager ready to be purchased. You can buy any gifts from almost any retailer in the US and send them directly to your doorstep anywhere around the world. It's an easy process and will have you shopping within minutes!
How Does MyUS Shopping Work?
Shop your favorite US stores, even if they don't ship to your country. MyUS Shopping handles all international shipping to over 200 countries. So all you have to do is start shopping.
Step 1: Start Shopping (There are three ways to do it!)
Search Bar - Type a keyword to search top US Stores like Amazon, Walmart, and more!
Shop Now - Click the "Shop Now" menu to browse your favorite US stores by category.
Copy & Paste - Paste a product URL from any US store and let our Buying Assistant purchase it for you!
Step 2: Add to Cart
Add items from different stores to your MyUS Shopping cart and pay for international shipping at checkout.
Step 3: Bundle Your Goods
We bundle your items into one shipment and you save BIG on shipping costs.
Step 4: Wait for Your Items to Arrive
Your purchases are delivered to your doorstep, just about anywhere in the world!
We always aim to bring our members the best shopping options available, but some of the products featured in this post may have purchase restrictions. Please visit the merchant's terms of sale, shipping guidelines, and terms and conditions to find more information.