Holiday Gift Guide for Children
Starting the holiday shopping season, you have a lot of questions. What do you get a child who has everything for Christmas? How many gifts should you get per kid on Christmas? What will they even like? Our Christmas present to you is some much-needed gift inspiration for each kid on your list.
Explore our curated Christmas gift guide, featuring stores you can ship with a MyUS account. Shop unique children's presents for Christmas all the way from the States and save on international shipping because you're a MyUS member. Happy shopping!
Christmas gift ideas for babies and kids from 1 to 4 years old
Make their very first Christmas holidays special. At this age range explore Christmas presents that challenge their creativity, and importantly, keep them occupied. Their parents will thank you for that.
Alex Discover Tots Art Start Kids Art and Craft Activity
ALEX Discover Tots Art Start lets you have fun introducing art to your toddler and preschooler.
Everything is included for 6 great crafting activities. These colorful projects include sticky collage frames, which encourage your child to draw in the center. Includes easy-grip crayons, crinkly, tissue and fringe papers, doilies, stickers, and specially colored activity paper shaped like a tree and giraffe.
Recommended for children aged 18 months and older.
Pocoyo Plush Doll with Light Up Cheeks
This wonderful soft plush of Pocoyo Loula Elly Pato captures all the details and characteristics of Pocoyo from the TV show ~ lovable, fun and lights up!
This plush doll makes a great gift for children's birthdays, holidays, or room decor. A favorite for POCOYO fans everywhere! Made of soft velboa material with embroidered details. Measures 11 inches tall.
Soft and cuddly Pocoyo is also a night light! Press the button and Pocoyo's cheeks will light up. It auto shuts off after 3 minutes.
Check out other plush dolls for your little one on MyUS Shopping!
Baby Crib Mobile Wooden Mobile
This cute clouds baby nursery mobile is made of 100% eco-friendly natural materials - cotton rabbit, wool ball, and wooden hoop.
All products are 100% handmade. Environmentally friendly materials only for the healthy growth of your baby, safe to play with.
Each piece is flexible and adjustable! Just wrap the rope around the wooden hoop you want! There is a long cord above the wooden hoop for hanging this crib mobile. You can easily hang your baby phone on the crib mobile arm (not provided) or ceiling hook (also not provided), wherever you want to hang it, it may be the crib or the bassinet, but please always keep it out of the baby's reach.
Want to see other products available? Check out the variety of baby mobiles available on MyUS Shopping!
Christmas present ideas for kids from 5 to 9 years old
When they are a little bit older, kids start developing their own interests and passions. So, look for children's presents for Christmas that encourage their self-expression and can be enjoyed with their friends and family.
Disney Encanto Mirabel Dress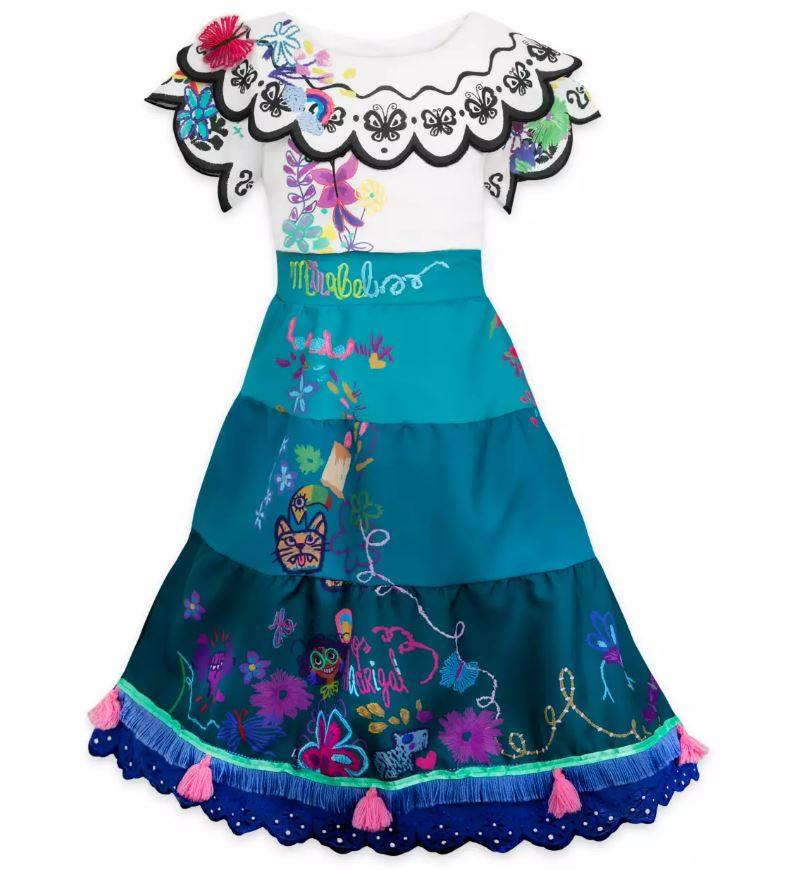 Relive Mirabel's magical adventure from Disney's Encanto with the Mirabel Madrigal Dress!
This dress is inspired by Mirabel's iconic fashion from the film, featuring a scalloped collar and sleeves with authentic embroidery-style designs, and a butterfly on the shoulder. The long teal skirt features colorful icons and patterns inspired by her family's magical gifts
. Look closely, and you'll find Mirabel's name printed on the waistband and skirt, just like her dress in Encanto! In this dress, you'll be ready to go on your own courageous adventures, just like Mirabel! Suggested for girls ages 3 years and up.
What is your child's favorite Disney movie? Explore other Disney costumes available here on MyUS Shopping!
LEGO City Freight Train Toy Set
This LEGO City Freight Train playset is packed with features and functions for endless hours of train-themed play
Includes a locomotive, flatcar, open wagon, auto carrier, 2 EVs, toy charging station, 2 cargo containers, reach stacker, 33 track pieces, and 6 mini figures
Train and sound effects can be operated via the included remote control, or a smart device equipped with the LEGO Powered Up app
Check out other LEGO sets available on MyUS Shopping!
Hot Wheels Ultimate Garage Track Set
Inspire hours of imaginative play with an enormous Hot Wheels toy garage, with tons of storage and thrilling racing and stunting challenges!
The playset features a vertical tower with parking (and easy storage) for more than 100 Hot Wheels toy cars -- 2 1:64 scale vehicles are included for action right out of the box! Watch out for the hungry Robo T-Rex looking to devour some tasty Hot Wheels vehicles.
The set also features an opportunity to include some Hot Wheels id action, too! Plug in the Hot Wheels id Portal (sold separately) to scan a car, race opponents, escape from Robo T-Rex, and win!
Explore other Hot Wheel Track sets you can add to your Christmas list!
Christmas gift ideas for tweens and teens
Finding a present that passes the cool test for a teen or tween on your list can be difficult. We recommend letting their interests guide what you buy. Explore this list of Christmas presents for inspiration on connecting their hobbies to an amazing gift.
Schwinn Traxion Mountain Bike
This Schwin Mountain Bike is great for daily rides around their neighborhood and excursions out on more challenging bike trails.
Schwinn aluminum dual suspension frame and powerful Schwinn suspension fork soak up bumps and thumps to provide you with a durable riding experience
24-speed shifters and front and rear derailleurs make gear changes easy and smooth. The front and rear mechanical disc brakes provide crisp all-condition stopping out on the trail
Check out other bicycles available on MyUS Shopping!
Family Faceoff Board Game
Your next family favorite on game night! Teams FACE OFF in four lively categories that will tickle your funny bone and get your mind and body moving.
Created in the minds of the virally funny Holderness Family and brought to you by the creators of Watch Ya' Mouth. Over a billion views + millions of games sold = a winning combination.
Family Friendly! A simple, easy game where kids and adults are on equal ground that can be played nearly anywhere. It includes 400 family-friendly cards that are great for kids and adults aged 8 years old to 100. Download the App for an extra layer of fun!
Check out other family-friendly board games available to purchase with MyUS Shopping!
A Christmas present for budding musicians
This 21-inch soprano ukulele starter set is the best musical instrument gift for kids, students, friends, children, and adults who want to play music. This ukulele beginner can be a birthday/holiday/Christmas gift for everyone.
A real Mahogany body with a high gloss finish creates a clear, crisp, and melodious sound. The strings are smooth and do no harm to your fingers. This mini cute ukulele has 12 frets on the hardwood fingerboard, producing different tones for a song.
The advanced and sturdy nylon strings not only can avoid stroke but also allows for a full-bodied sound when you play traditional Hawaiian ukulele songs. They provide stable and durable sound.
How Does MyUS Shopping Work?
There are hundreds of stores in the US that may have the perfect gift for a child ready to be purchased. You can buy any gifts from almost any retailer in the US and send them directly to your doorstep anywhere around the world. It's an easy process and will have you shopping within minutes! Shop your favorite US stores, even if they don't ship to your country. MyUS Shopping handles all international shipping to over 200 countries. So all you have to do is start shopping.
Step 1: Start Shopping (There are three ways to do it!)
Search Bar - Type a keyword to search top US Stores like Amazon, Walmart, and more!
Shop Now - Click the "Shop Now" menu to browse your favorite US stores by category.
Copy & Paste - Paste a product URL from any US store and let our Buying Assistant purchase it for you!
Step 2: Add to Cart
Add items from different stores to your MyUS Shopping cart and pay for international shipping at checkout.
Step 3: Bundle Your Goods
We bundle your items into one shipment and you save BIG on shipping costs.
Step 4: Wait for Your Items to Arrive
Your purchases are delivered to your doorstep, just about anywhere in the world!
We always aim to bring our members the best shopping options available, but some of the products featured in this post may have purchase restrictions. Please visit the merchant's terms of sale, shipping guidelines, and terms and conditions to find more information.