Holiday Gift Guide for Children
The holiday season is a magical time of year, especially for children. The anticipation of snowfall, the scent of freshly baked cookies, and the joy of spending quality time with loved ones create unforgettable memories. But let's not forget the excitement of receiving gifts! We've put together the ultimate gift guide for children to make this holiday season even more special. Whether you're shopping for your own kids, nieces, nephews, or family friends, you're bound to find something here that will bring smiles and wonder to their faces.
Toys and Playthings
LEGO Sets
LEGO Star Wars Millennium Falcon:
The LEGO Star Wars Millennium Falcon Microfighter 75295 is the ultimate gift for young Star Wars enthusiasts, offering 101 pieces of galactic adventure. This new 2021 construction toy allows kids to embark on epic space missions, building their very own miniature Millennium Falcon for hours of interstellar fun.
LEGO Friends Heartlake City Amusement Pier:
The LEGO Friends Heartlake City Amusement Pier is the ultimate adventure-packed building kit for kids. With 1,251 pieces, it allows children to construct their very own amusement park complete with a thrilling rollercoaster, mini dolls, a toy dolphin, a charming carousel, a ticket kiosk, and more, making it the perfect gift for endless creative play and imagination.
Art Supplies
Crayola Inspiration Art Case:
Unleash your child's creativity with the Crayola Frozen 2 Inspiration Art Case, a delightful gift for kids aged 5 to 8. Packed with 100 art and coloring supplies featuring their favorite Frozen 2 characters, this set will transport them to the enchanting world of Arendelle and provide hours of artistic joy.
Spirograph Drawing Kit:
Unleash your child's creativity with the Spirograph Deluxe Set - the ultimate spiral art drawing kit. With endless design possibilities, this classic set provides hours of artistic fun for kids aged eight and up, making it the perfect gift to spark their imagination and artistic talents this holiday season.
Board Games
Ticket to Ride:
Ticket to Ride, a captivating family board game designed for ages eight and up, is the perfect choice for game nights with 2 to 5 players. Created by Days of Wonder, this train-themed adventure promises an average playtime of 30-60 minutes, providing endless fun and excitement for adults and kids alike.
The Game of Life:
The Game of Life is a timeless classic that brings families together for hours of laughter and fun during the holiday season. In this beloved board game, players make important life decisions, navigate career choices, and embark on exciting adventures, making it the perfect gift to create lasting memories with loved ones.
Building and STEM Toys
Magna tiles:
The MAGNA-TILES Builder 32-Piece Magnetic Construction Set, the ORIGINAL Magnetic Building Brand, fosters endless creativity and imaginative play, allowing children to explore and construct their own magnetic wonders. With its durable and colorful tiles, this set provides a captivating way for kids to learn through hands-on building and problem-solving, making it a perfect gift for the young builders in your life.
Osmo Genius Starter Kit for iPad:
The Osmo Genius Starter Kit for iPad & iPhone is a game-changer for children aged 6-10, offering an immersive and fun learning experience. With five educational games that cover math, spelling, creativity, and more, this STEM toy will captivate both boys and girls, making it the perfect gift for kids aged 6 to 10.
Books and Reading
Picture Books
"The Snowy Day" by Ezra Jack Keats:
Experience the magic of winter with "The Snowy Day" Board Book, a timeless classic that follows the heartwarming adventures of a young boy exploring a snow-covered wonderland. Perfect for little hands and sturdy enough for countless readings, this beautifully illustrated book is a must-have addition to any child's library.
"Where the Wild Things Are" by Maurice Sendak:
"Where the Wild Things Are: A Caldecott Award Winner" is a timeless picture book by Maurice Sendak that takes children on a magical journey through a young boy's imagination. Winner of the prestigious Caldecott Medal, this beautifully illustrated book will captivate young readers and inspire their own imaginative adventures.
Chapter Books
The Harry Potter Series by J.K. Rowling:
Experience the enchanting world of magic and adventure with the Harry Potter Hardcover Boxed Set: Books 1-7 (Slipcase). This beautifully designed collection brings the entire Harry Potter saga to life, making it the perfect gift for young wizards and witches eager to embark on a journey filled with spells, friendship, and unforgettable tales.
"Matilda" by Roald Dahl:
"Matilda" by Roald Dahl, a timeless chapter book, is a captivating tale of a young girl with extraordinary abilities who uses her wit and courage to overcome challenges, making it an essential addition to any child's library. This heartwarming story inspires young readers and encourages them to embrace their unique gifts and love for books.
Personalized Books
Personalized Storybook: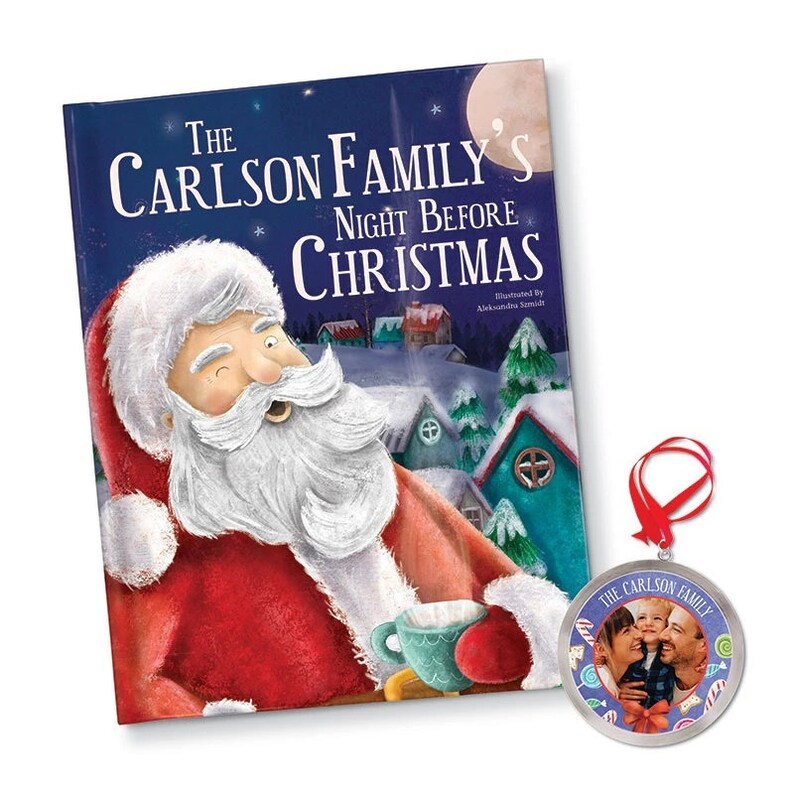 Celebrate Christmas with a magical gift from Santa - a personalized children's book that brings "The Night Before Christmas" to life with your child's name woven into this timeless holiday tale. This cherished keepsake will be a delightful addition to your family's Christmas traditions, creating memories for years.
Outdoor Activities
Bicycles and Scooters
Razor A3 Kick Scooter
Discover the perfect outdoor adventure gift for children this holiday season - the Razor A3 Kick Scooter in vibrant blue! With its larger wheels, front suspension, wheelie bar, lightweight design, and adjustable handlebars, it promises endless fun and excitement while being conveniently foldable and arriving in frustration-free packaging for an effortless, joyful unboxing experience.
Stride 12 Sports Balance Bike
Discover the perfect gift for active youngsters this holiday season with the Strider 12" Sport Bike, a no-pedal balance bicycle designed for kids aged 18 months to 5 years. Its safety features, comfortable design, and tool-free assembly make it an excellent choice to help little ones develop their balance and coordination skills while having loads of fun.
Outdoor Exploration
National Geographic Kids Binoculars:
Discover a world of exploration and wonder with the National Geographic 6x21 Children's Binoculars. These robust, kid-friendly binoculars in vibrant yellow come with rubber housing, a handy bag, and a strap, making them the perfect gift for young adventurers eager to explore the great outdoors. Encourage an interest in nature and wildlife.
Adventure Kids Outdoor Exploration Kit:
Discover the perfect outdoor exploration kit for adventurous children in our ultimate holiday gift guide. Packed with binoculars, a flashlight, a compass, a whistle, a magnifying glass, and a backpack, this orange Adventure Kidz set is an excellent gift for fostering curiosity and learning through camping, hiking, and educational play, making it an exciting addition to your holiday shopping list. Includes a variety of tools for young explorers.
Sports Equipment
Wilson NFL Mini Football
Get your kids into American football with the Wilson NFL Soft Touch Mini Football in striking Black, emblazoned with the iconic Kansas City Chiefs logo. This mini football is the perfect gift for young football enthusiasts, offering a soft and grippable surface for backyard fun or spirited games of catch.
Franklin Sports Youth Baseball Set
The Franklin Sports MLB Teeball Starter Set is the perfect gift to ignite a young baseball enthusiast's passion. This comprehensive kit includes a youth baseball and T-ball tee, bases, and a rebounder net, making it the ideal choice for introducing the joy of baseball and enhancing beginner skills.
Puzzles and Brain Teasers
Jigsaw Puzzles
Ravensburger Disney Castle 3D Puzzle:
We recommend the enchanting Ravensburger Disney Castle 216 Piece 3D Jigsaw Puzzle in this festive holiday gift guide for children. This delightful puzzle captivates kids with its magical Disney design and offers a rewarding experience for adults, thanks to its Easy Click Technology that ensures the pieces fit together perfectly.
Melissa & Doug Solar System Floor Puzzle:
We recommend the Ravensburger Melissa & Doug 6 Pack Solar System Floor Puzzle, a captivating and educational jigsaw puzzle set that lets kids explore the mysteries of our solar system through engaging play. With its high-quality pieces and stunning visuals, this puzzle set makes for a perfect gift to ignite a child's curiosity about the cosmos while providing hours of fun and learning.
Brain Teasers
Rubik's Cube:
Dive into the world of challenging problem-solving with Rubik's Impossible 3x3 Cube, a classic twist on the original puzzle game designed for adults and kids aged eight and up. This advanced difficulty color-matching cube will keep minds engaged and fingers twisting, making it the perfect holiday gift for those seeking an extra level of mental stimulation.
Gravity Maze Marble Run:
Discover endless fun and learning with the ThinkFun Gravity Maze Marble Run Brain Game – an award-winning STEM toy that's perfect for children aged 8 and up. This toy of the year winner combines the excitement of a marble run with the challenge of a brain-teasing puzzle, making it an engaging gift that sparks creativity and problem-solving skills in kids.
How Does MyUS Shopping Work?
With this comprehensive gift guide, you'll be sure to find the perfect gift for the children in your life. From creative and educational toys to outdoor adventures and immersive books, these gifts will light up their faces and make this holiday season truly memorable. Happy holidays, and may your children's smiles be as bright as the holiday lights!
There are hundreds of stores in the US that may have the perfect gift for a child ready to be purchased. You can buy any gifts from almost any retailer in the US and send them directly to your doorstep anywhere around the world. It's an easy process and will have you shopping within minutes! Shop your favorite US stores, even if they don't ship to your country. MyUS Shopping handles all international shipping to over 200 countries. So all you have to do is start shopping.
Step 1: Start Shopping (There are three ways to do it!)
Search Bar - Type a keyword to search top US Stores like Amazon, Walmart, and more!
Shop Now - Click the "Shop Now" menu to browse your favorite US stores by category.
Copy & Paste - Paste a product URL from any US store and let our Buying Assistant purchase it for you!
Step 2: Add to Cart
Add items from different stores to your MyUS Shopping cart and pay for international shipping at checkout.
Step 3: Bundle Your Goods
We bundle your items into one shipment and you save BIG on shipping costs.
Step 4: Wait for Your Items to Arrive
Your purchases are delivered to your doorstep, just about anywhere in the world!
We always aim to bring our members the best shopping options available, but some of the products featured in this post may have purchase restrictions. Please visit the merchant's terms of sale, shipping guidelines, and terms and conditions to find more information.