Our Favorite Elderberry Supplements
The cold and flu season is in its full effect; add the Coronavirus to that, and it's safe to say that elderberry supplements are a must-have for your household right now. Rich in vitamins and antioxidants, these supplements will give your immune system the needed boost to fight off unwanted bacteria. Just be sure to follow the instructions and never take more than recommended.
Now, which products did we find deserve a place on your shelves? And how easy is it to buy from US stores to fill your medicine cabinet? Check out the best supplements below and start shopping the US with MyUS Shopping today!
---
Organic Echinacea Plus Elderberry Seasonal Tea, $24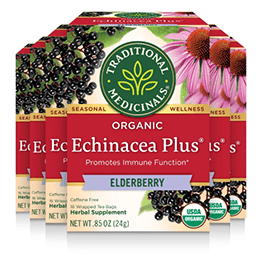 This package of 6 with 16 tea bags each (96 total) will make the perfect winter beverage as a warm cup of tea not only strengthens your immune system but is good for the throat and digestive system in general. The Organic Echinacea Plus Elderberry Seasonal Tea is sweet and fresh, and more importantly non-GMO, caffeine-free, and purely organic. This means it's made of dried herbs only.
"Ohhh man, people, let me tell you…this past summer when I tested positive for covid, and YES, I was vaccinated, THIS brand of tea was THE ONLY one that helped me with my throat pain and my coughing…it was THE BEST tea that I had EVER HAD IN MY LIFE! Believe me, I don't do reviews on products, but this one, I truly believe in!!" recommends Spiralizing Mania.
---
Sambucol Black Elderberry Immune Support Gummies with Vitamin C & Zinc, $23

Not a fan of tea? Then we recommend Sambucol Black Elderberry Gummies that will last you for two months if you take one daily. They're tasty and free from artificial colors and flavors. Make sure to buy in bulks if you need them all year round!
"I have bought many brands of gummies for my kids since they were young. Till today, their favourite is Sambucol. The gummies is neither too sweet nor sour." comments a verified iHerb shopper.
---
Vitacost Sambucus Nigra Black Elderberry Juice Concentrate, $5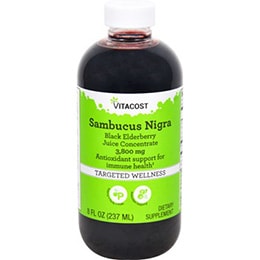 At the moment of writing, this tasty Sambucus Nigra Black Elderberry Juice Concentrate is great not only for the immune system in general, but it will also cleanse your blood and strengthen circulation. It's recommended to take 1 tablespoon 4 times per day for adults, and 1 tablespoon 2 twice per day for children.
"My immune system has been at its highest since I started using this product. The taste is enjoyable," says Mena259.
---
Nature Made Elderberry MAX Fizzy Drink Mix, $15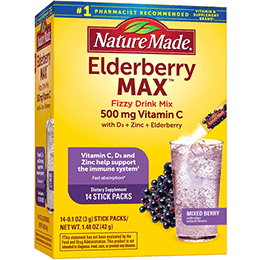 Great news for those who can't go a day without fizzy drinks. Now you can get your fix of carbonation with something that's actually good for your health! The Elderberry MAX Fizzy Drink Mix from Nature Made is packed up with Vitamin C, Vitamin D3, and Zinc, and has no synthetic dyes or artificial flavors and sugar, so the taste is very organic, strong, and naturally sweet. Just rip off the stick pack, pour the contents into a glass of water and enjoy!
"This tastes delicious. Have added many health products to my water, but nothing tastes as good as this. Easy to use. Can take a package with you to use on the road. Priced right. Healthy too!" writes Dorothy.
---
Zarbee's Naturals Black Elderberry Immune Support Syrup, $9

Here's another delicious and affordable elderberry supplement: Zarbee's Naturals Black Elderberry Immune Support Syrup with Vitamin C and Zinc as additional immunity-system boosters. Since we're all about organic products, this one is no exception and you'll fall in love with the rich taste of real black elderberries in the first gulp.
"This product is way stronger and has more elderberry teaspoon than any other product I've tried on the market. Not only does it make your dosage stronger, but it's a thicker product and it really sticks to the mucous membranes in your throat and your mouth." explains mischopper.
---
Vitafusion Kids Dietary Elderberry Supplements, $11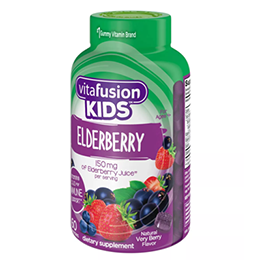 While the products that we mentioned on this list are marked safe for children, this one is a supplement made specifically for the needs of our youngest. Vitafusion Kids Dietary Elderberry Supplements have Vitamins C and D for additional immune support, as well as strawberry flavor for a sweeter taste. One gummy daily is enough to give the kiddos the energy and immunity boost they need.
"Great bottle of elderberry for kids. The elderberries are in gummy form and are easy to chew. The bottle is easy to open but not too easy. My daughter seems to enjoy the flavor too. Very pleased with this product," raves a happy and healthy customer.
---
Honey Gardens' Elderberry Syrup Extract with Propolis, $18

Now, look at this product: two of the best anti-cold and anti-flu supplements in one! Does organic elderberry, raw honey, propolis, and organic Echinacea sound like a combination you have to try? Then this is the supplement for you. Honey Gardens' Elderberry Syrup Extract with Propolis is 100% natural and safe for anyone over 1 year old. It will help boost and detoxify your system like no other supplement.
"Effective in reducing the frequency, duration and intensity of upper respiratory infections. I use it when I notice my throat glands swelling, and I'm back to normal the next day. My husband has found it beneficial too and he finds it helps with his sleeping, so he takes it nightly. Good value for the money," reads Katherine's review.
---
Organic Sambucus Black Elderberry Syrup Liquid Drops, $23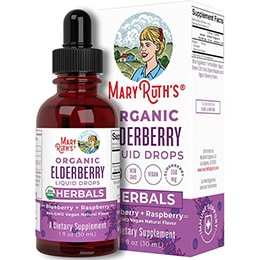 If all else fails and you're not a fan of gummies, pills, or syrups, simply add a few drops of the Organic Sambucus Black Elderberry Syrup Liquid Drops to your favorite drink! One bottle is enough for 30 servings. It's also worth mentioning that Mary Ruth's products are vegan, non-GMO, and common-allergy free.
"I have heard amazing things about them, and I wanted to get some in my hands. Tastes amazing, and what a better way to boost my immune system I know my body needs it, plus it's an antioxidant including Vitamin A, Potassium and Vitamin C! You can take it directly, add it to water or smoothies. So delicious," claims Sarahi.
---
What's your favorite way/supply to boost your immune system these days? Shop your favorites using the MyUS Shopping browser extension today
More from the MyUS Shopping blog