New Workout Products for The New Year
Let's face it; getting into shape is not easy for everyone. Unfortunately, few people tackle New Year's fitness resolutions without access to the right tools and enough free time between work and school. Whether you dedicate space at home or subscribe to a local gym, you can add these workout tools to your regimen.
Check out the most popular athletic gear and clothing for aspiring fitness enthusiasts and New Year's Resolution achievers from top US stores with MyUS Shopping. Don't forget to utilize their easy one-cart checkout for lightning-quick international shipping to your doorstep!
Weighted Hoola Hoop, $19.99 (Was $69.99)
Burn up to 800 calories and body fat in time for beach days with this Fit on Form Weighted Hoola Hoop! It features 24 adjustable and detachable knots that fit perfectly with any waist size. It's also easy to snap together and operate so anyone can quickly work out in the comfort of their home. Anytime you use the Hoola Hoop, you can track progress by removing links to fit yourself over time.
"I've never liked working out before, but this is game-changing. I've used this consistently for about a month and have already gotten to lose a link. Highly recommend!" says Chloe R. Jones.
Jawline Exerciser, $21.99 (Was $25.99)
If one of your workout goals involves producing a slim and defined jawline, then you should try this Jawline Exerciser Set! Each pair offers different resistant levels that strengthen the jaw muscles and reduce fat deposits around your face. Not only is it easy to use, but it's also easy to pack and carry wherever you go.
"When I saw this product, I thought it was kind of a joke, though it doesn't make sense that after biting a piece of rubber, your jaw gets in shape. Now, after using it for a few weeks, I'm amazed at how it works. It really changed my jawline to a nicer shape. I look younger and better." Isaac Lebovits states.
BLUERISE Ab Roller, $17.13
Improve the look and feel of your chest, shoulders, and legs with this Multi-Purpose Fitness Equipment from BLUERISE without switching between various workout tools. Adjust the intensity of the ad roller hose for your preferred body shaping requirements, and tackle the most effective exercises, such as arm curls, rowing, lunges, planks, and much more!
"Just bought this to make the best of being quarantined... great purchase. Works my abs, butt, and arms. I'm sore and excited for my workout tomorrow! Very surprised. I wasn't expecting it to be such good quality," Lainey Sheree comments.
Teclor Parallettes Bars, $39.99
Challenge yourself to handle L-sits, handstands, dips, and pushups for long periods with these Parallettes Bars in your home gym. The thick steel tubes keep the equipment stable on the ground, the rubber stoppers prevent scratches on the floor, and the full-top foam handle covers make it easy to grip. It will satisfy any active person's need for challenging full-body fitness goals.
Nick H. writes in his five-star review, "Easy to put together. It only took about 5 minutes. They are lightweight but hold up well, and the grip has enough cushion to help the hands."
Cubii Under Desk Elliptical Machine, $247.99
Simplify your cardio routine without heavy equipment and stay inside during chilly days with this Cubii Elliptical Machine underneath your feet. It is the perfect tool for burning calories and getting the right amount of steps in a day from the comfort of home and the office. The ergonomic and compact shape allows easy storage without taking up space. Keep track of your progress with the LCD or the app and see your mobility and endurance improve over time!
"Since I've been working from home, I've been feeling a bit guilty sitting at a desk all day. The Cubii is great for getting the body moving and the blood flowing. It's perfect for what it is." says Jeffrey.
Swiftly Tech Short Sleeve Shirt, $68
Put on this Lululemon Swiftly Tech Shirt when sweating becomes a constant problem between you and your fitness goals. The shirt also minimizes the number of seams to reduce chafe and adds elastane to improve stretch and shape retention for long-lasting use. Pair it with your favorite shorts, gym shoes, and yoga pants for the go-to workout attire. It makes any wearer look slim and feel confident to handle any obstacle.
Holly raves, "This is the most comfortable workout shirt I have ever owned! I love the length, so I don't have to worry about it coming up as I work out. So so good!"
Brooks Glycerin GTS 20, $159.95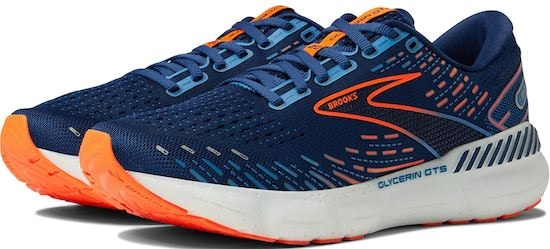 This pair of Glycerin GTS 20 Gym Shoes features cushioned footbeds, synthetic uppers, and textile linings that make you feel like you're walking and running on clouds. The six color options help complete any vibrant and stylish workout outfit. They will keep you stable on various terrain, which is perfect for hiking, jogging, and standing.
"These shoes are perfect for the gym. They are very supportive of someone that's a wide flat foot like me. When running on a treadmill, they have very good cushioning and help you bounce with minimal impact on your body." Roman states.
3-Stripes Tricot Joggers, $32.97 (Was $40-$45)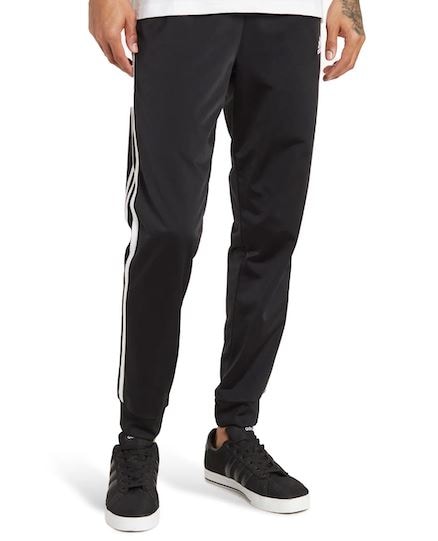 When you put together clothes for a gym session, don't forget to add these classic Adidas Tricot Joggers to your list of fitness wear! The blend of high-performance recycled materials and elastic drawstrings slims the waist and legs without compromising the wearer's comfort while they work out. Wear them while you run around the track, lift weights, and stretch to your limits to see how reliable these joggers are.
Christy writes, "Another great looking comfortable track pant that is great for morning workouts outside. Moves all the right ways when using weight benches and squats."
Throwback Inspire High-Rise Crop Leggings $49 (Was $88)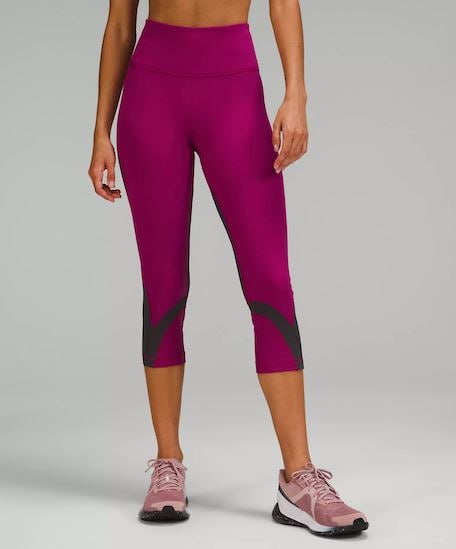 If your New Year's workout goals involve participating in yoga, stretching, and jogging, these Lululemon High-Rise Crop Leggings can help you accomplish them. They include sweat-wicking and breathable nylon fabric construction that offers low-friction support and feels cool during hot days. Choose between three vibrant colors, like Magenta Purple, Bronze Green, and Graphite Grey, for a bold and expressive workout fashion statement.
"The Inspires was my favorite crop, so I was excited to see this throwback. I like the changes with the higher rise and the luxtreme fabric." Kam302 comments.
Bala Bangles, $55
Take your workout game to the next level with these Bala Bangles on your wrists and ankles. They offer a hands-free resistance that pushes you to the limit on your favorite exercises. These adjustable weights add style and functionality to your form and routine without taking up space or requiring a long set-up time. Daily workouts will become fun and challenging with these Bala Bangles on you.
"These are a perfect size, easy to take on and off, and comfortable on the ankles. The little weights along the elastic can be moved around for comfort. I use them when I jump on my mini trampoline, and they work great." says dtomb67.
The new year offers opportunities to better ourselves, so it is best to start soon and work little by little until you complete your fitness goals. Sometimes it requires a change in attire and exercise equipment to motivate you to commit to intense workout routines.
Check out new and popular workout products and athletic clothes for your exercise needs from top US stores with MyUS Shopping!
We always aim to bring our members the best shopping options available, but some of the products featured in this post may have purchase restrictions. Please visit the merchant's terms of sale, shipping guidelines, and terms and conditions to find more information.
More from the MyUS Shopping blog