Must-have Halloween Supplies for 2022
Halloween is a time for fun, spooky activities - and of course - costumes.
This a quick reminder that the holiday was first celebrated by the Celtics to mark the end of summer and harvest, and it was later adopted by Christians as All Saints Day. The celebration takes place on October 31st and its purpose is to commemorate all saints and martyrs, especially those who were not forgiven for their faith.
There are many traditions that are associated with this day such as carving pumpkins into jack-o-lanterns and wearing costumes for both children and adults. It is also the time of year when you can get creative with your home décor without being judged for being extra.

Whether you're going to be partying, trick-n-treating with friends and family, or your plan is to spend the evening curled up in bed with hot cocoa and classic horrors, we prepared a few suggestions for you that will definitely enhance the spooky atmosphere in your home.
Cauldron Candy Set, $24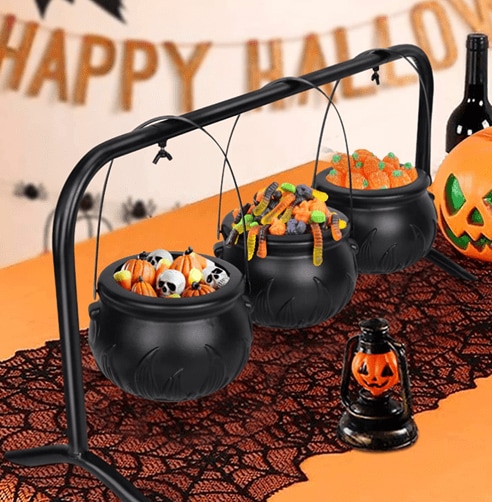 Equip your home with this witch's cauldron set of 3 which will undoubtedly cast a wickedly-exciting spell over your Halloween gathering. The cauldrons are made of high-quality plastic and have a bendable metal handle. Each kettle is 9.1 x 4.3 inches in size, and the rack is 22 x 11 inches. Also, each of the cute caldrons can hold up to 400 ml or 14 oz of candy. Your guests are going to love them!
"My children are obsessed with these cauldrons, especially my 4 yo daughter. I bought them last year unsure of the quality but they turned out to be an amazing investment that brought me many compliments." – Katherine Collins
Men's Top Gun Flight Suit Costume, $86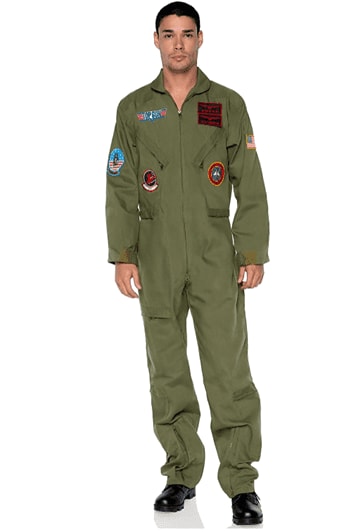 If you loved "Top Gun" as a kid, you were probably extremely excited when 'Top Gun: Maverick" came out, and for some time, everyone was wearing a thin mustache. Now, you can dress as your favorite character for Halloween with this very authentic-looking flight suit that comes in 2 colors and 7 sizes. Sadly, you'll have to grow or draw on the iconic mustache, but hey, we gotta do what we gotta do!
"Absolutely brilliant flight suit. I'm 6ft 3 and went for XL and it fits perfectly. Very good quality as you'd expect for the price. I had to buy the helmet separately but was worth the extra money." – KEGSY
Dracula Delight Halloween Candy Mix, $16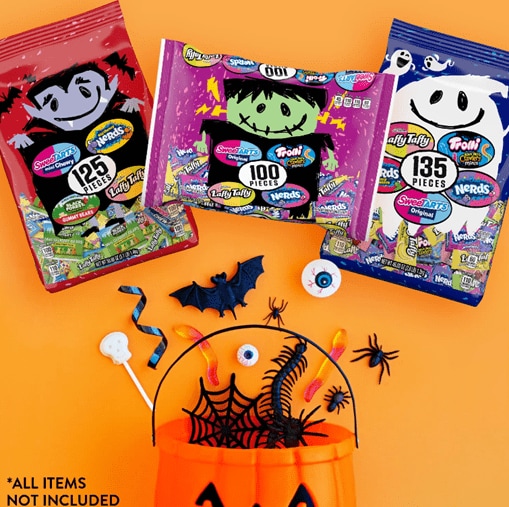 Your favorite sweets, including SweeTARTS Mini Chewy, Big Chewy Nerds, Black Forest Gummy Bears, and Laffy Taffy are all included in each 100, 125, or 135-piece bag, so make sure you grab a big bag of Dracula's candy mix this Halloween.
This tasty carnival of flavors is the ideal dessert for any fall event and it will make for a cool Halloween candy bowl (or the cauldrons we mentioned) filled with individual snack packs for everyone's taste. The sweets are perfect for Halloween candy bags or treat bags.
"You can smell the freshness through the bag! Taste good, not stale and we definitely enjoyed it. I would definitely purchase again!" - Marie
Cobweb with Spiders and Bats, $14

This cobweb Halloween package includes 30 pieces of fake spiders, and 24 fake bat stickers and the super-stretch web can cover about 1200 sq. ft., making it more than enough to cover your house, garden, and/or yard. The web is easily-stretchable and can cover any surface or corner of the room, and the bats and spiders can be used as extras in secret places if you want to give your visitors a little of the good old jump scare.
Pro tip: The more you stretch the spider web, the more realistic it looks.
"Enough spider web to decorate the entire house for a very good price. It also came with plenty of spiders and bats that added cool details to my spooky decorations. It was easy to spread and divide. I highly recommend this product for your Halloween decorations." - Xelimar Mendez
Wednesday Addams Halloween Costume for Women, $40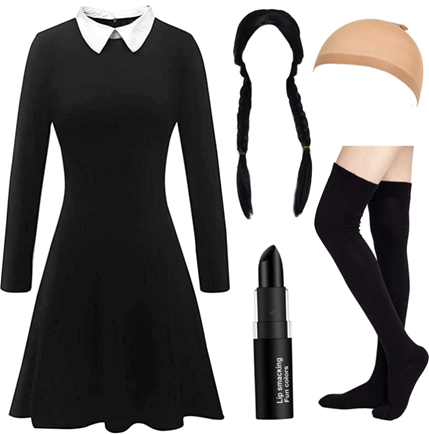 Every few decades we get a renewed Addams family, which we can't help but love. If you grew up loving Wednesday Addams for her uniqueness, you can now dress up as her for Halloween. The undeniable (but spooky) charm and unconventional style that this outfit brings will leave no heads unturned. The costume consists of 5 pieces, including a wig cap and black lipstick, so you don't have to worry about the tiniest of details. Just put it on and break some hearts!
"This kit was not only inexpensive but it came with SO MUCH. The dress and wig fit perfectly. The knee-high socks were a bit snug but nothing to fret over. Honestly, this costume is a steal! Love it!!" – Autumn Martin
Purple Halloween Torches (6 Pack), $38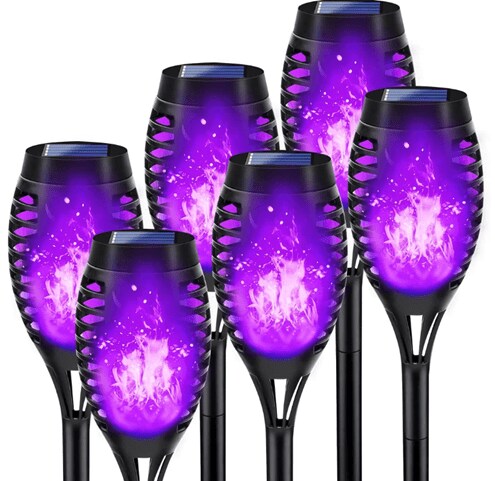 Want to dazzle your visitors and neighbors? This set of 6 purple Halloween-themed torches is a very safe option for outdoor Halloween décor and an overall joyful environment. These Halloween outdoor decorations are especially perfect for your garden, yard, pathway, pool, house, and patio. They are simple to install, weatherproof, and come with a rechargeable battery and high-efficiency solar panel that can provide lighting for 4 to 8 hours at night.
"I got these for outside my front door and near my parking spot at my apartment complex because there are no street lights and it was freaking me out. These are a fun color and make me feel safer!" – Jadzia
Assorted Halloween Party Favors Set, $30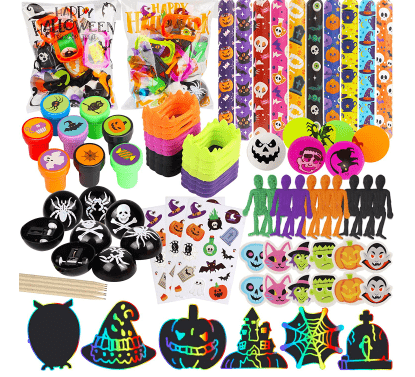 If Halloween is your favorite holiday, chances are that you're already equipped with all sorts of spooky supplies, sweet'n'sour candy, Halloween decorations, party favors, etc. But since we never can get enough of Halloween party favors, we suggest this rich, 160-piece pack that has everything from slap bracelets to fake vampire teeth to badges and stickers, bouncy balls, stamps, etc.
Whether you're organizing a party for your children or you're a child at heart yourself, this affordable set will be your favorite thing and everything you'll need this Halloween.
"So impressed and happy I bought this!! I was trying to find a Halloween goody bag set for a birthday party and was having so much trouble finding something not over $30 that INCLUDED bags themselves AND enough toys and goodies for 20 kids without having to buy things separately. So glad I just happened to find this cause it solved all of my problems!" – Susan
How are you going to support and spoil your loved ones? Get in touch and leave a comment on our Facebook, Instagram, or Twitter page.
We always aim to bring our members the best shopping options available, but some of the products featured in this post may have purchase restrictions. Please visit the merchant's terms of sale, shipping guidelines, and terms and conditions to find more information.
More from the MyUS Shopping blog