Cutting Boards That Are Must-Haves
Investing in quality kitchen appliances and cooking supplies is as important as possessing the ability to cook well. If you're looking to upgrade your existing cutting board or find one to suit your new kitchen, we are here to help you choose!
Shop the best board for your chopping, slicing, prepping, and presentation needs. MyUS Shopping one-cart checkout makes finding the best kitchenware so easy!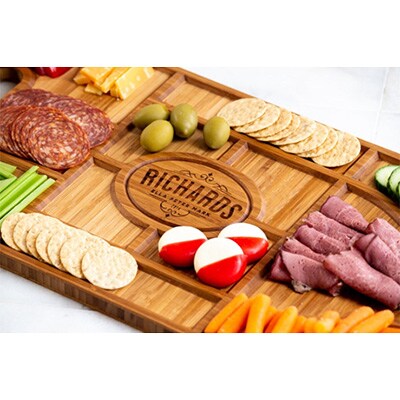 Prepare your goods on a perfectly flat cutting board, then flip and serve them on a wonderfully decorated charcuterie plank. This small business offers amazing Personalized Charcuterie Planks and Beer Flights that come in four styles and three colors that can be combined to your liking. Show off your style at a house party or give it to a gourmand as a personalized gift.
"The personalized wood tray is beautiful. I love the design w our family name and the quality is exceptional. This would be a fantastic personalized gift - especially for weddings and showers. Thanks for such a great addition for when we entertain. :)" comments Lori.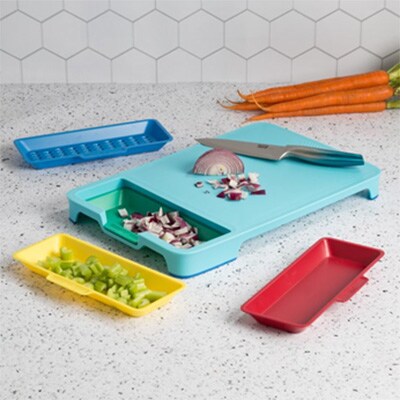 When preparing meals, there are a lot of ingredients and cutting involved in each step. Wouldn't it be nice to have everything organized and readily available? The Tasty Poly Cutting Board Prep Station Set with Five Removable Trays is a whole system to help you chop and slice what you need, one at a time, while having a built-in tray to hold each prepared ingredient!
"This is a very good cutting board, it is different and stylish. It's lightweight and easy to use. It's made of durable plastic that won't break easily, it's also dishwasher safe," recommends SavvyShopperGirl17.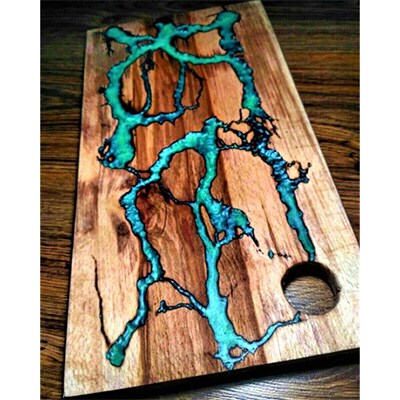 This beauty can act as both a cutting and a serving board. Each Epoxy Resin Cutting Board piece is handmade, which means you'll be getting (or gifting) a unique work of art. The boards are polished with a beeswax and lemon oil mix that gives them a fresh, irresistible scent.
Schnuffel-Wuschel Anja describes her experience: "Absolutely great and unique cutting board. Each part is unique because the epoxy is distributed into the wood recesses. It looks super nice! I chose the color green/turquoise and I am surprised by how much it shines! Unique manual work and the personalization wishes were implemented perfectly."
This set of three Plastic Cutting Boards is proof that beauty lies in simplicity. The three plastic gray and blue pieces come in different dimensions, each with an easy-grip handle, juice grooves, and a grinding area.
"My husband loves that they don't move on the counter. I love that they're dishwasher safe. Perfect combo and good sizes," says TheCarefulCustomer.
Get your kids to help around the kitchen with these safe, colorful and flexible Dexas Dx 4pc Grippmats, and get them started early. Another plus is that the cutting boards are very thin and can be folded or rolled, for easy storage.
"Like the multi-color to keep each color for a specific purpose. Like the flexibility to bend and easily pour cut items into a bowl or pan. Toss in the dishwasher. Good product," claims Ronald.
The amazing and best-selling Bamboo Cutting Board with Containers and Locking Lid from Roman Ventures is the ultimate set that every modern household needs in their kitchen. This super useful board comes with three stackable, air-tight containers and a built-in grater, so it's basically everything you need for quick and easy meal prep.
"I love this thing, you do need to get bamboo oil for it to prevent cracking but after you have it set it works great," advises Pat.
Shop for your next favorite cutting board with MyUS Shopping and enjoy fast worldwide delivery.
More from the MyUS Shopping blog