Thoughtful Holiday Gift Ideas for Your Boss
For the upcoming holidays, consider your co-workers and boss as recipients of gift-giving besides friends and family. While some places have norms for giving gifts to your boss, it doesn't hurt to exercise kindness to everyone you interact with daily. Not only is it a kind gesture, but also, it's a sign of respect for your boss. When the time comes, bring holiday cheer and lift people's spirits at the workplace with these delightful and thoughtful gift ideas.
Search for the perfect gift for your boss from top US stores with MyUS Shopping and ship them in time for the holidays with their easy one-cart checkout!
YETI Rambler Mug, $40
Whether your boss loves to drink iced coffee, hot chocolate, or tea, give them this 26-ounce YETI Rambler Mug. Unlike plastic bottles, this rambler mug features a stainless-steel construction that makes it durable against rough conditions. Choose between over 20 colors that match your boss's style, and have them enjoy a handheld container that keeps their favorite beverages cold or hot for a long time.
Ruth writes, "I know it's expensive for a water bottle, but let's face it, Yeti is the rolls Royce of camping equipment. Personally, I think it was worth every penny. It keeps drinks cold for hours and is sturdy and a nice size. I would definitely recommend it."
LCD Digital Photo Frame, $44.55
If your boss has a desk full of family photos and needs extra space, get them this Aluratek Digital Photo Frame. They can upload pictures of their loved ones onto the frame and view them in high quality, rotating through its slideshow feature. It takes up little space and frees the desk from clutter so your boss can keep an organized setting.
K.K. raves, "Bought as a gift. The recipient loves it. It works great and holds a LOT of pics. Definitely worth the price."
Shiatsu 3D Rotating Heat Massager, $49.99
Get your boss this Electric Rotating Heat Massager to help them relax and feel comfortable during the holidays. Adjust the settings for an extraordinary massaging experience that relieves tense muscles around the neck and back. It saves them an expensive trip to the massage parlor, and they can get the same experience from the comfort of their home.
"After trying several other massagers for neck & back pain, I purchased this one. It's a winner! The pressure is just right for me, and it massages the precise areas that hurt. It's lightweight & easy to use. The carrying case is handy for storage & travel. Couldn't be more pleased!" comments C. Gilbert.
PUTT-A-POUT Golf Putting Set, $34.12 (Was $49.99)
When your boss wants to add their love for golf into the office, they will love this Par Three Golf Putting Set. The elevation and sand trap cutouts imitate the outdoor golf environment. It helps them relax, sharpen their gold skills, and enjoy a game of gold without leaving the office.
Anything Cathleen writes, "This is great for indoor putting practice! I love golf, and this is great for at-home use. It requires no setup at all. Just roll it out from the box!"
Huzi Infinity Pillow, $44.99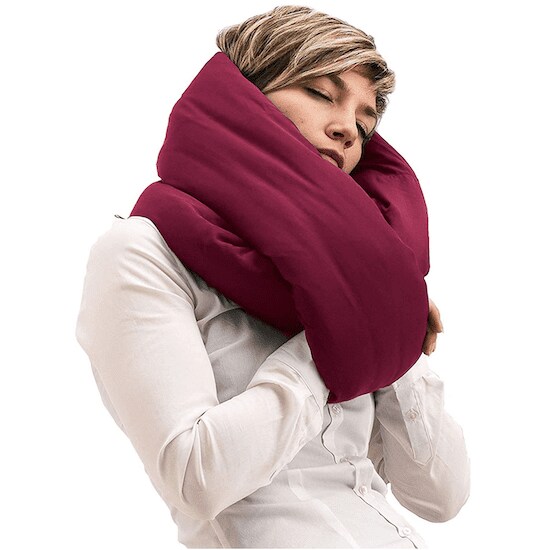 Give your boss this Huzi Infinity Pillow for future travel plans and long-distance commutes from the home to the office. They will love the feeling of the super soft Bamboo fabric as an alternative to standard pillows. It offers all-around comfort for any sleeping position and muffles noise for a pleasant relaxation experience.
"This pillow is amazing. Yes, it's great for travel. I used it on a plane today. But I also use it to support my head and neck while watching TV." Ed Searl states.
Acrylic Thank You Gift, $15.99 (Was $39.98)
Add a touch of appreciation and decoration to your boss's gift with this Acrylic "Thank You" Stand from FirstJewelryDesign. This sentimental message on the object shows how much you care about your boss, and now you can memorialize it as an elegant piece. The boss can place this decorative item on the desk, nightstand, fireplace mantel, or shelf to fill up negative space in the office or home.
Sean O'Connor shares his positive review on the Acrylic Stand, saying, "The package was perfect, it was everything I asked for, and it very well met my expectations. I'm very happy with my purchase and hope to buy an item again soon."
Deluxe Best Boss Ever Gift, $35.99+
What better gift set to offer your boss during the holidays than this Deluxe Best Boss Ever Package? Each box features an assortment of handcrafted candles, soap, and lip balm. Choose between eleven scents and fragrances that match your boss's style and let them feel refreshed and invigorated.
"I purchased this for my supervisor, and she loves everything from the packaging to the products. This item was clearly packaged with care," comments skyegoodman2.
Shop for the best gifts for your boss with MyUS Shopping in time for the holiday season!
Tell us about what you got your boss on our Facebook, Instagram, or Twitter.
We always aim to bring our members the best shopping options available, but some of the products featured in this post may have purchase restrictions. Please visit the merchant's terms of sale, shipping guidelines, and terms and conditions to find more information.
More from the MyUS Shopping blog