Get Your Home Ready with Ramadan Decorations
With Ramadan just around the corner, now is the perfect time to think about decorations for your home.
We've rounded up a variety of festive decorating ideas below, and they can all be purchased and shipped internationally with MyUS Shopping's easy one-cart checkout. Ramadan Mubarak!
Star & Moon Curtain String Lights $18.99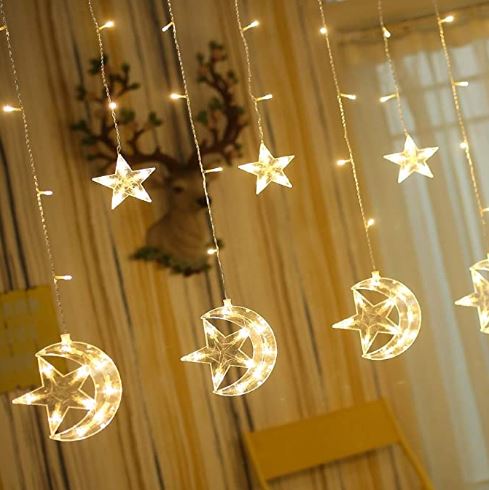 With 138 warm white LEDs, these Star & Moon Curtain String Lights are a quick and easy way to set the mood for a party, dinner, or family gathering. They feature alternating dangling stars and moons and have eight modes, including slow and fast flickering flashes to mimick the night .
"I used this at an Eid party against a curtain of basic string lights and it was such a hit - everyone wanted to take pics in front of it, and it was a great backdrop for boomerangs on instagram. The stars and moons were much larger than I thought they'd be, and I was impressed by all the flashing modes. Would definitely recommend if you're looking for fun Eid decorations that can also be used for a variety of other purposes." says Rabita in her five-star review.
Ramadan Mubarak Decorative Banner $8.99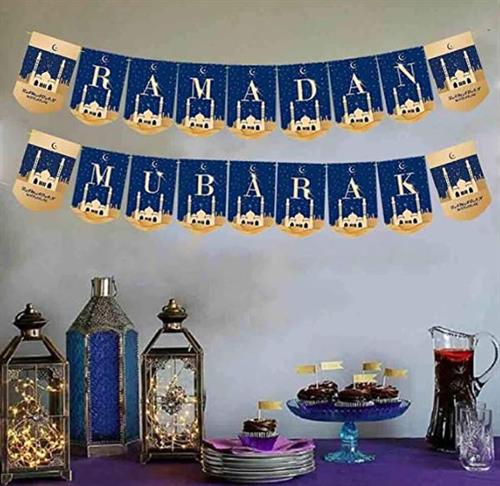 Professionally printed on sturdy cardstock paper, this Decorative Banner spells out "Ramadan Mubarak" across two panels of blue and gold. It makes a festive addition above a buffet table or entrance.
"Looks very nice, exactly as described. Great for parties and photography! Looks gorgeous." says Mookie in their five-star review.
Indoor/Outdoor Eid Mubarak Banner $30
Measuring 12 x 72 inches, these Eid Mubarak Banners come in a set of 2 and are a fun and colorful way to decorate indoors and outdoors. Hang on either side of your front door, dining room table, couch, windows, the possibilities are endless!
"Item just as described. It's beautiful and great value for the price" says Nazim Lokhandwala in their online review.
Mini Candle Lanterns with Flickering LED Tea Light Candles $17.99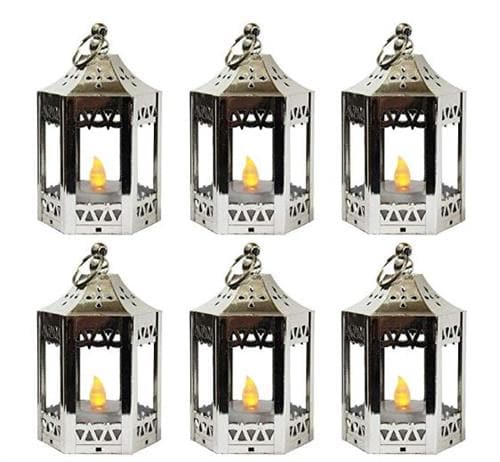 Sold in sets of 6, these Mini Candle Lanterns have flickering LED tea light candles, making them perfect for decorating both indoors and outdoors, and are even suitable for hanging. Choose from a variety of colors to fit your theme or decor.
"Awesome!!! Really cute lanterns. Even come with extra batteries and a screwdriver for when you need to change them out. Will be perfect for my party!" says Olivia Green in her five-star review.
Ramadan Balloons $16.99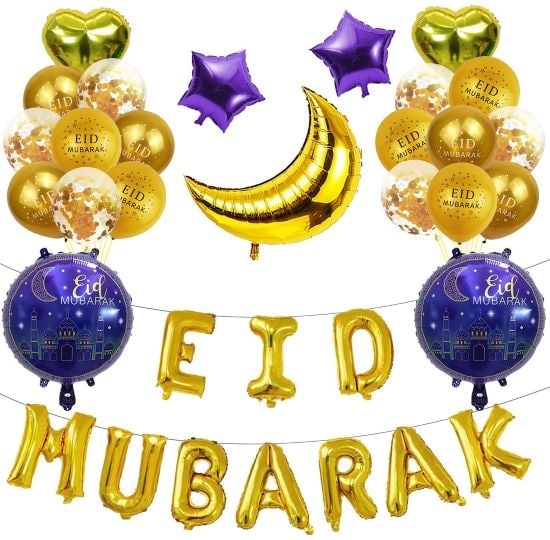 This gorgeous set of 33 Ramadan Balloons includes 12" latex balloons in gold with black text, gold with white text, and clear with gold confetti as well as a gold foil heart, 2 purple foil stars, a gold crescent moon, a purple foil "Eid Mubarak" image, and finally the letters to spell out "Eid Mubarak" in gold foil balloons! Packaged flat, inflate them the day of use for best results and after inflating, rub the confetti balloons gently on a carpet or soft surface to make the confetti stick to the walls of the balloons.
"Everything you need for a gorgeous balloon bouquet, and it works for both Ramadan and Eid. These would be perfect for Ramadan or Eid parties. The Purple Ramadan color matches our Purple Ramadan decor, and the quality is superb! We made this garland with the balloons and so far it is lasting really long! The mylar balloons are also awesome and come with a straw for easy inflation and deflating." says Tarek S. in their glowing online review.
Ramadan - Eid Mubarak Photo Booth Props Kit $13.99
Having a party? Your guests will love taking pictures and hamming it up for the camera with these Ramadan-themed Photo Booth Props. The 10-piece set includes funny sayings on arrow and speech bubble props and come with wooden dowels and stickers for quick assembly.
"it was nice for the holiday, we had them up in the dining room during month of Ramadan and our friends and guests complimented us on how cute they are." says a satisfied Amazon Customer in their five-star review.
Ramadan Calendar $11.99
Count down the days of Ramadan until Eid with this colorful and reusable Ramadan calendar made of premium quality felt. It includes 30 detachable stars, one for each day, and the pockets can be used to leave candy or money for the kids.
"This is so freaking cute! I HIGHlY recommend this product! It's so beautiful and detailed! I just can't wait to put it up for Ramadan! This is also reusable- you can use it from year to year!" says Sarah C. in her five-star review.
Shop festive decorations for Ramadan from US websites and ship internationally with MyUS Shopping!

We always aim to bring our members the best shopping options available, but some of the products featured in this post may have purchase restrictions. To find more information, please visit the merchant's terms of sale, shipping guidelines and/or terms and conditions.
More from the MyUS Shopping blog