Fashion Meets Function: Dresses with Pockets
Are you tired of carrying around a bulky purse everywhere you go? Do you wish your clothing had pockets that are more functional? No, this is not the beginning of a TopShop ad; we just want to tell you that you're not alone!
If you love dresses, you probably know the struggle of having to carry a purse or a backpack with you whenever you're wearing a dress, and sometimes you just wish you had enough space for your phone, lip balm, and some cash, nothing more!

Luckily, dresses with pockets have become increasingly popular for their comfort and practicality. That's why we've put together a collection of dresses from different US and UK stores that come with pockets. These dresses not only look great but also provide the convenience you need to carry your essentials.
Pro tip: Our awesome buying assistant and the MyUS Shopping browser extension can help you find and order the perfect dress, making your shopping easy and stress-free. Try it today and see the difference MyUS can make in your shopping experience!
Now, get ready to say goodbye to the hassle of carrying a purse, and hello to stylish frocks with pockets!
Loft
Pocket Shift Dress, $96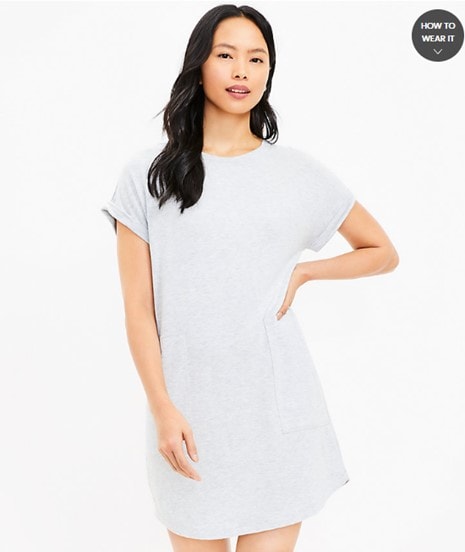 Less is more, and this soft gray shift dress is the perfect example. It features two front pockets and a flattering A-line silhouette. The wide, short sleeves and lightweight fabric make it a perfect choice for spring and summer. The dress is available in 3 colors.
What customers have to say: "It's my go-to dress for the supermarket, walking around the block, or even a relaxed coffee date. Well worth the money, I wish I'd bought more." - Lucia Hernandez
Nordstrom
Stripe Tie Waist Dress, $219
This is one of Nordstrom's signature dresses and it just oozes elegance and simplicity. The striped tie waist dress has two side pockets and a cinched waist for a flattering fit. The midi length and lightweight fabric make it versatile enough for both casual and dressy occasions.
What customers have to say: "This is such a great all-around dress. Can easily dress it up but simple enough to just wear around the house for when you have guests. Really soft and nice shape to it." - katieb27
ASOS
Plus-Sized Floral Midi Tea Dress, $33
ASOS is known for the versatility of brands that they offer, and our favorite pick for a dress with pockets is this vintage-inspired tea dress from Simply Be, which features a cute floral print and two front pockets. The relaxed fit and midi length make it a comfortable and chic option for any occasion.
What customers have to say: "Beautifully soft fabric, drapes well without clinging, it's going to be a firm favourite." - Verified Purchaser
Anthropologie
The Peregrine Mini Dress, $148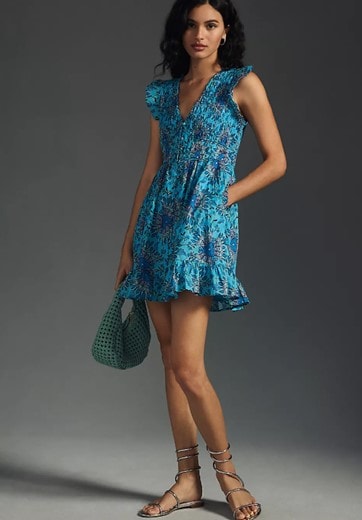 This peregrine mini dress from Anthropologie has a playful, retro-inspired design and two front pockets. The relaxed fit and lightweight fabric make it a comfortable choice for warm weather. It's available in black and blue motif i.e. blue with floral print.
What customers have to say: "This is a beautiful dress. It fit me perfectly and makes me feel sexy. I just sized down one size because they didn't have my usual size. I'm glad did. I wish they had more solid colors." - juicette
ModCloth
Check My Pulse Fit and Flare Dress, $99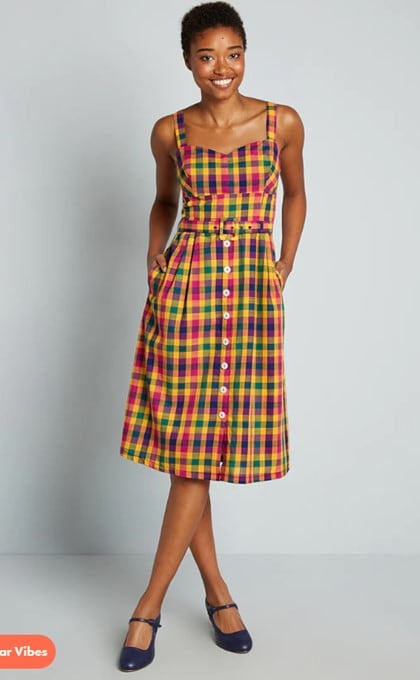 If you're feeling playful, this colorful flare dress from ModCloth features two pockets and adjustable straps for a customizable fit, as well as a belt made from the same material for the accentuated waist. You can wear it as it is or pair it with a t-shirt or blouse underneath for a cute and casual look.
What customers have to say: "Very comfortable, adjustable straps, true to size, and has pockets. If it came in more prints/colors, I'd buy it several times over." - Sarah H.
J.Crew
REISTOR Sun-dazed & Sultry Dress, $185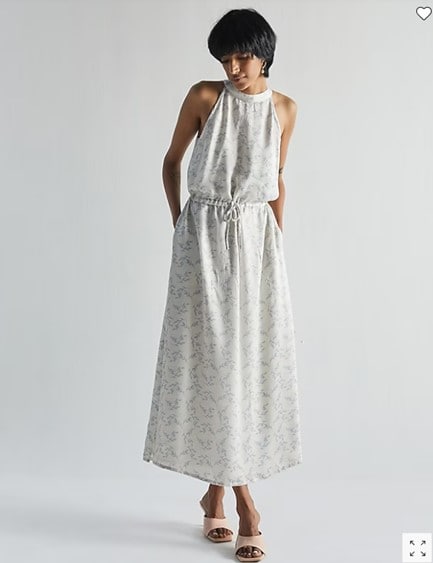 For the practical fashionistas who love versatile dresses, we definitely recommend this soft and classic dress from J.Crew that comes in a flattering A-line shape, has no sleeves, but does have two side pockets. The soft, airy Bamberg fabric makes it a cool option for any occasion – from running errands to casual date nights on the beach.
What customers have to say: "Gorgeous idea but the material at the neck is heavy and the way it's designed it pulls at your neck when tied. Beautiful fabric, but I'm not a 100% fan of the design." - Momover40
Madewell
Denim Puff-Sleeve Mini Dress in Stonehaven Wash, $120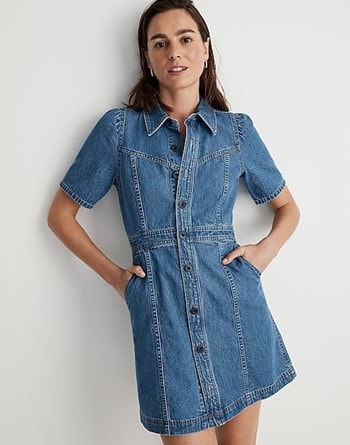 Who doesn't love denim? Jeans are almost everyone's favorite piece of clothing (and they're so easy to combine), but how do you feel about denim dresses? This denim puff-sleeve mini dress from Madewell has a flattering cinched waist and two fashionably placed side pockets. The relaxed fit and comfortable fabric make it a great outfit choice for your daily adventures.
What customers have to say: "The vibe is chef's kiss here. This dress is very fitted so you need to get your shoulders, chest, waist and hips all fit well to lay the buttons flat and look nice. So if one of your measurements is slightly larger you'll have to size up." - Beasweet16
Feel Stylish with Fun & Functional Dresses You Can Purchase with MyUS Shopping
So, how did you like our choices? Dresses with pockets are the perfect solution for anyone who wants to be comfortable, practical, and stylish. With so many styles and designs to choose from, you'll never have to sacrifice function for fashion again!
MyUS Shopping lets you shop the US stores you love from the same website and deliver to wherever you are. We eliminate the frustrations many global customers face when checking out on multiple US websites. Start with a simple search on our bar to find items you want from popular US brands like Amazon, Walmart, and eBay to add the products you want to your cart. Shop these three stores simultaneously from one website and have only one checkout experience!
You can also add products from other US stores to your Shopping Cart by pasting a product URL into the same MyUS Shopping search bar. Our Buying Assistant will help locate and purchase the product so you can do all your online shopping in one virtual session. MyUS Shopping allows customers to pay for international shipping costs at checkout.
Once all your items arrive at our MyUS warehouse, we consolidate your items into one shipment, helping you save big on shipping costs. All you have to do is sit back and relax as you can view your package's journey every step of the way with online tracking. Receive all your favorite US items at your doorstep within days of purchasing.
What's your favorite piece of clothing? Share it with us on our Facebook, Instagram, or Twitter.
We always aim to bring our members the best shopping options available, but some of the products featured in this post may have purchase restrictions. Please visit the merchant's terms of sale, shipping guidelines, and terms and conditions to find more information.
More from the MyUS Shopping blog