Cute Baby Bottles for Easier Parenthood
Baby bottles are an essential part of a child's life, so it's very important to nourish your young ones with quality feeding bottles that are easy to grip and hold, meet various health standards, and won't burn the baby/child in the feeding process.
Different experts recommend different bottles, so we decided to research a little and put together a list of the best baby bottles to buy at the moment.
Philips AVENT Natural Baby Bottle With Natural Response Nipple, $19.95
Almost every website recommends the AVENT Natural Response Nipple baby bottle from Philips. The bottle was built in a way that, as the name suggests, gives the baby a feeling like it's being breastfed, and they get to control the pace of the milk flow. More importantly, the bottle has an anti-colic valve, so the baby will swallow as little air as possible. The price is for a pack of 4 AVENT baby bottles.
"I love this brand of bottles and they have never let me down. I had a preemie and having the ability to choose from so many nipples helped a lot. Now she is drinking more so we got the 9oz bottles. The purple we cheaper than the clear and looks exactly like the picture." explains Morgan McGowan
NUK Smooth Flow Anti-Colic Disney Baby Bottle, $15
Disney fans rejoice - the cutest classic bottle with the faces of our favorite childhood characters is here! The bottle has a unique nipple design for anti-colic feeding, as well as a thermometer icon that warns you if the milk is too hot, which is truly a lifesaver (and a timesaver since it's safe to wash in a dishwasher). The price is for a pack of 3 10oz bottles that come with either a Mickey or Minnie Mouse print.
"I have a happy baby again. I love the SafeTemp feature on the bottles. The nipples are actual nipple shaped and my baby accepted the bottle right away." claims Darlenexoxox
Custom Baby Bottle, $6.75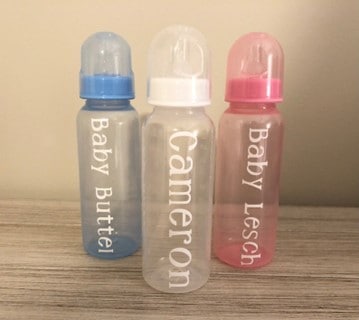 If you're a keeper and memory maker, have your baby's name or a cute quote printed on a custom baby bottle and keep it as a precious memory once the baby stops using it. These bottles have medium-flow silicone nipples and sanitary plastic caps and come in blue, pink, or clear. They can also make great baby shower gifts!
"The buyer displayed awesome customer service and the item was delivered promptly and the quality was very good!!" says Sharon
Comotomo Baby Bottle Starter Set, $38.38
As a new parent, it's only normal to worry about all kinds of things, including whether your baby will accept or reject its new feeding bottle. Good news! The Comotomo Baby Bottle Starter Set was specifically designed to mimic natural breastfeeding, and it has dual anti-colic vents that prevent unwanted air intake and reduce colic. The price is for the full set of 4 – 2 5-ounce and 2 8-ounce bottles.

"These bottles are amazing, the closest to a real breast that you will get. My daughter had an easy transition from breast to bottle thanks to Comotomo, they are worth every penny. I would recommend this bottle a million times." writes LillyManny
Smooth Flow Anti-Colic Bottle Newborn Set, $29.99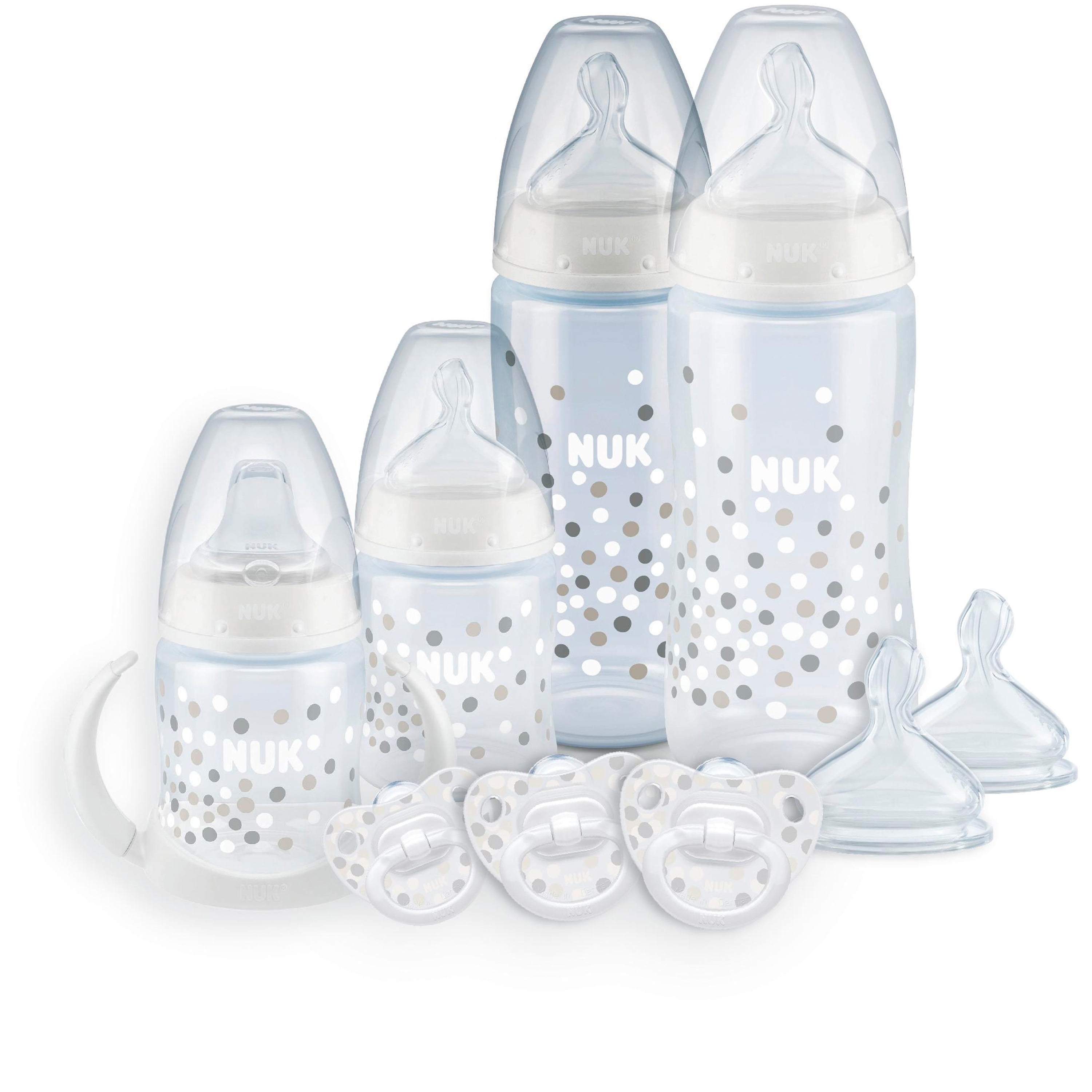 The newborn stages are tough because both you and the baby are getting used to each other, and learning its habits can be a bit challenging, but at least you can have the perfect newborn feeding set, so that's one less (major) worry. The smooth flow set for newborns contains two 5-oz bottles with slow-flow nipples and two 10-oz bottles with medium-flow nipples, then 3 NUK orthodontic silicone pacifiers, a Learner Cup transition kit, and 2 fast-flow nipples.
"I used this for the first time with my son in 2016, he was a fussy baby and I found this bottle was the only one that he drank out of without choking! Had a baby in 2020 and they were the first thing on my registry!" comments Karen1122
Tommee Tippee Multicolored Baby Feeding Bottle, $22.84
The gorgeous and colorful baby-feeding bottles from Tommee Tippee are something else! Not only are they anti-colic, comfortable to hold, and offer a natural-flow feeling, but they also look amazing too. There are 3 sets available: Fiesta, Morning Skies, and Midnight Skies, and we simply can't choose a favorite to show you just how perfect they are.
"The bottles are easy to disassemble, clean, and reassemble. Only 4 parts - bottle, nipple, collar, and lid. The wide mouth on the bottle makes them super easy to clean, whether you use a dish rag or a bottle brush. I love the variety of colors in this set! I made labels for these with my daughter's name and they adhered well to the plastic." explains O'Brien Fam.
Podee Hands-Free Baby Bottle, $14.99
If only babies could feed themselves and you didn't have to hold the bottle near their little mouths until you couldn't feel your hands... Well, the Gods already answered your prayers all the way back in 1989, and thus we have the hands-free baby bottles that are simply amazing when It comes to preventing colic, gas build-up, ear infections, and reflux. Check for yourself what the fuss is all about. The price is for 2 classic, 9-ounce bottles.
"This is a safe and genius way to feed your baby while driving down the road, shopping out and about, or while in stroller. It's so easy to use for mom and baby. My son has troubles holding a bottle; this works perfectly for him. I wish ppl wouldn't shame moms for using things like this." writes lacey frost in her honest review.
What bottle (or set) saved you during any stage of baby feeding? Let us in on your secrets on our Facebook, Instagram, or Twitter.
We always aim to bring our members the best shopping options available, but some of the products featured in this post may have purchase restrictions. Please visit the merchant's terms of sale, shipping guidelines, and terms and conditions to find more information.
More from the MyUS Shopping blog