Candles From Bath & Body Works Guaranteed To Help You Relax
At the end of a long and stressful day, it's a good to take a deep breath, unwind, and relax, and one of our favorite ways to do that is by lighting a candle. It can signify that one part of your day has ended and another has begun. It can also fill your home with fragrance and help clear your mind.
And when it comes to finding the perfect candle, Bath & Body Works is a one-stop shop. With endless fragrance combinations and burn times of 25 to 45 hours, their candles add ambiance and fragrance with consistent quality, making them an easy way to set the mood in a snap.
Check out some of their most popular candle scents below, and shop them all with MyUS Shopping's easy one-cart checkout.
Eucalyptus + Spearmint $24.50
Part of the Aromatherapy line from Bath & Body Works, their Eucalyptus + Spearmint candle was made for helping relieve stress with the soothing scents of eucalyptus and spearmint oil. "Best candle ever! Burns for a long time, burns evenly and smells great the entire time! Worth every penny!" says Ashg02578 in her review.
Fresh Cut Lilacs $24.50
The smell of fresh flowers can be both intoxicating and relaxing, and the Fresh Cut Lilacs Candle with the fragrance of lilacs, dewy greens, and soft spring air can transport you to a field of calming flowers, without the worry of springtime allergies! And with "Love You" written on the wrapper, it also makes a thoughtful gift.
Lavender Cedarwood $24.50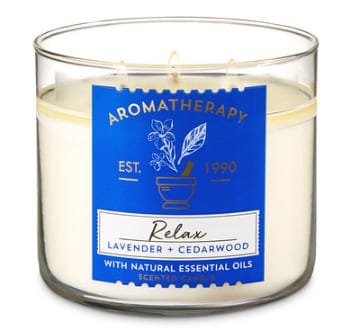 Another top rated candle from the Bath & Body Works aromatherapy collection is this Lavender Cedarwood Candle created specifically for promoting relaxation. Made with lavender and cedarwood essential oils, it's perfect for setting the mood for a relaxing evening bath or cup of tea. "I love these candles! They even smell great when they aren't lit and the lid is off. This smell in particular is perfect for the evenings lounging around at home." says Jrich in their product review.
Cinnamon Spiced Vanilla $24.50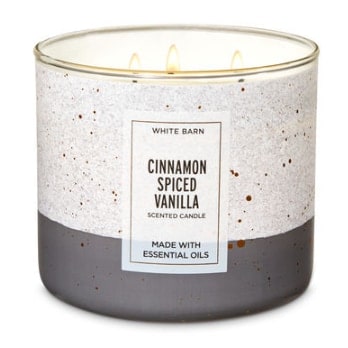 The scent of BBW's Cinnamon Spiced Vanilla Candle reminds us of a warm hug and pure indulgence, which is never a bad combination. It gets its fragrance from fresh ground cinnamon, sugar crystals, and Tahitian vanilla bean with essential oils, and comes topped with a decorative lid.
Eucalyptus Rain $24.50
Eucalyptus essential oil is known for its soothing and purifying properties, which is why its such a popular candle ingredient and on our list twice! The Eucalyptus Rain candle from Bath & Body Works, scented with aromatic eucalyptus, spearmint leaves and fresh spring rain will revive any space, lift your spirits, and help calm your nerves. (We also L-O-V-E the decorative boho chic wrapper on this candle.)
Blue Ocean Waves $24.50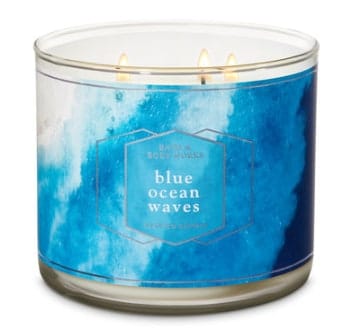 Dreaming of crystal-clear waters & cloudless blue skies? BBW's refreshing Blue Ocean Waves Candle will take you there with the fragrance of ocean breeze, citrus sea spray, and creamy sandalwood. A relaxation must-have for beach lovers everywhere! "This is one of my top 5 all-time favorites. Absolutely LOVE this scent. Very refreshing. Even my hubby loves it. Highly recommend trying it. You'll fall in love with it too." says Tinkertrain in her glowing five-star product review.
Aromatherapy Vanilla Patchouli $24.50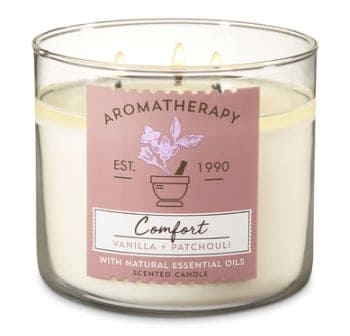 In aromatherapy, patchouli is said to help relieve anxiety, stress, and depression while vanilla is said to slow down the nervous system which in turn helps relax the body and mind. Put them together and you get the highly rated Vanilla + Patchouli Candle made with the essential oils that help create a calming and relaxing environment.
We always aim to bring our members the best shopping options available, but some of the products featured in this post may have purchase restrictions. To find more information, please visit the merchant's terms of sale, shipping guidelines and/or terms and conditions.
More from the MyUS Shopping blog