Amazing Cyber Monday Deals
Cyber Monday is right around the corner. Savvy shoppers know what that means. But, sometimes waiting is totally worthwhile. You can get a perfect item for huge discounts, explore tempting deals from many retailers and benefit the most from this big shopping holiday.
This November 28, shop for clothing, electronics, appliances, beauty products, items for the home, gifts, and more from US retailers. With MyUS Shopping, you can have your great finds delivered to you all across the world.
Adidas Women's Superstar Shoes, $67 (Was $95)
Since 1970, Adidas Women's Superstar Shoes became an absolute hit. Today, they are still among the most famous casual streetwear options. Choose one of the 15 available color options this Cyber Monday and receive a considerable discount.
"I love these shoes; the color is awesome, and I get so many compliments," comments Yed.
Polk Audio Atrium 4 Outdoor Speakers, $119.40 (40% off)
Time to amp up the music quality! These Atrium speakers are the perfect outdoor speakers that promise high music quality and powerful bass. Whatever your choice of music, enjoy any rhythm in all weather conditions. They withstand extreme temperatures and heavy rain and can easily mount anywhere to deliver the best performance.
"I have Series 8 in the backyard and Series 4 for my front. The 8's are great for parties and swimming, and just two of them produce quality sound. In the front, the 4's are ideal for a smaller space but when you still want a good speaker. You're never going to get a thumping base out of any of these due to their compact design but for me, the price, size, ease of installation, and quality sound make these perfect," remarks Bill.
Fillmore Hard Side Luggage Set 3-Piece, $219.99 (was $650)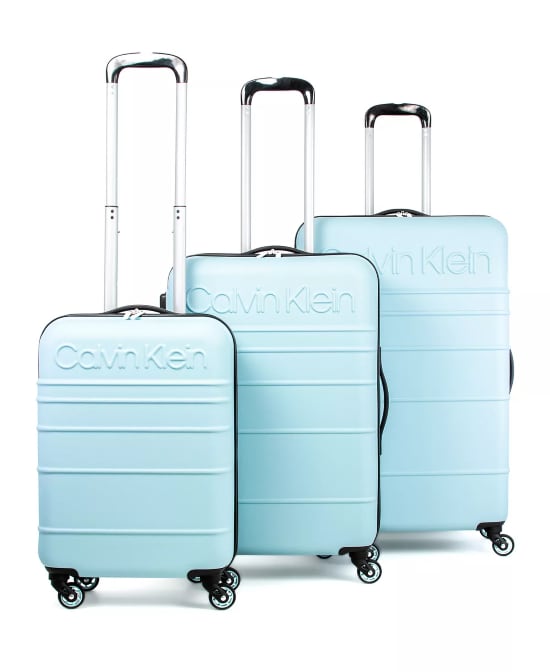 Usually, we forget how much we need a good choice of luggage until we need to travel somewhere. Calvin Klein Fillmore Hard Side Luggage Set covers any of your travel plans. Sturdy, elegant, and spacey on the inside, this set will be your reliable partner while you explore the world.
"I am in love with my Calvin Klein luggage set. I chose the cucumber set. I can't wait to show off my new luggage next month, as I travel back to Florida from Oregon. I highly recommend this product. Sincerely, A Travel Nurse Hero!" exclaims Qwon.
Mueller Smart Stick 800W 3-in-1, $31.89 (Was $49.99)
Mueller Smart Stick comes with a robust 800-watt motor, 12-speed options, turbo mode, and attachments that will make any task in the kitchen enjoyable. Prepare smoothies, baby food, shakes, sauces, and more with the speed of light. Being multi-functional, you will blend, whisk and chop all with one appliance.
"This is everything that is 'NOT' a blender that I wanted. I struggled with buying a blender for a while. You know the ones where you have to unscrew the button and risk a gash to your finger while cleaning the blades. The one where the bottom screw would degrade over time in the dishwasher so the seal would fight you every step. I drank my smoothies in a manner I'd call closer to chewing powder, than drinking the blend. That's how much I hated blenders. Along comes Mueller to save the day. I love their toaster oven so the purchase was a no-brainer albeit fur which Mueller one I wanted. This thing is the bomb. It sets in my counter. Oh yes, did I forget to mention my hatred for storing appliances with cords that tangle? This blender is everything you did not NOT want the old kind of blender to be, and everything you never knew you needed. Cleans easy, guarded blade simple storage. Makes blending a protein shake /smoothie a joy to do. It doesn't get any better than that," comments PhoenixCC
Keurig® K-Duo Plus® Coffee Maker with Single Serve K-Cup Pod & Carafe Brewer, $199.99 (was $229.99)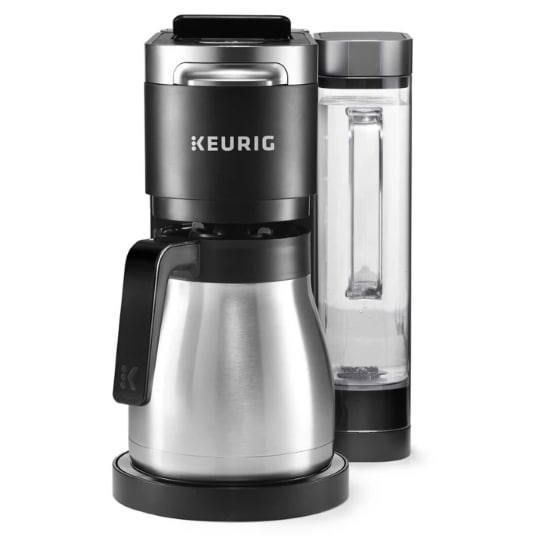 Brew a 6, 8, 10, or 12-cup coffee with Keurig K-Duo Plus Single Serve & Carafe Coffee Maker. You can use both K-Cup pods (sold separately) or your preferred ground coffee and decide the brew strength along the way. You can get this Cyber Monday product for a hundred dollars less than its price.
"I love this coffeemaker and how it's compact, and it makes great coffee. Also, love the thermos pot - keeps coffee nice and hot," says Janet.
SAMSUNG T7 Shield 1TB Portable SSD, $89.99 (Was $159.99)
Rugged, fast, and compact, Samsung T7 Shield is a durable SSD you can take anywhere. 1 TB memory gives you enough space to organize thousands of photos, videos, large files, and important documents and transfer them to other devices in seconds. This portable SSD is compatible with PC, Macs, Android Devices, gaming consoles, and more.
"I know it's an SSD so the form factory is small but this thing is beautiful. I was so excited when I opened the package. And they actually send you two cables, unlike other companies. So beautiful I love it!" states Brandon Linderman.
JBL Tune 510BT: Wireless On-Ear Headphones with Pure Bass Sound, $29.95 (40% off)
JBL Pure Bass sound headphones are among the most loved in their category, but the Tune 510BT takes things to another level. Unlike many Bluetooth speakers that last less than 10 hours, The Tune 510BT lasts up to 40 hours, and recharging takes only 2 hours. So listen to your favorite songs with pure bass and control and manage your calls with the built-in microphone and convenient buttons on the ear cup.
"I'm good at breaking headphones. Because of that, I don't like to spend too much on headphones because I know they won't last. I've probably tried every cheap headphone brand you can think of. I'm talking about very cheap and low-quality headphones. These are relatively cheap but they are VERY durable and of great quality. The sound is loud, has decent bass, and the battery lasts for weeks. Even if I listen multiple days in a row, I almost never have to charge the battery. These are just really good headphones," comments an Amazon Customer.
Found a lot of goodies that you want to buy, but you're worried that international shipping will cost a fortune? Then, we've got you covered. Wait until you have multiple packages in your suite, and we will consolidate your packages into one shipment and save you money. All this with one easy checkout!
We always aim to bring our members the best shopping options available, but some of the products featured in this post may have purchase restrictions. Please visit the merchant's terms of sale, shipping guidelines, and terms and conditions to find more information.
More from the MyUS Shopping blog