Refine Thanksgiving Gatherings with these Themed Ornaments
Thanksgiving is the perfect day to appreciate and thank the important people in your life. It is when people reflect on all the things they are thankful for and feast on delicious home-cooked meals. In Japan, Thanksgiving is a time to express gratitude to essential workers, such as hospital staff, police, office workers, and anyone else who worked hard during the year. It's also the last major event before Black Friday, Winter Break, and Christmas. Before you and your guests bring out the turkey, stuffing, mashed potatoes with gravy, and cranberry sauce, make sure your dining area and home look presentable.
If you are hosting Thanksgiving or helping someone out, prepare any space with various fall-themed decorations. Ship your decorations in time for Thanksgiving, from the top US stores with MyUS Shopping's easy one-cart checkout.
Pumpkin Cornucopia Mixed Floral Arrangement, $46.99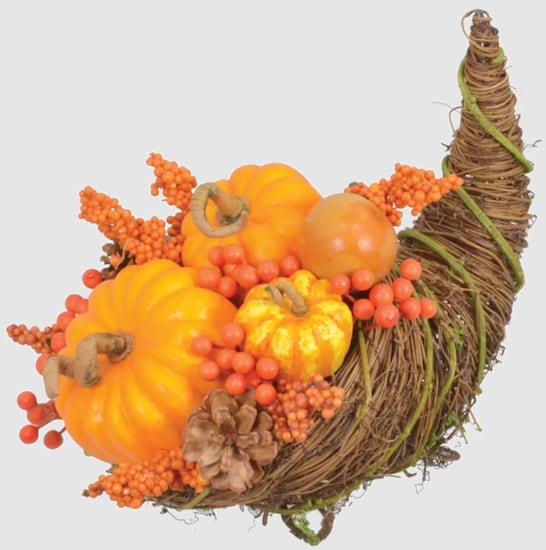 Fill up negative space on the dining room table or coffee table with this Mixed Floral Cornucopia Arrangement for this Thanksgiving! The vibrant colors and natural look makes it a lovely centerpiece for any home setting. Its content of faux florals and vegetation offers a festive and low-maintenance display that evokes the Fall-aesthetic.
"This cornucopia is stunning. As nice as any from a boutique store. Good in size and great quality. The silks are expensive-looking, not cheap looking at all." Camille says.
Autumn Harvest 16pc Dinnerware Set, $120.55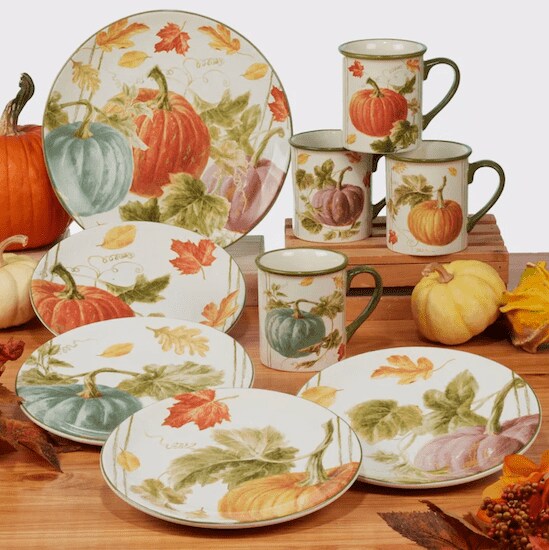 This 16-Piece Autumn Harvest Dinnerware Set is the perfect arrangement of Fall-themed plates and mugs for small Thanksgiving gatherings. Not only does it come with plates and cups, but it also features salad plates and dessert bowls for variety! Get this set for your next Thanksgiving party, as a gift for a housewarming party for anyone who loves Fall above the other seasons.
Callie writes, "It looks just like the photo. I get so many compliments and cannot wait to try them for thanksgiving this year!"
Faux Berry Foam Wreath, $35.99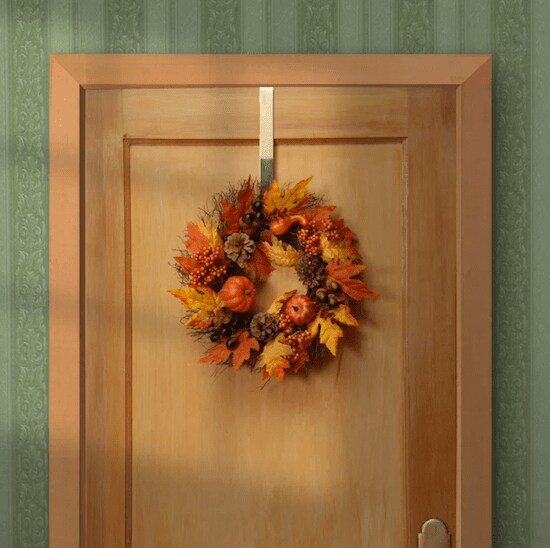 Do you need exterior decorations for your Thanksgiving Party? Show off your love for the Fall Holiday with this Faux Berry Foam Wreath inside and outside your home! The faux trim, twigs, acorns, and berries make the decoration a long-lasting and colorful addition to anyone's Thanksgiving setup. Leave it on display for the rest of the Fall before you bring out the Christmas wreath.
Steven comments, "This wreath is perfect for fall! I leave it on my door from September through Thanksgiving. It's durable and looks beautiful every time I put it up."
Thanksgiving Turkey Candle Holder Set, $29.99
If you love candles or the Thanksgiving season, these Sunjun Turkey Candle Holders will guarantee an elegant, colorful, and bright decoration for your lovely home. Fill the holders with your favorite scents that perfectly match the Fall-aesthetic. Arranging multiple candle holder sets around the living room, dining room, and kitchen adds a memorable atmosphere to any Thanksgiving celebration.
"I liked everything about them, I put the candles in them already and lit them just to see how it's going to look, and I'm so excited to have them on my table for Thanksgiving," states Jon W. Nelson.
Thanksgiving Decorations Fall Theme Party Supplies, $35.99
Whether you are celebrating Thanksgiving with family and friends on November 24th or showing appreciation to essential workers in Japan on November 23rd, this set of Thanksgiving Party Supplies accommodates both occasions. These supplies consist of plates with "Thank You!" print, cupcake toppers, and stickers that acknowledge and respect the most important people in your life. If you're celebrating Thanksgiving away from home or at the office, this set gives you ornaments for a quick last-minute setup.
"Really good! It helped set the rest of my Thanksgiving party off," Brandy Turner says in her five-star review.
Wooden Decorative Signs, $22.99
If you don't have enough room for extravagant and bulky decorations, check out these Wooden Centerpiece Signs for your Thanksgiving celebration. Place these signs where you cannot arrange large decorations, such as bookcases, shelves, fireplace mantels, and cabinets. They're cute and eye-catching and complete the fall festivity atmosphere without taking up much space.
Edna raves, "These wooden centerpiece signs are really nice! To see them in person makes a big difference. They are well-made, sparkly, shiny, and very vibrant in color. They will add festivity on display for Thanksgiving. I'd recommend buying them to anyone interested."
Thanksgiving Decor Fall Garland Lights, $15.99 (Was $17.99)
These Thanksgiving Fall Garland Lights are the ideal decorations to wrap around porches, railings, mantels, and doorframes to illuminate your home's aesthetic! It includes a hidden battery box that allows the lights to stay on a timer for 18 hours before turning off to save energy. The faux leaves, berries, and silk stems provide a colorful setting, but the lights offer a bright and warm feeling to your Thanksgiving party at night.
Jacques Lux loves this LED light Thanksgiving Garland, saying, "Looks beautiful, and the lights are so small and perfect!"
Outdoor Inflatable Giant Thanksgiving Turkey, $53.99 (Was $56.99)
Enhance your Thanksgiving experience to a memorable event with this 10-Foot Inflatable Decorative Turkey in your front yard. Guests and passersby will notice the giant decoration and appreciate the friendly and positive message. Fill the inflatable up in minutes and watch it become a beloved and long-lasting ornament for many Thanksgiving parties at home, work, and school.
"Super impressed with the quality of this inflatable. Came in a great box, easy to set up, and it seems really durable," says Shannon.
Who's ready to set up the household and celebrate Thanksgiving? With MyUS Shopping, you have enough stores to browse through for decorations and ship them quickly to your doorstep in time for the traditional national holiday!
We always aim to bring our members the best shopping options available, but some of the products featured in this post may have purchase restrictions. Please visit the merchant's terms of sale, shipping guidelines, and terms and conditions to find more information.
More from the MyUS Shopping blog