Faux Flowers for Effortless & Low Maintenance Décor
Faux flowers are a great way to add freshness and some life to your home without worrying about watering, dead petals, or bugs. They can also be a great way to add color and texture to a space that needs it.
Some people don't like the idea of faux flowers because they feel like they don't look as accurate as the real thing. However, that is very far from the truth. Many different types of faux flowers look very realistic, and you can use them for decoration.
Some of the most popular ones include silk, paper, and plastic flowers, and below, we'll list our favorites.
White Tulip Peony Arrangement, $184.50 (Was $205)
Nothing beats a soft, clean, elegant look; this artificial faux flower centerpiece is proof. This faux flower arrangement is perfect for both classic and modern luxury home décor, and it includes the finest artificial silk peonies that feel almost real to the touch. Just put them in a white or glass vase – the compliments will start rolling. You can also visit the seller's blog for past projects and general information on the real-touch faux arrangements for weddings and home décor.
https://www.flovery.com/

"Absolutely stunning! Looks and feels realistic! A compliment to any room."– Nicole Lombardi
Artificial Morning Glory Trumpet Flower, $12.09
Add sunshine to your windows or walls with these joyful artificial vine flowers. They come in 5 different colors and can be used to decorate your walls, patio, balcony, mirrors, kitchen, office, etc. These flowers are lovely indoor and outdoor decorations. If you like to feel like you're in nature all the time, these are the flowers to choose from.
"Nice and full. They make a beautiful display." – Terry Hebert
Elegant Green Short Artificial Flowers Arrangement, $215.71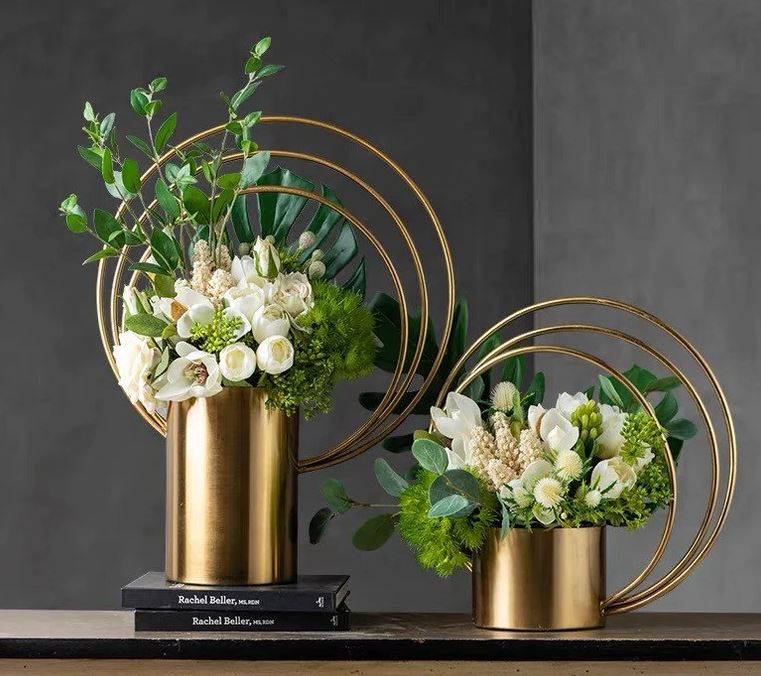 If luxury had a signature look, this would be it. Neatly packed in a ceramic vase in a beautiful old-gold color, the gorgeous and luxurious green and white flower arrangement from designer Vicky Yao will quickly become the centerpiece that everyone will be looking at. Ideal for the dining room, hall, your luxurious guesthouse, or even as a wedding gift! Guaranteed to leave not a single person indifferent.
"I am just in awe how beautiful and well made this piece is. Got many compliments. Thank you Vicky for your great service as well." – Lella
White Phalaenopsis Orchid in White Ceramic Pot, $109.99
This white Phalaenopsis artificial flower arrangement with a corresponding white pot gives natural beauty to home décor without requiring water. Standing at 29"W x 18"H, it will make a fantastic piece for the dining or coffee table and anywhere else where you might want to add a touch of elegance.
"I was skeptical about buying this because I have been disappointed in the past. To my surprise, it was very nice quality. It felt and looked real, was well packaged and nice size. I look forward to using it as part of my kitchen island decor." – Kat
Artificial Calla Bouquet, $21.88
For those that like color and simplicity, there's no better choice than this gorgeous faux Calla bouquet. Handcrafted from high-quality latex in vibrant colors, this 30-piece bouquet will add to any room's natural and elegant look. With 13.6" in height, you'll have more than enough room to get creative and trim each of the 30 flowers to your liking for a unique placement.
"I ordered some of these to make a few flower arrangements for my daughter's wedding. I couldn't be much happier with the look, feel and quality of these flowers (calla lilies)! If you're considering these...I really don't think you'll be disappointed." – Christina S.
Hatbox filled with Diamantes Roses, $34.25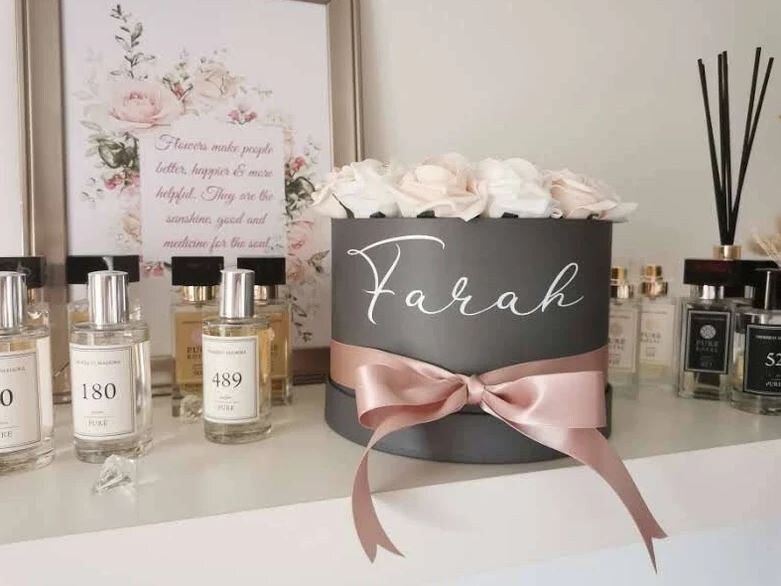 A timeless gift and a décor piece that everyone will love having in their home time and time again. What makes this hatbox with roses special is that each of the roses in the box is hand-wired with diamantes for that extra touch of shine and luxury.
You must be as gentle with these as you'd be with real roses. They are made from thin foam that gives them a soft, rose-y touch.
The seller offers 10 color options and box sizes but is open to personalized orders and color combinations.
"Absolutely beautiful. Got this made for my new house and I'm in love with it. Have recommended to my friends who have all commented on how gorgeous the flower hatbox is." – Paula Davidson
Gold Rose Light Flower in Glass Dome, $26
Yes, just like in "Beauty and the Beast", you can have a breathtaking rose in a glass dome, but this one will never lose its petals. The petal and leaves are made of gold foil plastic, and each glass rose has 20 LED string lights wrapped around it. There are three lighting settings: steady on, quick flash, slow flash, and colorful ball ornaments at the bottom that make it even more colorful.
"The lighting on it looks exactly like depicted, which is especially nice in darker rooms or just in general. Looks really nice for the friendly price." – Nichiolas Stygles
Do you have a favorite home décor ornament? What is it? Share with us on our Facebook, Instagram, or Twitter.
We always aim to bring our members the best shopping options available, but some of the products featured in this post may have purchase restrictions. Please visit the merchant's terms of sale, shipping guidelines, and terms and conditions to find more information.
More from the MyUS Shopping blog