Board Games to Play With Family During Ramadan
Looking for a fun way to keep the family entertained during Ramadan? Try a new board game!
Board games are a fun and easy way to gather the family, make new memories, and enjoy time together. Below, we've rounded up a variety of fun and engaging board games for the whole family, and they can all be shopped and shipped worldwide with MyUS Shopping's easy one-cart checkout!
Monopoly The Lion King Edition $44.95
The Lion King Monopoly Game is a fun spin on the classic game. Featuring the cast of Disney's 1994 animated film The Lion King, this collector's edition game includes a custom game board, Destiny cards, and six collectible tokens associated with characters: Timon, Simba, Nala, Mufassa, Pumbaa, or Scar. Best of all, there's a Pride Rock that holds the Destiny cards—and when a card is pulled, it plays music from the movie!
"This is so cool! I love the gold Lion King game pieces. The best part is that it plays music from the movie. Every Lion King fan needs to own one of these." says tlkdisneyfan in their five-star review.
5 Second Rule $16.96
Sure, you might be able to name three dog breeds, but can you do it under the pressure of a five-second timer? You'll love finding out while you play 5 Second Rule! In this fast-paced game, time is not on your side, so just say what comes to mind, however ridiculous it sounds. and get ready to laugh out loud with the whole family.
"this is a fun fun game for the whole family game is simple easy and keeps you on your toes" says grandpa1 in his five-star review.
Phone Phever $29.95
If you can't tear them away from their smartphones, make them part of the game! Phone Phever is a new family-friendly board game that has players racing to answer trivia questions in six categories (music, movies, TV, history and technology, law and politics, and the rest of Western pop culture) and complete challenges with the help of their smartphones. The perfect board game for adults, teens, tweens, and all smartphone addicts!
"Fun game! We had 12 people playing at one point - 6 teams of 2. Players were aged 17 to 75 and all were able to play and enjoy the game. Questions were really good. It didn't seem to matter whether you had a newer phone, it was how you looked up the question. Everyone had an equal chance to answer the question. We will definitely play this game again!" says Jane Domeier in her online review.
Hasbro Trouble Game: Star Wars Edition $24.99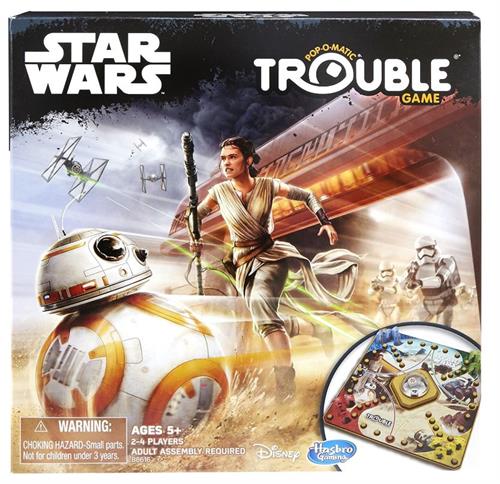 Parents will love introducing their kids to the classic game of Trouble while kids will enjoy the Star Wars spin of Hasbro's Star Wars Edition of Trouble. Play as Rey, Kylo Ren, Finn, or Chewbacca as you try to rescue BB-8 and be the first player back home from Jakku.
"I purchased this for my 5 and 7 year old nephews. They LOVED it so much we ended up playing it over breakfast, lunch, and dinner. Good choice for rainy day holidays." says Kiwi in the Snow in their online product review.
Taco vs Burrito $19.99
Created by a 7-year-old, Taco vs Burrito was a surprise sensation, surpassing its initial goal on Kickstarter by 2,400%. This crazy, fun strategic food fight of a game is quick to learn, easy to play and a smash with kids and adults alike!
"Taco vs Burrito plays a lot like Uno, but with funnier cards. Much like Uno, you can sabotage your opponents, or be nice; whatever suits your play style. You can totally play with only 2 players, but more people means more opportunities for mischief and mayhem!" says Dorolei in their five-star review.
Mickey Mouse Dominoes Set $12.95
Dominoes is a classic game that has been enjoyed by generations, and it gets an adorable update in Disney's Mickey Mouse Dominoes Set. Mickey's iconic silhouette replaces the dots on the playing tiles of this fine set of 28 dominoes, and it includes a fun decorative tin with a "Mickey-ears" carrying handle for easy storage and transport.
"So cute and perfect for family game night!! We love them!" says Cdub327 in their glowing online review.
Labyrinth $25.99

Labyrinth is a fun, family-friendly board game for ages 7 and up that has players trying to reach all their treasures and targets while finding the shortest route through the ever-changing Labyrinth to win! And because the adventure is always different, this game has great replay value!
"The overwhelming number of 5 star reviews isn't a lie! We opened up this game less than 24 hours ago and my kids have played it at least 10 times now, with my husband and I participating a few times as well. It has so much re-playability since it's really never the same game each time you play, and requires the addictive sort of problem solving style critical thinking that rewards both kids and adults a sense of pride in their cognitive skills." says Brigitte Lynn in her product review.
Shop fun board games from US websites and ship internationally with MyUS Shopping!

We always aim to bring our members the best shopping options available, but some of the products featured in this post may have purchase restrictions. To find more information, please visit the merchant's terms of sale, shipping guidelines and/or terms and conditions.
More from the MyUS Shopping blog